The media headlines in South Korea have been recently related to the turmoil about corruption scandals that might lead to President Park's resignation. The economic outlook is stable, but the GDP data for the 3rd quarter did not look too optimistic either. If the oil prices will continue trending higher after OPEC's decision to balance the production output, that would keep alive the expectations for better trade numbers in the coming year.
Similarly to Japan, South Korea does not have proper resource base and the economy heavily depends on supplies of oil and gas. Imports of crude were up 3.9% in the 3rd quarter on year, driven by lower prices and domestic consumption, while exports of refined petroleum products fell by 2%, underpinned by growing competition with exports from China and slowing demand, which sent the medium range tanker shipping rates to the year's lows. There is an oversupply of mid-sized vessels around the region, and it is going to stay that way for some time.
The tanker tracking data shows constant inflows of crude brought by supertankers coming from the Middle East. Iran is elbowing its way back with 147% rise in the 3rd quarter compared to 2015.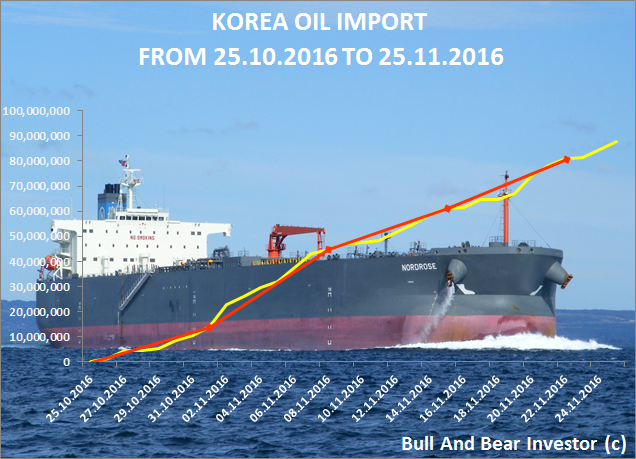 (Source: Tanker tracking data, Bull And Bear Investor's calculations).
Kallanish energy reported of the first 1 million barrel crude cargo from the Eagle Ford Shale in Texas having arrived to GS Caltex, which is South Korea's 2nd largest refiner. It is worth mentioning because American shale oil is very likely to win some space on the diagram, should higher prices persist. The GS Caltex refinery is known to receive its supplies from the Middle East and Russia.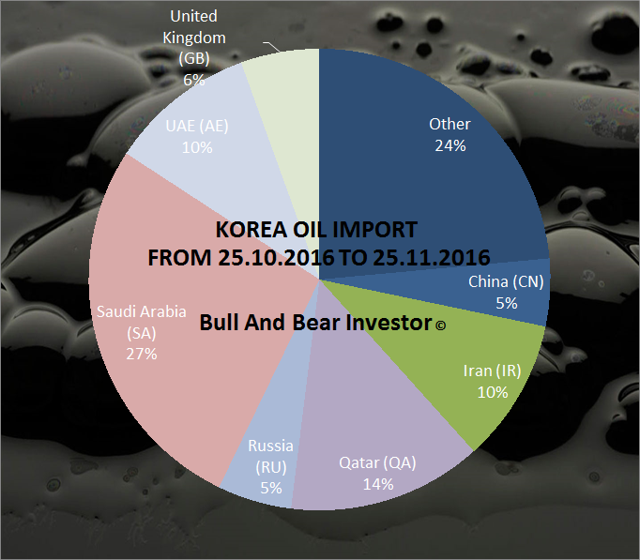 (Source: Tanker tracking data, Bull And Bear Investor's calculations).
Hyundai Heavy Industries Co. is close to seal a deal to sell 10 tankers to Iran, which is apparently enjoying a boost in exports after years of sanctions. The big three of South Korean shipbuilders (units of Hyundai, Daewoo and Samsung) face their corporate bonds maturing in 2017, which will affect their already deteriorated balance sheets due to last year's slump in orders. On top of it, all of them have seen postponed the deliveries of offshore platforms and drilling rigs planned for 2017, for their clients waiting for the investment climate to improve.
Some experts share a view that liquefied natural gas would follow the path of oil and go up in price as well. Nevertheless, these two markets have some firm background to become independent in terms of pricing in the future, as they are already almost completely separated. Despite the growing demand for more environment-friendly gas, there is a plenty of suppliers with capacities building up beyond any imaginable limits.
Still, the opinion that the oil price shift should benefit South Korean economy animating its exports is rather lopsided because this is not going to happen in the short-term anyway and requires a steady trend that will restore confidence. Governments and businesses are very cautious with spending and would attend their own interests in the first place, should spare funds appear. The global outlook is very complex now and there are hardly any things one can be positive about, there are too many unknown variables. The American President-elect Donald Trump may turn the Asia-Pacific trade relations either way, so it is quite logical to get ready for whatever may come along and hedge the risks. To be updated soon.
Our articles are typically based on tanker tracking data, which is not available for free anywhere else. If you want to receive notifications on when our articles are published, please go to the top of this page next to my profile, click the "Follow" button and then click on "Real-time alerts on this author."
Disclosure: I/we have no positions in any stocks mentioned, and no plans to initiate any positions within the next 72 hours.
I wrote this article myself, and it expresses my own opinions. I am not receiving compensation for it (other than from Seeking Alpha). I have no business relationship with any company whose stock is mentioned in this article.
Additional disclosure: The material presented in this article is provided for informational purposes only and is based upon information that is considered to be reliable.