If you are currently long in any of the major stock benchmarks, chances are you are feeling very good about your investment decision-making. To be sure, there are many valid reasons to explain the recent rallies in both the SPDR S&P 500 ETF (NYSEARCA:SPY) and the SPDR Dow Jones Industrial Average ETF (NYSEARCA:DIA). But many of these recent rallies have stemmed from knee-jerk reactions tied to the outcome of last month's US presidential election, which ultimately means that these market changes have not been based on real economic performance in the world's largest economy.
Chart View: SPDR Dow Jones Industrial Average ETF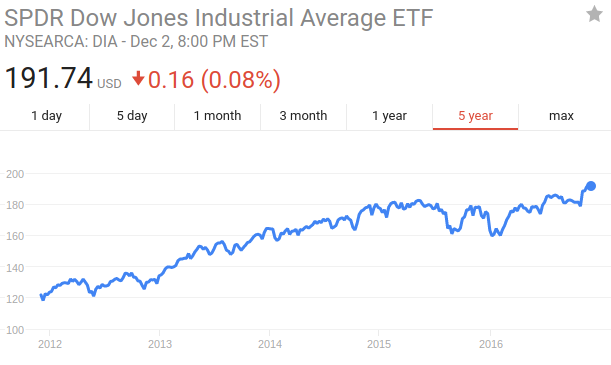 Chart Source: Gold Traders
In practical terms, this means that investors should proceed with caution - especially when considering the establishment of new positions at these elevated levels. With stock valuations in their current state, it would not take much to jar expectations, and the resultant selling could easily gain in momentum as more of the market starts to exit its long positions.
Chart View: SPDR S&P 500 ETF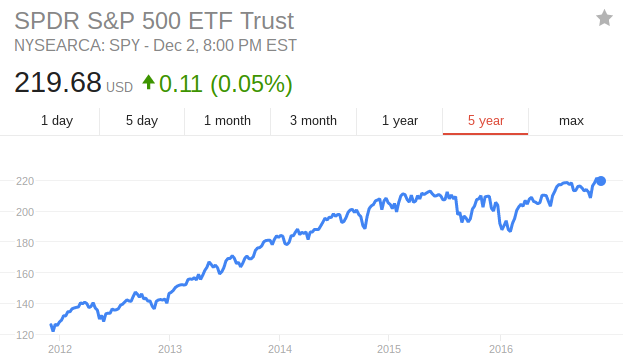 Chart Source: Gold Traders
With this in mind, the main concerns deal with the question of whether or not the US economy is truly capable of posting significant manufacturing gains in its current state. If you believe the financial news or the rhetoric of President-elect Donald Trump, the answer is "yes." But if we look at the underlying fundamentals, there are some very real issues that could prevent further gains in assets tied to the Dow Jones Industrials.
Chart View: US Labor Participation Rate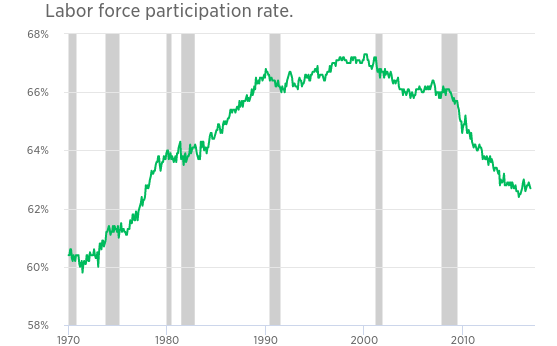 Chart Source: Money Investors
In the chart above, we can see the recent performance in the US labor participation rate. In recent months, we have heard many campaign speeches (mostly from Barack Obama and Hillary Clinton) which have claimed surging strength in the US economy. The latest jobs numbers show that show that the national unemployment rate has dropped to a 9-year low at 4.6%. In some sense, this is a true positive, given the fact that many economists consider this to be 'full employment' for the US economy.
But the main problem here is that this does nothing to address the labor participation rate, which is now at the lowest levels since the late 1970s. If we can remember our economic history, it should be understood that this was a period of heavy stagflation and not a period that was particularly great for stock markets. Manufacturing suffered as a result of many of these trends, and this spells trouble for investors that might be caught long at the wrong levels in assets like DIA or SPY.
Broader View
Additionally, the underlying weakness in the US economic data suggests that President-elect Trump will have a much harder time jump-starting the economy than he thinks. A labor participation rate of 62.7% for workers aged 25-54 suggests that we will see continued weakness in consumer confidence and in consumer spending. These are the factors that drive sustainable rallies in the Dow Jones Industrials and the S&P 500, and without this we are unlikely to see positive surprises when we head into the next earnings season.
Overall, this is not an environment where you want to be taking on new exposure in the equities benchmarks as the balance of the evidence suggests that many of these recent gains will soon be given back - leaving many in the market high and dry.
Disclosure: I/we have no positions in any stocks mentioned, and no plans to initiate any positions within the next 72 hours.
I wrote this article myself, and it expresses my own opinions. I am not receiving compensation for it (other than from Seeking Alpha). I have no business relationship with any company whose stock is mentioned in this article.