Chimera Investment Corp. (NYSE:CIM) has been one of the best performing income investments for me this year. So far, Chimera Investment's shares have risen 23.3 percent in 2016, which is a superb return for any high-yield income vehicle where one would expect to make money largely on the dividend. Add another 12-14 percent dividend yield (depending on when investors bought) to the price return, and investors that took a chance at the beginning of the year and bought Chimera Investment when it was on sale are looking at a total return of 35 percent or more.
That being said, though, I think it is about time to reflect on the strong price appreciation we have seen in Chimera Investment's shares this year, and reevaluate the investment.
I bought Chimera Investment because the hybrid mortgage REIT made a convincing value proposition based on three factors:
1. Chimera Investment provided an unusually high degree of dividend visibility for a high-yield stock by guiding for a steady $0.48/share quarterly dividend payout for the remainder of the year;
2. Chimera Investment exhibited strong excess dividend coverage at the beginning of the year;
3. The mortgage REIT sold for a discount to book value, which translated into compelling total return potential.
Chimera Investment Is Now Priced For Perfection...Taking Profits Is The Smart Move
Investors often fail to take profits when stock prices have surged, and I don't want to make that mistake here. What further supports my decision to reduce my position in Chimera Investment is the fact that Chimera Investment now sells for a premium to book value, while other mortgage REITs continue to sell for significant discounts to book value.

Source: Achilles Research
Chimera Investment has earned the premium to book value, chiefly because of its high degree of excess dividend coverage that 1. Translated into a high margin of safety for current income investors; and 2. Implied dividend growth potential.
And income investors were not entirely wrong about that. Chimera Investment announced a ~4.2 percent hike of its base dividend from $0.48/share to $0.50/share a month ago that reflected the robust performance of its residential mortgage credit portfolio in the last quarter. The RMC portfolio, consisting largely of securitized loans, had a positive impact on Chimera's gross asset yield and net interest margin.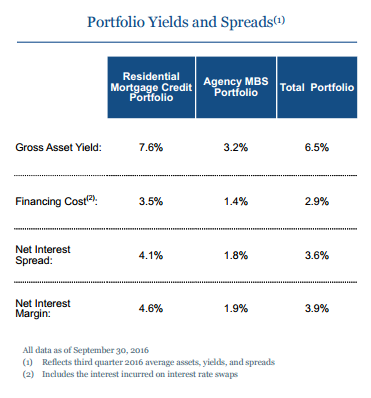 Source: Chimera Investment
Another reason why Chimera Investment continues to sell for a significantly larger book value ratio than other mortgage REITs relates to the company's significant excess dividend coverage.
Chimera Investment overearned its base dividend in each of the last five quarters, and with an increasing margin of safety, too. Chimera Investment's dividend coverage ratio based on core earnings over the last five quarters was a whopping 1.18x (accounting for Chimera Investment's base dividend). The high degree of excess dividend coverage explains why the mortgage REIT both feels comfortable carrying a higher dividend rate forward, and why the shares are selling for a much higher BV multiple than other mortgage REITs.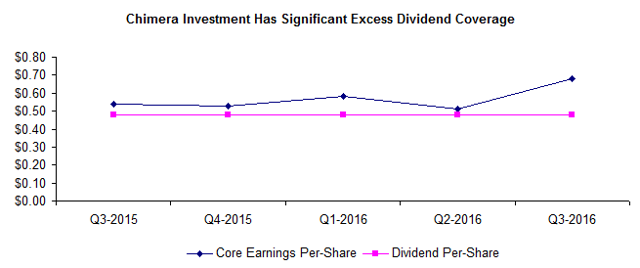 Source: Achilles Research
Despite the high degree of dividend coverage and an increase in the base dividend, I think investors may still want to at least think about locking in some profits at this point in time. I am having a hard time picturing how Chimera Investment can maintain the high rate of price appreciation we have seen so far this year. I think considering that the mortgage REIT already sells for a premium to GAAP book value (+4 percent) and economic book value (+13 percent), and that shares have surged this year, investors shouldn't push their luck too much and consider taking some profits off the table.
Your Takeaway
Though Chimera Investment has just handed shareholders a raise and has admirable excess dividend coverage for a high-yield income vehicle, I am planning on taking 50 percent of my Chimera Investment chips off the table this week, largely because I am having a hard time seeing how the hybrid mortgage REIT can improve its results from here. Chimera Investment's shares have become relatively expensive, and are priced for perfection in my opinion. Locking in 50 percent of the profits while letting the other 50 percent run looks like a smart compromise to me at this point.
If you like to read more of my articles, and like to be kept up to date with the companies I cover, I kindly ask you that you scroll to the top of this page and click 'follow'. I am largely investing in dividend paying stocks, but also venture out occasionally and cover special situations that offer appealing reward-to-risk ratios and have potential for significant capital appreciation. Above all, my immediate investment goal is to achieve financial independence.
Disclosure: I am/we are long CIM.
I wrote this article myself, and it expresses my own opinions. I am not receiving compensation for it (other than from Seeking Alpha). I have no business relationship with any company whose stock is mentioned in this article.