The fossil energy sector's post-election rally continued last week as its share prices continued to rise in response to OPEC's decision to cut production. Coal miners and petroleum production firms in particular have done well; the former because of Donald Trump's campaign pledges to rescue the coal industry, and the latter because of higher petroleum prices and the prospect of reduced regulatory hurdles (see figure).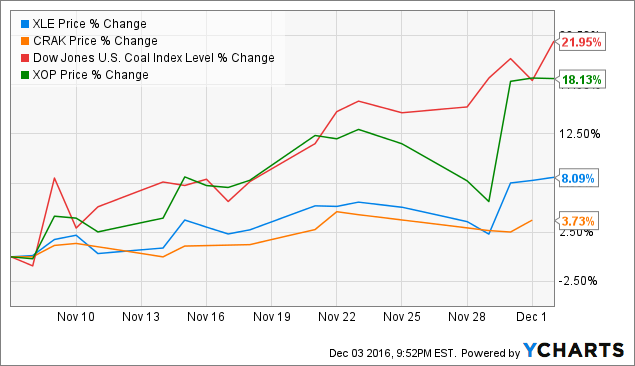 This stands in stark contrast to the share prices of firms in the renewable energy sector. While biofuel producers have rebounded as post-election concerns about Mr. Trump's impacts on that sector have dissipated, other renewable energy companies such as First Solar (NASDAQ:FSLR) and Tesla (NASDAQ:TSLA) have broadly underperformed the broader S&P 500 index (see figure). Investors in the renewable energy sector fear that the Republican sweep of the White House, Senate, and House of Representatives (not to mention of state-level positions) in November's election will result in the rollback of renewable energy mandates, subsidies, and other incentives, restricting the sector's growth and harming its profit margins.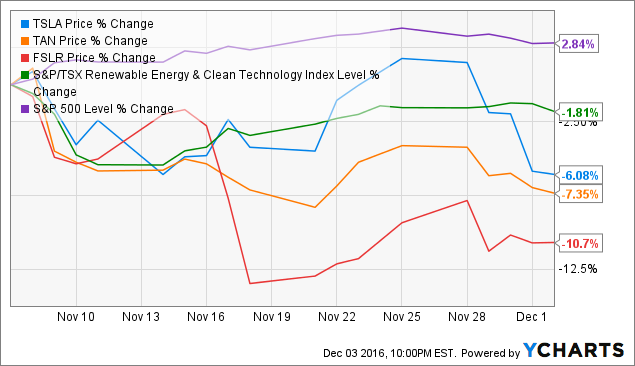 TSLA data by YCharts
There are many practical ways in which the disparate impacts predicted by the markets could be realized, with Congressional action on tax credits and Mr. Trump's selection of the next Environmental Protection Agency (EPA) administrator being the two that are most frequently mentioned in the media. Last week saw multiple reports regarding Mr. Trump's possible nominees for the important Secretary of Energy position, however, and these are instructive for investors in the broad energy sector.
Politics or policy?
First, it appears that Mr. Trump is leaning toward using the Secretary of Energy spot to bolster the bipartisan credentials of his incoming Cabinet while simultaneously increasing the likelihood that the GOP captures a super majority in the Senate following the 2018 midterm elections. The Hill reported on Thursday that Mr. Trump is considering Democratic Senator Joe Manchin for the position. That evening Reuters followed up with a report that Mr. Trump is also considering Democratic Senator Heidi Heitkamp for the same spot.
The two possible picks have much in common besides their political affiliation. Both are red state Democrats, with Mr. Manchin representing West Virginia and Ms. Heitkamp representing North Dakota. Both also face difficult re-election battles in 2018, and Mr. Trump would surely present the case to either that the Secretary of Energy position would allow them to have a guaranteed impact on U.S. policy beyond just the next two years. The fact that the two represent red states would deprive their party of an additional incumbency advantage in 2018, thereby easing the GOP's path to a Senate supermajority.
Most importantly for energy investors, however, both Mr. Manchin and Ms. Heitkamp represent states that are major fossil fuel producers. West Virginia continues to be coal country while North Dakota has benefited from horizontal drilling and fracking breakthroughs to become a major source of U.S. petroleum production. Placing either senator in the Secretary of Energy position would therefore allow Mr. Trump to deflect some accusations of partisanship without weakening his campaign pledges to support domestic fossil fuel production. And all while strengthening his own party's already-strong midterm election outlook.
Energy priorities
The Secretary of Energy position is a high-visibility position, with Barack Obama selecting the winner of a Nobel Prize in Physics to hold the position during his first term and a nuclear physicist at MIT during his second term. The position is more administrator than policymaker, however, not least because Congress determines the Department of Energy's budget and therefore research priorities. To have much of an impact on the energy sector, then, it helps for the Secretary of Energy's priorities to mesh nicely with those of Congress.
So what will the Department's priorities be under the Trump administration? Outgoing Secretary of Energy Ernest Moniz provided an important clue last week when he stated that, to survive the transition to the new administration, Department of Energy programs will need to show "valued added." Cynics were quick to point to this as evidence that the Department under Mr. Moniz has prioritized programs that have no value; after all, Mr. Moniz made his comments while commemorating the Department's controversial "Minorities in Energy" initiative.
I would argue, however, that Mr. Moniz was instead pointing to the fact that the Department's priorities under Mr. Trump's ultimate pick are likely to shift to a focus on the energy markets. As such, its research programs will emphasize ways of reducing the costs of overall domestic energy production rather than just those of select low-carbon pathways. Such an emphasis could complement Mr. Trump's stated pursuit of additional domestic infrastructure investments.
As one Department of Energy senior official said recently, additional infrastructure spending can result in lower greenhouse gas emissions even if it doesn't target clean energy. For example, a lack of natural gas pipeline capacity in the Northeast could limit the region's renewable electricity expansion in the event that utility-scale battery systems do not quickly become cost-effective while improved transportation systems can reduce overall fuel consumption.
Investment implications
The market's reaction to November's election results signals that investors expect the next several years to be advantageous for the coal sector (and fossil energy sector more broadly) at the expense of the renewable electricity sector. When viewed from this perspective, the reports that Mr. Trump is considering a member of West Virginia's congressional delegation to be his Secretary of Energy supports the contention that the Trump administration will be a boon for investors in the coal sector.
I remain skeptical, however. The Secretary of Energy influences policymaking at the federal level but does not direct it, especially given that Congress holds the purse-strings. Mr. Trump's campaign statements about leveling the energy playing field and investing in domestic infrastructure suggest that his administration will focus instead on making domestic energy easily accessible and usable. Contrary to conventional wisdom in some circles, such a development will not work to the coal sector's advantage. If anything, I expect it to work against it by reducing both the likelihood and frequency of infrastructure-induced natural gas price spikes. In the meantime, a "value-added" focus will likely result in research aimed at improving the energy sector's resiliency and accessibility, neither of which suggest a focus on coal.
While I do not foresee the new administration continuing its predecessor's policy of favoring renewable electricity companies such as First Solar and Tesla, the coal sector will need to be explicitly favored at the federal level if it is to justify the share price gains experienced by Arch Coal (NYSE:ARCH), Cloud Peak Energy (NYSE:CLD), Peabody Energy (BTUUQ), Rhino Resource Partners (OTCQB:RHNO), Walter Energy (OTCPK:WLTGQ), and Westmoreland Coal (NASDAQ:WLB) in the aftermath of the election. That is extremely unlikely to occur even in the event that Mr. Manchin becomes the next Secretary of Energy. Investors in the coal sector should view any rally resulting from the potential selection of Mr. Manchin as a selling opportunity.
Disclosure: I/we have no positions in any stocks mentioned, and no plans to initiate any positions within the next 72 hours.
I wrote this article myself, and it expresses my own opinions. I am not receiving compensation for it (other than from Seeking Alpha). I have no business relationship with any company whose stock is mentioned in this article.
Editor's Note: This article covers one or more stocks trading at less than $1 per share and/or with less than a $100 million market cap. Please be aware of the risks associated with these stocks.