The late history of Japanese economy, call it Abenomics or anything else, is a story of a never-ending tempest and headwinds. Deflation is one of the main challenges that torture the brains of the wise people in Japan's economic institutions. It is caused mainly by the lack of wage growth because of low corporate profits. The recently sparked volatility on the energy markets is not going to be helpful. Contrarily, the electricity bill and the operating costs for the industries are going to rise, which in turn would squeeze their profit margins leaving household incomes with no chance to increase in the short-term.
In the long-term, one can meditate on a boost in exports driven by cash spending of oil-rich countries, which will somehow pull Japan out of this vicious circle. Don't forget that the main reason for Japan's falling exports was China that emerged to dominate, and it is still there.
Meanwhile, the domestic oil sales in Japan have further decreased to reach 34-year low for the month of October. Oil imports fell as well, hitting the lowest for the month since 1988, Reuters reported. As the tanker tracking data suggests, November statistics will very likely reflect a rise, which would correspond to the crude buying fever before the OPEC meeting.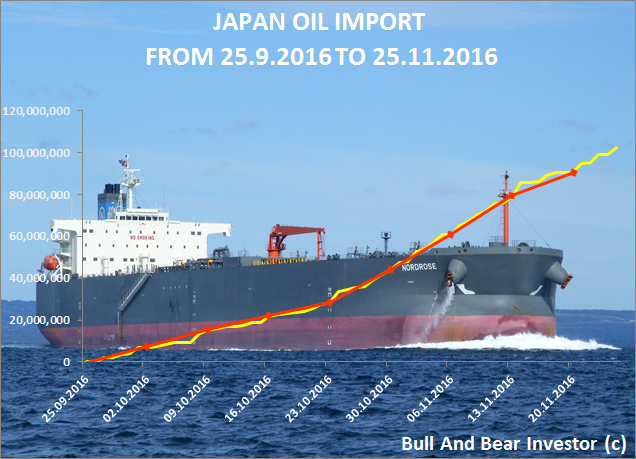 (Source: Tanker tracking data, Bull And Bear Investor's calculations).
The percentage of crude supplied to Japan by the OPEC countries is overwhelming. The opinion prevails that the authorities are not happy with the fact and would like to see more balanced and diverse picture. In October, for the first time crude oil from Ketapang block in Indonesia was imported.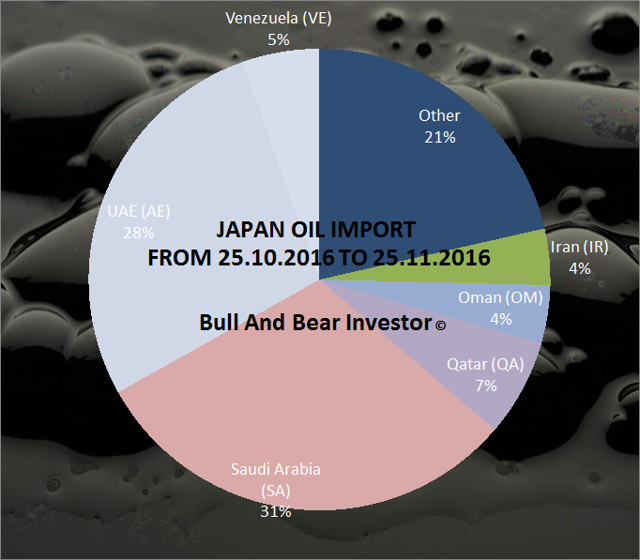 (Source: Tanker tracking data, Bull And Bear Investor's calculations).
Nevertheless, the ties with the countries like Saudi Arabia that provide Japan with a lion's share of the crude, are close to strategic partnership and will strengthen even more. The ambitious plan of Saudis called Vision 2030, aimed to gradually transform their economy making it less oil export dependent, counts with a great deal of Japanese involvement. Japan has a lot to offer in exchange for the energy stability and it is not only Saudi Arabia who is looking to host Japanese participation.
As we noted before, there is a state visit of the Russian President Putin scheduled for December. Japanese JOGMEC is very keen on a possibility to buy into Russian Rosneft, and this may happen in the near future.
Another former Soviet state with huge natural resources is Kazakhstan, with whom JOGMEC has already established connections. Agreements were signed over rare earth exploration, and there are plans to purchase a stake in Kazmunaigas, a local state-owned oil and gas company.
Japan makes very reduced use of nuclear power and is leaning towards ecologically cleaner energy, such as gas. At this moment, oil and coal are indispensable in their electrical power producing scheme. Refinery is an important part of economy, but Japanese government is limited to silently monitoring what is going on within the oil market. It does not have any voice to influence. We will closely follow the tanker tracking data for developments, there were hints at possible crude imports to Asia from Alaska, North Sea and Azerbaijan. To be updated soon.
Our articles are typically based on tanker tracking data, which is not available for free anywhere else. If you want to receive notifications on when our articles are published, please go to the top of this page next to my profile, click the "Follow" button and then click on "Real-time alerts on this author."
Disclosure: I/we have no positions in any stocks mentioned, and no plans to initiate any positions within the next 72 hours.
I wrote this article myself, and it expresses my own opinions. I am not receiving compensation for it (other than from Seeking Alpha). I have no business relationship with any company whose stock is mentioned in this article.
Additional disclosure: The material presented in this article is provided for informational purposes only and is based upon information that is considered to be reliable.