In my infinite wisdom I recommended a favorite senior housing and medical office REIT of mine, Ventas Inc (NYSE:VTR) on the night before the presidential election. My reasoning at the time seemed well enough: Shares had dropped about 16% from my article previous to that one, and, no matter the outcome of the presidential election, Ventas was now trading just below its average ten-year valuation and offered a sustainable yield of 4.6%. There was, and is, a lot to like about this name.
In that article I suspected that either fears of higher interest rates, "or" fear of Donald Trump winning the presidential election were behind the drop in the broader REIT market. It turned out both of those factors were behind Ventas' drop. Not only that, but the rise in bond yields and the anticipation of Trump's electoral victory turned out to be related. On the day after Trump's election, yields spiked even more. With hindsight, I suspect that the downward action in broader bonds was the market's way of predicting that Donald Trump was actually going to win.
As a result of that, Ventas just kept dropping. Have a look for yourself: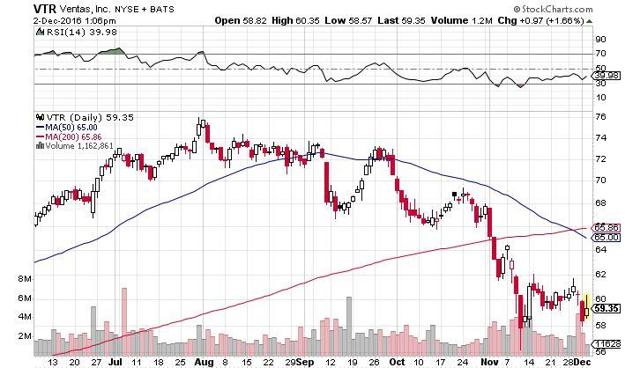 Courtesy of SHARP Charts.
Here you can see that Ventas cascaded lower right after Trump's electoral victory, but seems to have bounced a bit since then. Right now Ventas yields 4.9%. This chart might not show it, but shares are now at lows not seen since March of this year. The big question here is whether Ventas is a buy here and now. This article addresses that question.
A new climate
It's tempting for me to just double down and call Ventas "that much more of a buy" at $59. However, I believe that November 8th has given us a new landscape. That could very well entail the decades-long bull market in bonds coming to an end. If history is any indication, REITs are not going to do well in an environment of falling bonds.
That's what the talk of this "great migration" is about: Investors are getting into stocks, particularly stocks that are economically sensitive and cyclical in nature, and they are getting out of bonds, and 'bond like equivalents,' to which REITs are generally consigned to, for better or worse.
As I've said before, I don't think that it's fair that Ventas, as well as many other medical REITs, get grouped in as "bond equivalents." For one, Ventas has a long runway of growth ahead of it because demand for its clients' medical services continues to grow, and rent from tenants is following the same direction. This has allowed Ventas to grow dividends by mid-to-high single digits for the last ten years and even more.
Therefore, those who want to add Ventas here should consider this to be a contrarian play. The market is treating this stock as a bond (and is punishing it accordingly). Adding Ventas is a bet; a bet that either this spike in yields is a headfake, or that the market will eventually realize that Ventas, and likely other REITs, aren't to be treated as bond equivalents. (For the record, I don't believe that it should be seen as a bond equivalent, but the market seems to have other plans.)
To be sure, I think Ventas could be a great contrarian play in this environment. The big question is whether one wants a contrarian play in one's portfolio at this time. With a net debt to EBITDA ratio near 6 times and a fairly high yield, Ventas could end up being an unwitting battleground stock if bond yields are going to jump around.
I'll tell you what I intend to do: I don't need any contrarian REIT stocks, because I already have plenty, and my portfolio has a good bit of higher-yielding stocks (although not as many as last year). For this reason, I'd like to actually go with the flow a little and look for exposure to more cyclical, economically sensitive sectors.
However, if you are looking for REITs and don't mind taking a contrarian stance, I think Ventas is a great way to go. Its tenants overwhelmingly collect revenue from patients of private pay, so there isn't too much worry about the uncertainty from Medicare reimbursement which has effected a number of other stocks, and as myself and others have said before, the demand for senior living communities is and will continue to boost Ventas' results for a long time to come.
There's no doubt that Ventas is at a good value at this point in time. For example, according to data from FAST Graphs, Ventas has averaged 15.7 times Funds From Operations over the last ten years. It now trades at 14.3 times or so. That's a 9% discount to its average valuation, plus a solid 4.9% yield and a solid track record of dividend growth. It's a good pick if you don't mind taking a contrarian pick against the 'great migration' thesis.
Conclusion
I like Ventas Inc. I like it's business model and I like its valuation right here. However, I will refrain from buying because I am already fully weighted in higher-yielding REITs which are exposed to the 'great migration.' I have plenty as it is, and right now I prefer to build my exposure to more cyclical sectors. But if you are looking for exposure to medical REITs, and Ventas is an industry with strong growth fundamentals ahead of it, then Ventas is an excellent place to be. It sure isn't expensive.
If you're interested in Ventas, feel free to follow me here on Seeking Alpha. I've been watching and following Ventas for awhile now, and I will continue to write update articles when doing so is both material and relevant.
Disclosure: I/we have no positions in any stocks mentioned, and no plans to initiate any positions within the next 72 hours.
I wrote this article myself, and it expresses my own opinions. I am not receiving compensation for it (other than from Seeking Alpha). I have no business relationship with any company whose stock is mentioned in this article.