As an M&A investment banker in the sector, and publisher of the Moving the e-Markets Valuation Index, I'm flabbergasted that 'smart money' at Bain Capital Private Equity and Bow Street is willing to pay approximately 26.4x EV/EBITDA for Blue Nile (NASDAQ:NILE), when today's Index median trades at 15.8x EV/EBITDA.
If you're standing in line to exit your Blue Nile position with $40.75 in cash per share (FORBES) my advice to you is simple, roll your proceeds into 'Amazon-Proof' Stamps.com (NASDAQ:STMP). Additionally, if you own one of the three (3) EBITDA losers in the Index [Wayfair (NYSE:W), Groupon (NASDAQ:GRPN) and Overstock (NASDAQ:OSTK)] my advice is sell at the bid, and roll what will likely remain losing bets into Stamps.com.
To be fair, there is a vocal bear contingent focused on Stamps.com, which emerged appropriately six months ago. If you haven't already, I would encourage you to read their case (see SA Pro Research, Stamps.com: When numbers look to good to be true, they usually are and Stamps.com: The Software Valeant?).
Top 3 Reasons For My Bullishness
Having broken its 50-day moving average of $101.20, I want to share the top three (3) reasons why I've assigned a $180 price target to a stock, which can currently be purchased for about $105 per share (approximately 15.5x EV/EBITDA). First, for those unfamiliar with the business, here is more about the company.
About Stamps.com
The Stamps.com business model is pretty straightforward as illustrated by this picture on the company's homepage and summary description on its IR homepage: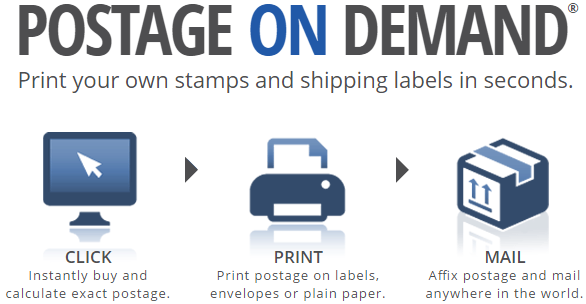 Investor Relations homepage, "Stamps.com provides easy, convenient and cost-effective Internet-based services for mailing or shipping letters, packages or parcels. Its PC Postage service is designed to allow individuals, home offices, small businesses or corporations to print US postage using any PC, any ordinary inkjet or laser printer, and an Internet connection. And Its PhotoStamps™ product allows consumers and businesses to turn digital photos, designs or corporate logos into valid US postage."
1. New Opportunities for Revenue Growth
Unlike Bain's Blue Nile with quarterly year-over-year revenue growth of -4.4%, or the Index median of 18.1%, Stamps.com has recently had quarterly revenue growth (year-over-year) of 79.1%*. As a matter of fact, Stamps.com's quarterly revenue growth rate is greater than every other stock in the Index, including heavy weights Amazon (NASDAQ:AMZN) and Alibaba (NYSE:BABA) at 29.0% and 54.7%, respectively.
*It should be noted that Stamps.com organic revenue growth in the period was approximately 26%, with the remaining growth attributable to the Endicia & ShippingEasy acquisitions (see: page 28, Stamps.com Company Presentation, November 2016).
A key reason I'm bullish on new revenue growth prospects is that I'm hearing from members of my professional network that Stamps.com is capitalizing on new opportunities. For example, e-commerce leader Kellyco (world's largest metal detector company) recently asked its third-party logistics (3PL) provider, Red Stag Fulfillment, to add USPS Priority Mail service as a lower-cost express shipping offering to its platform. Red Stag's President, Eric McCollom, told me "We listened to our clients and realize the value a USPS shipping option provides for their lighter-weight accessories and products. Especially given the 1-to-3 day service levels Priority Mail delivers. We looked at the options of integrating our warehouse and order management system directly with USPS or using an integrator such as Stamps.com. Stamps[.com] has proven a much easier and effective technical solution."
2. 'Amazon-proof' Nature of Stamps.com Business Model
Instead of directly competing with Amazon like a single product category competitor such as Blue Nile, Stamps.com can profit when Amazon Marketplace makes the sale. Here's why and when.
According to Multichannel Merchant and ShipMatrix, of the Big 3 U.S. parcel carriers USPS delivers the most e-commerce packages. And "If you're shipping parcels that weigh from 1-3 lbs., the USPS can be the most cost-effective way to get your customers' package to them...The value proposition for USPS vs. the major carriers starts falling off when parcel weights go above 3 lbs., shippers and experts say. But the great majority of ecommerce shipments are still in the lower weight range." (see: The USPS Ups Its E-Commerce Parcel Game)
3. Recurring Revenue From Existing Customer Base
Stamps.com's Mailing & Shipping business has a recurring revenue based model. Service revenue is earned from different subscription and transaction based models. Supplies store and package insurance revenue are recurring with usage. Q3‐16 Monthly Paid Customer Churn was 3.0%, down 0.4% versus Q3‐15. (source: page 27 & 31, Stamps.com Company Presentation, November 2016)
According to Stamps.com's Investor Metrics 2016 in each of the past three (3) quarters the Company has had in excess of 600,000 customers. ARPU (average revenue per user) is said to have grown from $40.65 in Q1 to $45.05 in Q3, while adjusted EBTIDA margin also grew from 42.5% in Q1 to 49.2% in Q3.
The Bottom Line
While there is risk to the downside as pointed out by a couple vocal bears, in my opinion it's quite possible that Stamps.com will see $180 per share this coming year due to its 1) New opportunities for revenue growth, 2) 'Amazon Proof' nature of business model & 3) Recurring revenue from existing customer base.
The Guideline Public Company Method and "Moving the e-Markets Valuation Index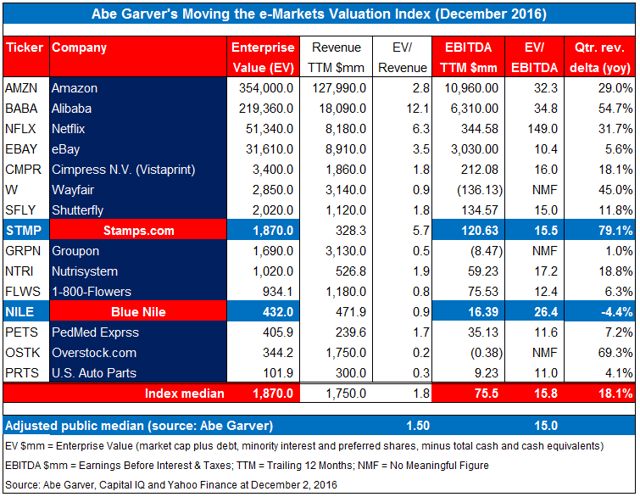 The Guideline Public Company method involves a comparison of the subject company to publicly traded companies. The comparison is generally based on published data regarding the public companies' stock price and earnings, sales, or revenues, which is expressed as a fraction known as a "multiple". A widely used source for the Guideline Public Company method in the e-commerce sector, is the 'Moving the e-Markets Valuation Index'.
The 15 publicly traded companies that make up the Index are: Alibaba, Amazon, Blue Nile*, Cimpress/Vistprint (NASDAQ:CMPR), eBay (NASDAQ:EBAY), Groupon, Netflix (NASDAQ:NFLX), Nutrisystem (NASDAQ:NTRI), Overstock.com, PetMed Express (NASDAQ:PETS), Shutterfly (NASDAQ:SFLY), Stamps.com, U.S. Auto Parts (PARTS), Wayfair, and 1-800-FLOWERS (NASDAQ:FLWS). *Blue Nile will be removed the Index as soon as Bain Capital Private Equity and Bow Street complete their take-private acquisition of the company.
Disclosure: I/we have no positions in any stocks mentioned, and no plans to initiate any positions within the next 72 hours.
I wrote this article myself, and it expresses my own opinions. I am not receiving compensation for it (other than from Seeking Alpha). I have no business relationship with any company whose stock is mentioned in this article.