Investment thesis:
Nobility Homes Inc (NASDAQ:NOBH) is a family owned manufactured housing company operating it the state of Florida. It has good fundamentals, has shown resilience during the 2009 downturn and is on a stable path to recovery. If you are looking for a stock with exposure to the US ageing population and the recovering property market this could be a good company to be invested in.
If you buy into the assumption that the elderly market will drive sales and the property market will continue to pick up, it might earn above average returns.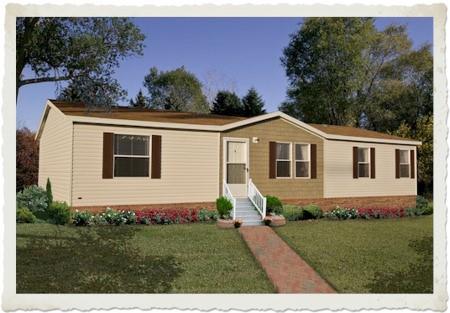 Introduction
One of the great joys of investing in the stock market is getting to understand a myriad of industries and learning the ins and outs of a multiplicity of business. The hard work pays off when you find a gem such as Nobility Homes, which is a somewhat hidden family owned business trading on the OTCX, and operates in the manufactured homes space. Since it is trading on the OTCX, it will be shielded off from most institutional investors.
Nobility is a company that manufactures, sells finances and insures manufactured (prefab) homes, which are typical American-style homes that are built in a factory and are transported by vehicle and placed on the site of the customer.
Nobility is a micro-cap company with a market capitalization of USD 62 million. It is a family business that has been around for 45 years. It was founded by Terry Trexler, who at 74 is still running the business as CEO together with his son Thomas Trexler.
Nobility has 129 employees and is based in Ocala, Florida. Nobility's sales are limited to Florida. Within Florida, Nobility has about 10% market share.
During the 2009 housing crisis, Nobility saw its sales drop by around 60%, putting a significant dent in its top-line. Since 2009, however, Nobilty has seen stable recovery of around 16% CAGR per annum.
Due to the crisis, Nobility has closed down one of the two plants it had in operation. The plant has been inoperational, and could reopen limiting the future CAPEX required for expansion.
Company structure
Nobility Homes Inc. is the operating company manufacturing the prefab homes. It has two wholly owned subsidiaries Prestige Home Centres Inc. and Mountain financial Inc.
Prestige Home Centres operates 10 retail sales centres in North and Central Florida. Some of the properties are leased, others owned. Prestige is responsible for about 60% of the sales of Nobility homes.
Through Mountain Financial Inc. new home owners can finance and insure their manufactured homes. Mountain Financial does not exclusively provide financial services for Nobility's homes, e.g. it also offers car insurance.
In addition to its subsidiaries Prestige and Mountain Financial, Nobility also has a stake in two joint ventures, Walden Woods South LLC and Majestic 21. Walden Woods is a retirement community of manufactured homes, containing 236 residential lots. Majestic 21 is a joint venture with 21st Mortgage Corporation to provide mortgage financing on Prestige home sales.
It is fair to say that through its subsidiaries and joint ventures Nobility has full exposure to the manufactured home industry in Florida (except repairs).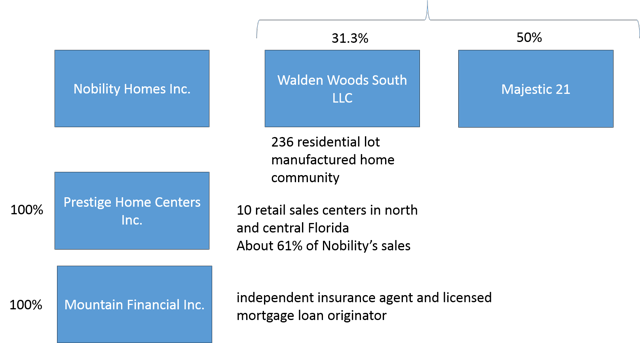 Corporate governance
Looking at the cap table of Nobility gives clues of its corporate governance. At present 66% of the company is owned the Trexler family. Founder Terry Trexler himself owns over 50% of the shares in the company. Since Terry Trexler and Thomas Trexler are shareholders, managers and from the same family, it is quite likely that the interests of the insider shareholders and the outsider shareholders are not aligned. As a new incoming investors, with the current capital structure, it is unlikely that you will have a significant influence on the company's management.
Apart from the Trexler family, two institutional investors own a significant stake in the company. Gamco Investors and the Teton Westwood Mighty Mites Fund. Both funds are part of the same group (Gabelli Funds). Teton states on its website that it is long-term investor investing primarily in micro-capitalization equity securities. These institutional shareholders are expected to represent the interests of the outsider shareholders, and will have a positive influence on the company's management. However, given the fact that the Trexler family owns over 50% of the company it is unlikely that these institutional shareholders will have a significant say over the direction of the company.

Cyclicality
Nobility is in a cyclical business. During the 2009 housing crisis Nobility was hit significantly both in sales and margins. After 2009 however, Nobility has seen a stable recovery of 16% per annum over the past 5 years.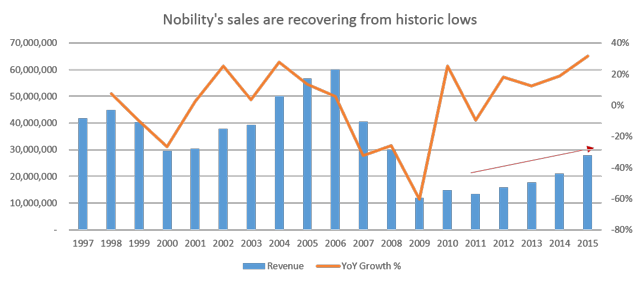 Nobility's share price is shows a similar cyclical pattern. It stock price fell from an all-time high of 29.60 in 2005 to only 7.80 in 2009. Its stock price has been recovering, very much in line with its top line.

Drivers of top-line growth
Because Nobility sells manufactured houses in the pensioner's state of Florida, one of its strongest customer segments will be the 65+ population. Pensioners are generally less interested in long-term property price appreciation, are less worried by depreciation over a 20-year life time, and will be more price sensitive. The average Nobility home sells at around 67k.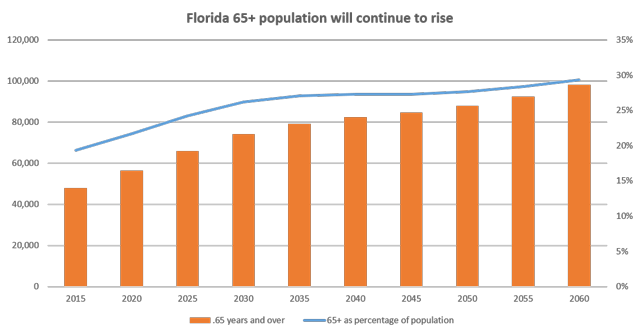 Florida is seeing a significant influx of pensioners, and its number is expected to grow with around 40% over the next decade.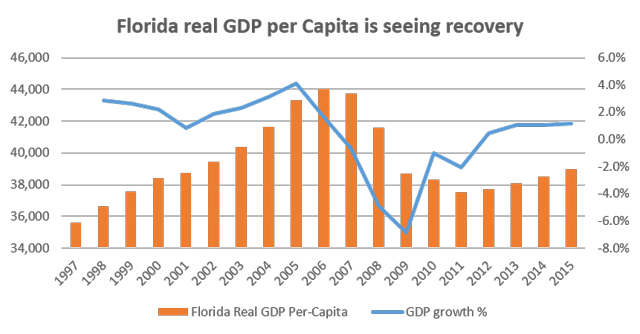 After the 2009 crisis Florida's GDP has taken a serious beating, and is only slowly recovering in terms of real GDP per capita. The combination of improving consumer confidence and relatively low GDP per capita, will drive the sales of the relatively inexpensive manufactured houses. This is shown by the recent trend in Manufactured housing sales in Florida.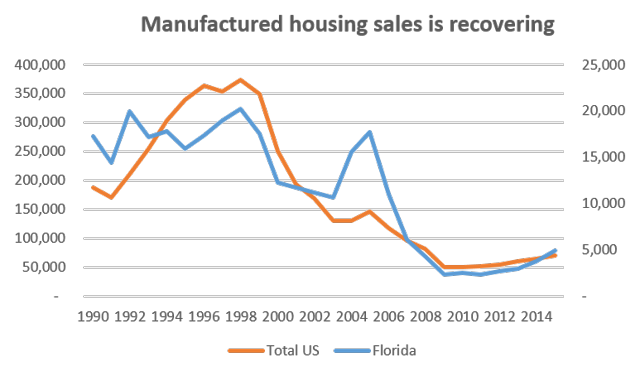 What I like about Nobility Homes
What I like about Nobility is that it operates an understandable business. Because Nobility sells its manufactured houses in the sunny state of Florida, Nobility will benefit from the influx of pensioners over the next decades.
Because Nobility is a family business that has industry experience of over 45 years, they are likely to govern the company in an unpredictable manner in the years to come. Judging from online sources management seems capable and indicates placing integrity as high priory
The company is resilient and has recovered remarkably from the 2008-2009 housing crisis. Part of the reason for this is its relatively low operating leverage (20-years average: 0.4x) and CAPEX requirement (20-years average: 1.0%). Its top line currently recovers at ~16% per annum. To see the full analysis, click here.
With business units in manufacturing, retail, finance and ownership in elderly communities Nobility is fully integrated giving a full exposure to the manufactured home market.
Nobility has built up a significant Cash balance (35% of market cap), which gives it an arsenal for further diversification. Some options for these are investment in elderly communities and home repairs. Also it could choose to return a significant portion of its cash to stockholders to boost the return on equity (see next section).
Also, Nobility has no debt which allows it to deal with the cyclicality of its industry. Taking on a sustainable amount of debt would increase its valuation, thus leaving some room for upside (see next section).
In 2015 Nobility restarted to return some of its cash to shareholders at 12% of net income.
Optimizing the capital mix
Nobility besides a minimum of operating lease obligations has zero debt on its balance sheet. While a low leverage is commendable for any cyclical business, it is probably too conservative for the business it's in. As debt decreases the overall cost of capital (see figure), taking on a certain amount of debt will increase its market value. Other companies in its industry have an average of 10% debt over total assets.
A simplified analysis (see figure below) shows that the optimal debt ratio for Nobility lies between 25-30%. At 25% Debt-to-Assets (10.6M debt) and 3.5% interest (A1/A rating) it would have an interest coverage ratio of 7.9x (2014: 3.5x). While this does not take into account the cyclicality of the business the simple analysis does show that taking on a sustainable amount of debt is in the shareholder's interest.
Having said this, given the fact that Nobility has never had any significant amount of debt on the balance sheet, having no debt seems to be part of the philosophy of the management and majority shareholders.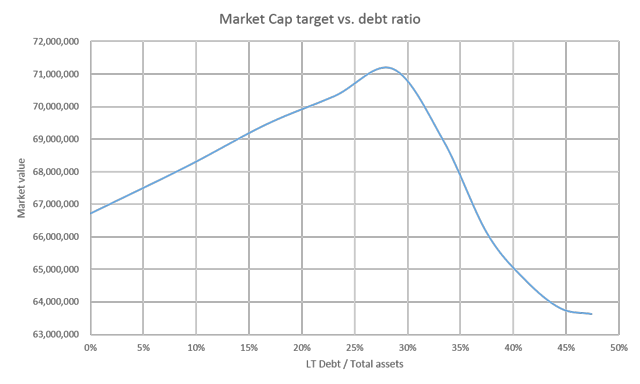 Until 2008 Nobility has had a cash / sales ratio between 20-30% percent. After the traumatic experience of the 2008 housing crisis the company's management has been holding on firmly to its cash position. It was only in 2015 that the company started returning some of its cash to shareholders through a stock buy-back (12% of net income).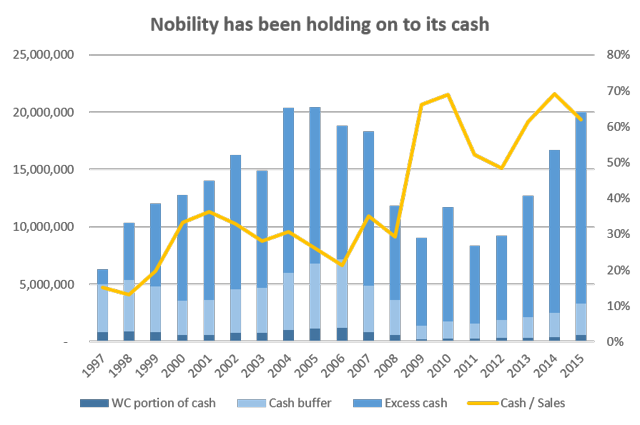 The figure above shows an analysis of company's cash position over the past 20 years. If you assume a working capital cash requirement of 2% of sales, and a generous cash buffer of 10% of sales to cover cyclicality, it shows that Nobility currently holds 16M excess cash. This has significantly depressed the company's return on equity (see figure below), as the cash only makes 0.5% at current interest rates. Returning cash to the shareholders will increase the current ROE of 6% to 9%.
In my opinion, unless the company management presents the shareholders with a plan how to reinvest the cash at a rate of return of at least the cost of capital, management should return the excess cash to its shareholders.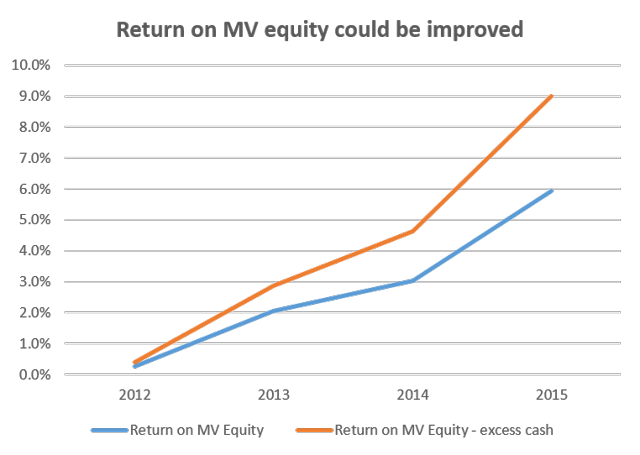 Risk assessment
As we have seen, the manufactured home market is cyclical (2009: 60% drop in sales). Although demographics, GDP and manufactured home sales are in the recovery phase it is no saying if or when the US will be hit by another property crisis. However, it is unlikely that we will see a crisis as severe as 2009 in the near future.
Nobility has a large insider ownership (66% owned by the Trexler family). This may cause inertia when it comes to improving operations or optimizing its capital structure. Although capable and having high integrity, management is conservative.
The company has a slightly old fashioned product offering & marketing. Compare for example with this Australian company. Despite the fact that Nobility targets the elderly community it really should innovate its home designs and marketing.
Nobility's business model is not scalable. Because its homes are transported by road, it is limited to where they can ship their products (estimated 350 mile radius). The only way Nobility can scale is by acquisition in other geographies. Given Nobility's history, it is unlikely they have an interest in doing so.
As the management indicates in their 10-K, Nobility has 18 competitors each making a similar product. It thus has little pricing power. Warren Buffett would classify the business as a commodity business. Its only consumer monopoly is physical presence through its retail centers.
Florida is known for its hurricanes. Even though the company manufactures according to HUD quality standards, manufactured houses are more at risk than site built houses. It is unclear how much exposure Nobility has to hurricanes through warranties and through its insurance arm.
Nobility started modestly returning cash to its shareholders in 2015. It has however obtained a large position of excess cash (16M), which it has not yet adequately put to use. It either needs to put to use or return the excess cash to its shareholders.
Valuation
A DCF valuation was performed based on a forecast of Nobilities pro-forma financial statements (available here). Key to my valuation story is that the current market fundamentals will drive Nobility back to slightly below pre-2009 sales levels (the company's sales peaked in 2005 at USD 59,957,571). After 5 years its YoY growth % will drop to 5% after which it will continue to grow in perpetuity at the current LT-interest rate of 2.6%. It is also assumed that EBIT margins will return to its pre-2009 average of 12%.
Nobility has benefited from a Net Operating Loss carry forward from 2009 - 2015. It is assumed to start paying taxes at its historic effective tax rate of 35.8%.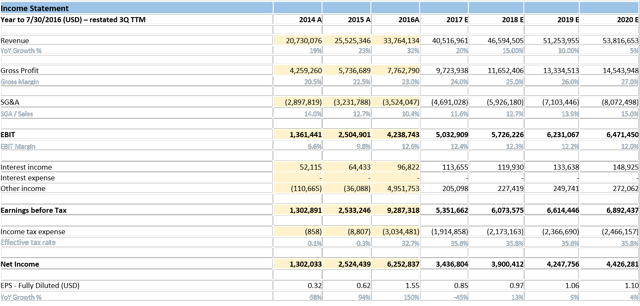 In 2015 Nobility benefited from the 3,990,000 sale of its equity stake in the loss making retirement community Cypress creek. The sale was paid for in cash (960,000) and a note receivable to be repaid in 500,000 bi-annual installments.
Capex is assumed at its 20-year average of 1.0% of sales, depreciation at its 20-year average of 8.7% of PPE. Non-cash working capital is estimated at 27.5% of sales.
Also it is assumed that Nobility will slowly increase the cash it returns to shareholders to 28% of Net Income (average pre-2009 level) in the form of stock buy-backs.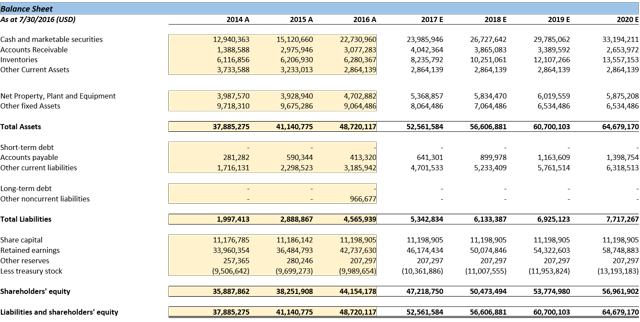 One of the most troublesome inputs in my valuation has been at what rate to discount Nobility's cash flows. As Nobility is a thinly traded company, the correlation of its return profile with the market has been low. Performing a regression of NOBH's returns vs. the SP500 yields a beta-coefficient of 0.57 with an R2 = 0.03. Using CAPM this would yield a low discount rate and qualify the company as an 'non-cyclical' stock, which isn't exactly right.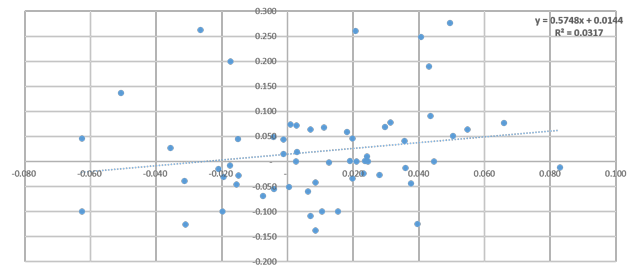 For this reason I decided to take the sector average beta for the home building market (beta = 1.10) as a proxy for Nobility Home's risk, giving a cost-of-equity of 9.3%. Using these inputs yields a valuation of 17.19 per share, indicating that Nobility is slightly undervalued at its current value per share of 15.50.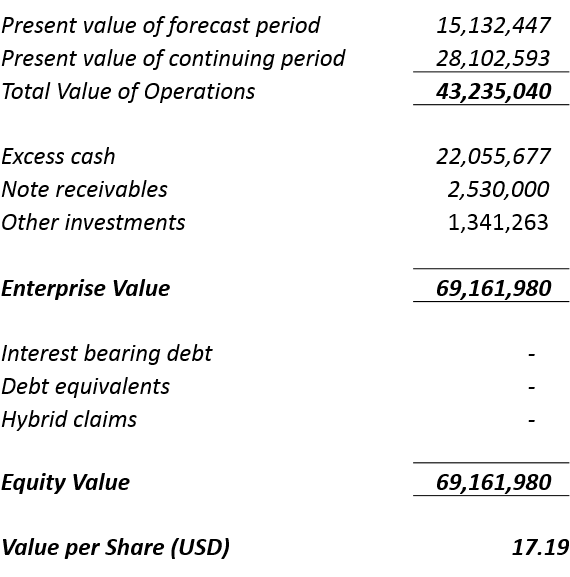 With the variables that I deemed most critical (beta, ST growth rate, LT growth rate, effective tax rate) I performed a Monte Carlo simulation.

Based on the used assumptions it seems as if Nobility's current 15.50 per share falls within the margin of error. It also shows that at the current price, there is a limited downside and a larger up-side. In my sensitivity analysis the riskfactor (beta) had the largest negative impact on the company's value. In other words, if you are of the opinion that the required rate of return is above or below 9.5%, the company's value may be above or below its current market value.
Pricing
In addition to an intrinsic free cash flow valuation I have looked at the factors that seem to have been driving pricing. Performing a regression analysis over 20-years of data over different multiples, the price-to-sales ratio had the best fit of 1.5x sales with an R2 = 0.57. Increased sales will likely directly drive up price with a factor 1.5x.

Conclusion
In my opinion Nobility has good fundamentals. It has conservative financing and has shown resilience during the 2009 downturn. It is on a stable path to recovery.
If you are looking for a stock with exposure to the US ageing population and the recovering property market this could be a good company to be invested in.
If you buy into the assumption that the elderly market will drive sales and the property market will continue to pick up, it might earn above average returns.
Supporting Documents
Disclosure: I am/we are long NOBH.
I wrote this article myself, and it expresses my own opinions. I am not receiving compensation for it (other than from Seeking Alpha). I have no business relationship with any company whose stock is mentioned in this article.
Editor's Note: This article covers one or more stocks trading at less than $1 per share and/or with less than a $100 million market cap. Please be aware of the risks associated with these stocks.