After a three-quarter recession from Q3 2015 to Q1 2016, Taiwan is emerging from the dip on the back of more robust export growth stemming from its electronic parts industry. With a near perfect correlation between export growth and manufacturing performance, the increase in exports has subsequently boosted the country's industrial sector growth and lowered its jobless rate, with manufacturing representing slightly above one-quarter of the country's employment and 32% of its GDP. The export sector represents about half of Taiwan's total GDP.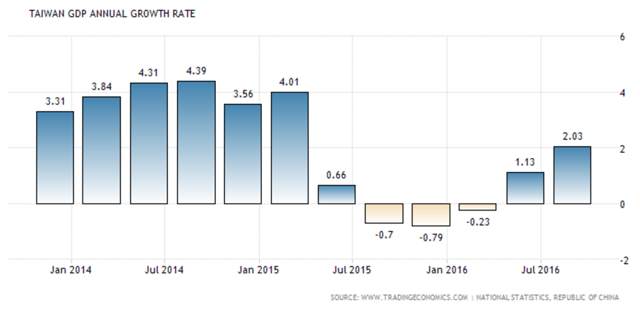 To spur growth, and with inflation hovering in the 0%-2% territory in most developed economies, Taiwan's central bank has eased its monetary policy down to an overnight rate of just 1.375%.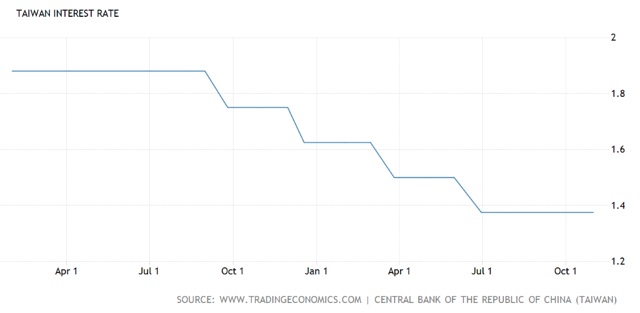 The country's own inflation rate - in many respects influenced by the meager price growth in developed countries from its extensive trade activity with these economies - stands at just 1.7%. Annual growth will amount to about 1% for the FY2016, assuming about 2.5% growth for Q4, with somewhere in the vicinity of 2.0%-2.5% growth expected for the FY2017.
Aging demographics remain a long-term headwind for Taiwan. According to the CIA World Factbook 2016 estimate, Taiwan has a median age of 40.2, about 2-3 years older than that of the U.S. and 2-3 years younger than the median age in the European Union. (The world average is 30.1.)
Taiwan's labor force participation rate has continued to expand ever since the financial crisis and currently stands at around 58.8%.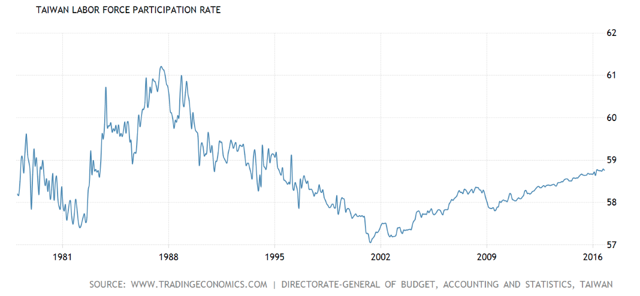 Nevertheless, the country's dependency ratio, defined as the proportion of retirement-age citizens (65+) and child-aged citizens (0-14) to working-age persons (15-64), is already increasing, having reached its low point in 2012. A lower dependency ratio is inherently better than a higher one, as it denotes a higher labor supply and reduced budgetary pressures from lower entitlement spending requirements. The total dependency ratio currently stands at 36.2%, but is expected to increase to 92.9% by 2060 based on median-variant projections.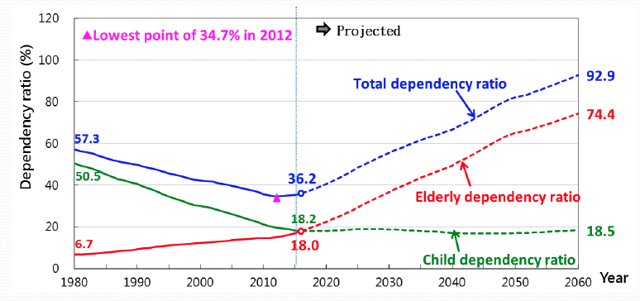 (Source: ndc.gov.tw)
Population growth is expected to peak in 2021 at around 23.7-23.8 million (~200,000 above its 2016 figure at the median) before falling all the way to 17.3-19.7 million by 2060, or 73.0%-82.8% of the 2016 population.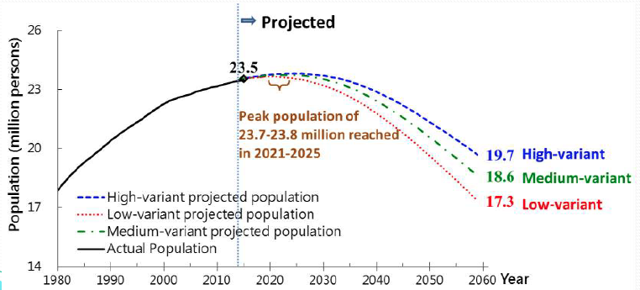 (Source: ndc.gov.tw)
From the vantage point of fiscal policy, the country is working to boost growth through investment into higher-growth industries, such as biotech and other more innovative, entrepreneurial business types. While the demographic effect is inevitable and impactful, investing into such jobs provides a potential means to enhance the country's overall productivity rate to compensate for its adverse influence on long-run growth.
President Tsai Ing-wen has also expressed a desire to strengthen the country's trade ties with China, South Korea, and Vietnam to boost growth. Even though Taiwan is not a member of the Trans-Pacific Partnership, currently under political fire from President-elect Donald Trump, Tsai has sought to discuss entry into the agreement.
Negotiations, if they materialize in any meaningful manner, will likely hinge on Taiwan's implementation of domestic reforms and upon consideration of how inclusion might affect pre-existing trade arrangements. It is unclear what type of diplomatic ties Taiwan will have with the U.S. and how the Trump administration's stance on trade will affect the country. U.S.-Taiwan diplomacy has been virtually absent since 1979, although Tsai's conversation with Trump on Friday afternoon may indicate some possible form of rekindling.
Tsai's new southbound policy is designed to wean itself off the Chinese economy by expanding its ties in southeast Asia through tourism and a system to potentially foster greater labor mobility. Naturally the southbound policy is a negative with respect to its political relationship with China, as it signals a partial disengagement. From Taiwan's perspective, thirty-nine percent of its exports still go to China, which encouraged Taiwan's political leaders to resort to new tactics to avoid such over-reliance on a foreign power for its own economic success.
For the time being, Taiwan's exports are bolstered by a cyclical uptick in technology demand. Taiwan is a crucial part of Apple's (NASDAQ:AAPL) supply chain by producing key electronic inputs into the production of the iPhone. The recent release of the iPhone 7, given the global phenomenon the product has become, has been a key contributor to Taiwan's export growth. As the novelty of the iPhone 7 decays and demand for the product recedes starting with the new year, one could also expect this to be apparent within Taiwan's export data heading into 2017.
In the longer term, Taiwan's growth, absent a refocusing of its economy to something more consumption oriented, will still be dependent on the general level of international trade. Global trade metrics have been less than stellar over the past few months, with China's September exports data dropping 10% year-over-year. Taiwan's exports had contracted for a consecutive total of 17 months before beginning to grow once again by showing signs of life in the past 5-6 months.
The country's IHS Markit/Nikkei Manufacturing PMI increased to a two-year high of 52.7 in October before ascending to a 27-month high of 54.7 in November, on the back of this export growth.
Nevertheless, the main short-term risks to the Taiwanese economy remain rooted to its reliance on tech demand, performance of the highly leveraged Chinese economy, and the political whims associated with sentiment on globalization.
Investing Opportunities in Taiwan
Currency
Since reaching a one-year high against the U.S. dollar on September 6, the Taiwan dollar has shed 2.4% against the USD upon the pricing in of a Fed rate hike before the end of the calendar year.
USD/TWD Price Chart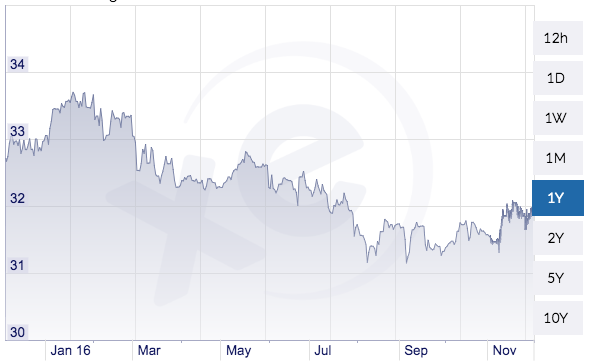 (Source)
Taiwan's central bank has cut its overnight rate by 50 bps over the past year, but will likely keep rates flat for the entirety of 2017 as the economy's growth and inflation rates stabilize after the export slump. This points to the U.S. dollar potentially continuing to appreciate versus the Taiwan dollar, but the effect will likely be slight, as the Federal Reserve is unlikely, at this point in time, to hike more than once in 2017. Volatility in the foreign exchange market is likely maintain above-trend levels with political uncertainty in the EU (e.g., Brexit, Italy referendum). Accordingly, investors may opt for the safe haven of a reserve currency, such as the U.S. dollar, versus that of Taiwan.
Equities
Taiwan's equities market, as represented by the Taiwan Stock Exchange Weighted Index (TWSE), is volatile for the reasons mentioned in the final paragraph of the previous section. Although the index has seen about a 10% appreciation in 2016 - largely from a combination of export growth and monetary policy easing -- it is still 8% off its pre-recession May 2015 highs.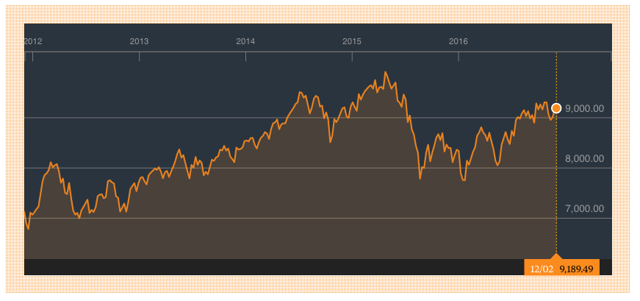 (Source: Bloomberg)
With the many unknowns regarding the country's economy and merely ordinary baseline growth expected going forward, there is little anticipation that investing into the country's stock index can provide double-digit return expectations.
Sovereign Debt
With low overnight rates, low inflation, a high level of creditworthiness as determined by the three major credit agencies (S&P: AA-; Fitch: AA-; Moody's: Aa3), and spillover effects from developed economy quantitative easing regimes, Taiwanese debt offers lower yields on its debt than U.S. Treasuries at each respective maturity tier.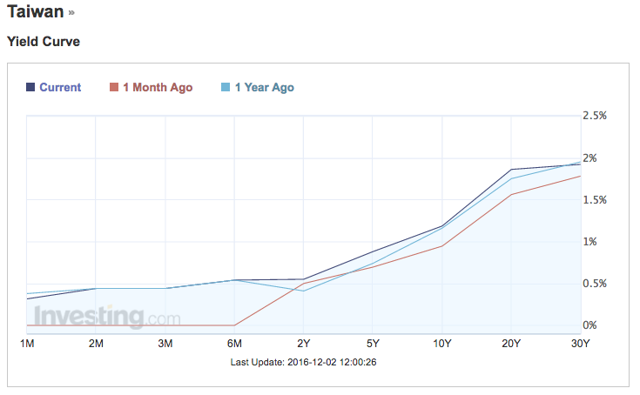 (Source: investing.com)
Naturally, for yield-seeking investors, Taiwan's sovereign debt is not the most alluring option.
Summary
Due to a combination of risk factors relating to the cyclicality of the country's export sector (and its dependence on the Chinese economy), uncertainty with respect to global trade agreements, middling growth prospects ahead, and the inadequate returns expectations with respect to the country's currency and stock and bond markets, Taiwan is one international market where I'm not currently involved from an investing standpoint.
Disclosure: I/we have no positions in any stocks mentioned, and no plans to initiate any positions within the next 72 hours.
I wrote this article myself, and it expresses my own opinions. I am not receiving compensation for it (other than from Seeking Alpha). I have no business relationship with any company whose stock is mentioned in this article.