The Walt Disney Company's (NYSE:DIS) stock price has been punished over the last year, as share are down ~13% due to concerns over the Media segment's, i.e. ESPN, long-term business prospects. I, however, believe that these concerns are overblown and that they have created an opportunity to add to a long position in this storied company an attractive valuation.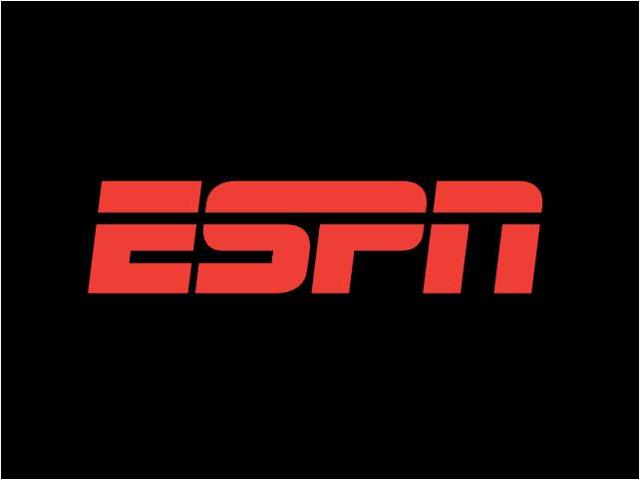 (Source)
The ESPN franchise is undoubtedly going through a period of transition, which will eventually result in a very different looking business, but this uncertainty does not necessarily mean that this asset will be worth less in the future than it was a year or two ago. Disney could actually end creating a lot of value if the company is able to find the best way to position ESPN as the clear-cut winner in the new skinny bundle world. The company has consistently communicated the fact that ESPN will play a significant role in Disney's future, and Mr. Robert Iger, President & CEO, again recently defended the operating segment in a CNBC interview:
"[ESPN] adopts very well to mobile platforms, and that's where we're moving. So we feel really good with ESPN. We're dealing with some near-term issues with ESPN, we're eyes wide open on that. But we think the long-term revenues are going to be just fine."
No one truly knows how the pay-TV space will eventually shake out, but what I do know is that Disney has some extremely valuable content that will put the company in a great position to become a major player in the "new world". Additionally, it is hard to bet against Disney's CEO getting it right because he has a proven track record since taking over.
Therefore, I plan to stay the course and let my Disney position ride out because the current ESPN concerns are short-term in nature and are not [yet] enough to scare me out of my investment. Moreover, Disney's other segments have great long-term business prospects that will give management the time to figure the ESPN thing out.
"The key to making money in stocks is not to get scared out of them."
--Peter Lynch
The Other Segments
The Media segment is still a major contributor to Disney's consolidated results, and will likely be for awhile, but let's not forget that the other segments are becoming larger contributors to the company's overall success.
For example, the other segments --Parks & Resorts, Studio Entertainment, and Consumer Products & Interactive Media --now account for ~51% of Disney's operating income, which is significantly higher than the percentage for fiscal 2013 (~36%).
Revenues
Fiscal 2016
% of Total
Fiscal 2015
% of Total
Fiscal 2014
% of Total
Fiscal 2013
Media Networks
$23,689
43%
$23,264
44%
$21,152
43%
$20,356
45%
Parks & Resorts
$16,974
31%
$16,162
31%
$15,099
31%
$14,087
31%
Studio Ent.
$9,441
17%
$7,366
14%
$7,278
15%
$5,979
13%
CP & Int Media
$5,528
10%
$5,673
11%
$5,284
11%
$4,619
10%
$55,632
100%
$52,465
100%
$48,813
100%
$45,041
100%
Operating Income
Media Networks
$7,755
49%
$7,793
53%
$7,321
56%
$6,818
64%
Parks & Resorts
$3,298
21%
$3,031
21%
$2,663
20%
$2,220
21%
Studio Ent.
$2,703
17%
$1,973
13%
$1,549
12%
$661
6%
CP & Int Media
$1,965
12%
$1,884
13%
$1,472
11%
$1,025
10%
$15,721
100%
$14,681
100%
$13,005
100%
$10,724
100%
Percentage Change from 2013 to 2016
Revenue
Income
Media Networks
16%
14%
Parks & Resorts
20%
49%
Studio Ent.
58%
309%
CP & Int Media
20%
92%
(Source: Disney's Earnings Presentations for fiscal 2016 and 2014)
The table shows just how well Disney has grown the other segments over a few short years. Another important observation is that the Media segment's revenue and income is still trending in the right direction, for the time being, even while the financial community has been screaming that the roof is falling.
There are many analysts that are worried about Disney, and more specifically ESPN, but I would contend that this is creating a buying opportunity. As I described in "Disney: The Path Is Becoming Clearer", the company has many ways that it can prosper from the changing pay-TV space. In my opinion, the time to be worried about Disney is when there are signs that the company has lost its way and that management has no plans to right the ship, which is simply not yet the case.
The Company Continues To Produce Improving Results
On November 10, 2016, Disney reported Q4 2016 adjusted EPS of $1.10 on revenue of ~$13b, which slightly missed the consensus EPS estimate of $1.16. For comparison purposes, Disney reported adjusted EPS of $0.95 for the same period in the prior year.

(Source: Disney's Q4 2016 Earnings Presentation)
During the Q4 2016 conference call, management discussed in great detail the headwinds that the company has had to contend with and, in my opinion, the Q4 2016 results were impressive when considering this challenging operating environment. Additionally, it is hard not to like when a company increases net income and free cash flow by double-digit percentages.
A review of the Q4 2016 results, in addition to considering the fact that the next Star Wars film (Rogue one) is coming out soon and that Shanghai Disney is just getting started, makes me believe that Disney's long-term story is still intact. Plus, the company recently raised its semi-annual dividend from $0.71 to $0.78 so investors are now being paid more to be patient as management figures out the best path to take ESPN.
Valuation
Disney is trading at a reasonable price-to-earnings ("P/E") ratio based on trailing earnings.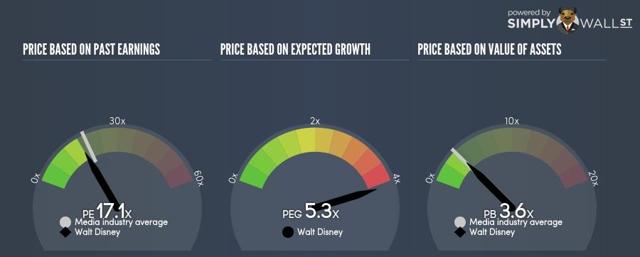 (Source: simplywall.st)
Based on forward earnings, Disney is trading at a slight premium when compared to its peers.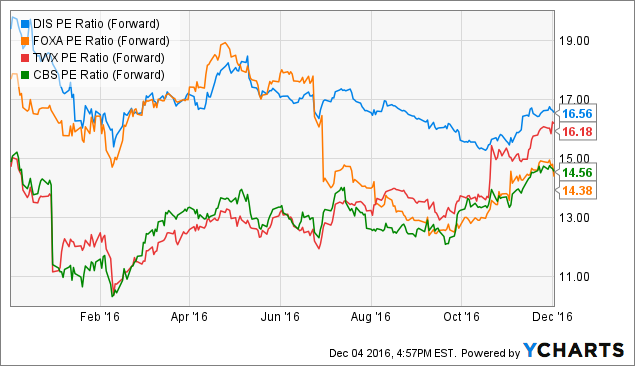 DIS PE Ratio (Forward) data by YCharts
In my mind, Disney has the best content in the world, along with other best-in-class businesses, so a premium is more than warranted. However, I do believe that this premium will increase once the company figures out how best to capitalize on its world-class IP in the new environment.
Bottom Line
Another important point to note is that Mr. Iger and company are not sitting on their hands while the pay-TV space is changing around them, as the company has already announced several deals -- Bamtech, AT&T-DirecTV streaming service, etc. -- in addition to confirming that Disney is still exploring other options for direct-to-consumer services. Spinning off ESPN is a topic that has been gaining steam over the last few months, but I think that this would not be very likely in the near term.
The financial community has all but written-off ESPN, but I think that this mindset is a little premature. Yes, ESPN continues to lose subscribers but this makes sense in a changing environment. Disney is facing a new reality as many people start to turn to the skinny bundles, but it is not a foregone conclusion that Disney, or ESPN, will be a loser once things settle.
There is a lot to like about Disney, as the company continues to report impressive operating results, so I am willing to wait out the storm. As such, I believe that Disney is a great long-term buy under $100/share.
If you found this article to be informative and would like to hear more about this company or any other company that I analyze, please consider hitting the "Follow" button above.
Disclaimer: This article is not a recommendation to buy or sell any stock mentioned. These are only my personal opinions. Every investor must do his/her own due diligence before making any investment decision.
Disclosure: I am/we are long DIS.
I wrote this article myself, and it expresses my own opinions. I am not receiving compensation for it (other than from Seeking Alpha). I have no business relationship with any company whose stock is mentioned in this article.