On April 23, 2005, the very first YouTube video was released. Eleven years later, YouTube has grown to have 5 billion videos watched a day, 1.3 billion total number of users, an estimated annual revenue of $10 billion for 2016 and yet it is not profitable. In fact at a recent summit, the CEO of YouTube had stated that it is still in investment mode. Originally purchased in October 2006 by Alphabet (NASDAQ:GOOG) (NASDAQ:GOOGL) for $1.65 billion, it is now estimated to have a valuation of $70 to $90 billion on its own. Making about 13% - 17% of the current market cap of Google, we wanted to do some analysis of the risks and opportunities that YouTube has coming ahead. Especially since there have been recent videos put out by major content creators including PewDiePie, the #1 most subscribed YouTuber, contemplating quitting the service.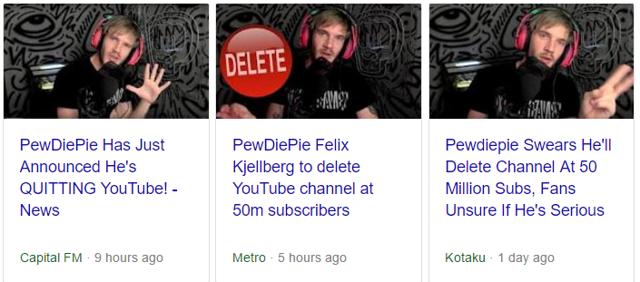 History
Starting out as a failed dating website, who knew YouTube would end up being the central hub for video content today. Chad Hurley, Steven Chen and Jawed Karim came up with the idea back in 2005 when they figured the website would work as a dating website where single people would post up videos of themselves to attract others for dates. In fact on the main page of the website you would be entering in your sex and age. Like most success stories, this one had humble beginnings. No one used the first iteration of this website. The creators were so desperate for users that they put Craiglist ads to pay for people to upload videos on their website.

It was the original community who really defined what YouTube would be. Instead of making dating related videos, users would instead upload videos of everything else to share with their friends and family. The original community of YouTube was what led the original founders to revamp the site to be more open and general to entice others to upload videos of whatever they wanted. This is the backbone of what YouTube is today. After Sequoia Capital help fund this venture and began looking for advertisement deals, YouTube began to really hit off with the general public. In fact it was this famous Nike Ad to be the first video to reach a million views. In 2006, Google purchased the company after seeing the potential this platform had for advertising. The following is a synopsis of risks and opportunities we see ahead for YouTube.
YouTubers quitting and increased competition
It was this video by YouTuber PewDiePie quitting that inspired me to write this article. Now it remains to be seen how serious he is to go through with this promise but there is always a risk of talent leaving and taking their subscriber base as well. His main complaint was the subscriber dumps that YouTube would go through from time to time. YouTube does this to get rid of "ghost" accounts. "Ghost" accounts are determined based on their viewing history and will be removed from a channel if they have not had any recent views of that channel. Although it does hurt a channel from an aesthetics point of view due to lowering their subscriber, this is a necessary process. By removing accounts that no longer watch your content, it allows YouTube and the advertisers find a better match for their ads based on your subscriber base.
There are many reasons why YouTubers quit such as stress or running out of creativity. However there has also been some instances of poaching. Two years ago, there was a huge push by Yahoo to reinvent itself and become more competitive with Google. One of their tactics was to lure content creators by enticing them with higher ad revenue share. Currently Google retains 45% of the advertising earned by content creators. In 2015, Vessel was on the hunt trying to poach content creators by enticing creators with higher CPMs. YouTubers earn about $2-3/CPM vs. what Vessel claimed to be able to provide $50/CPM. Their caveat was that content creators also would release videos on their website three days ahead of being released on YouTube, creating an early access pay wall. Coincidentally, both of the aforementioned companies were both purchased by Verizon (NYSE:VZ) in 2016. Although there has yet to be a viable competitor, there will always be future competitors who will attempt to dethrone YouTube. There has been a lot of consolidation in the media place such as AT&T (NYSE:T) and Time Warner (NYSE:TWX) and I would not be surprised if a media giant were to attempt enter the online video space in the future.
The Black market of Online Advertising
YouTube marketing is strong because it can achieve the holy grail of marketing, which is advocacy. Advocacy in marketing is a term which describes the type of marketing that we receive from friends and families. YouTube builds this relationship with viewers through the trust gained by the content creators. In a recent Nielsen report, it found that users trusted online consumer opinions 66% of the time when making a purchase. Due to the fact that YouTube is on the frontier or marketing, it is no surprise that it has also created its own "black-market" for advertising.
On a larger level there has been illegal product placement such as the Xbox One controversy. In summary what happened was that Microsoft (NASDAQ:MSFT) was paying gaming channels to promote their product in a positive light without disclosure that they were being paid to do so. It is explicitly outlined on the FTC website that this is illegal.
On a smaller level there has been paid shills to YouTubers without disclosure (pictured below). The email below was to a fellow smaller YouTuber with only a few thousand subscribers who reviews tech parts. When he replied back to the email telling them they would review the product for free if they got a demo, they got back an email stating that they would only get the product if they gave positive reviews.
If the FTC were ever able to crack down on this illegal black market for advertising dollars it could serve to be a windfall to YouTube. Currently these advertising dollars are being diverted away from YouTube by going straight to the YouTuber. By removing this black market it would increase the amount of money going into legal advertising giving benefit to YouTube.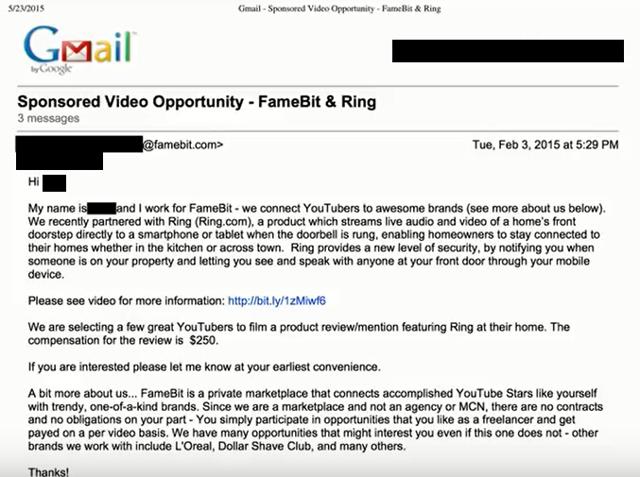 Valuation
At the end of the day, we want to know how much our investment in YouTube will be worth in the future. Since YouTube is not generating any earnings right now, the only method of valuation we can use is a price multiple on sales. Taking the average of related companies, the Max, the Min and Google's current valuation, we were able to get within the valuation metrics that were being touted by Wall Street. Next using the same metrics we wanted to calculate the value of YouTube in four years, 2020, to see how much the valuation of YouTube growth alone could add to Alphabet's market cap. The growth rates that UBS has proposed in YouTube revenues does present an interesting growth opportunity that implies as high as an annualized 8% share increase just based on YouTube's growth and assuming the rest of Alphabet does not grow at all.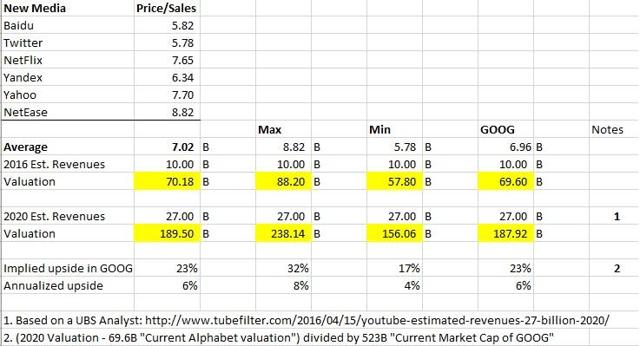 Conclusion
YouTube has grown up in the past 11 years and it still has a lot to grow. Based on the growth projections, Google could be a fantastic long-term holding for any portfolio. While the media may be over blowing the vast exodus of key subscribers of YouTube, it is clear that Wall Street will not quit on YouTube if there is money to be made.
Please hit the follow button above if you would like me to go further into the business of YouTube. Leave a comment below and let me know what your thoughts are on the future for YouTube. Thanks for reading!
Disclosure: I/we have no positions in any stocks mentioned, and no plans to initiate any positions within the next 72 hours.
I wrote this article myself, and it expresses my own opinions. I am not receiving compensation for it (other than from Seeking Alpha). I have no business relationship with any company whose stock is mentioned in this article.