Top 5 Silver Stocks for 2017
Every year I like to give my top silver stock picks for the upcoming year. The goal is to outperform not only the physical price of silver (NYSEARCA:SLV), but also silver miners as a whole. I use the global X Funds silver miners index (NYSEARCA:SIL) as a benchmark, as this ETF contains a basket of silver mining stocks.
Just like with gold stocks, I am looking for silver miners with low cash operating costs, a solid balance sheet (low debt, strong net cash and working capital), and strong growth prospects (low-cost silver production). An undervaluation compared to peers is another positive.
Check out my top 10 gold stock picks for 2017 here.
Why own silver stocks? The answer is leverage. I estimate, from experience that every 10% gain in silver prices should net you approximately 30% or greater gains in silver miners. Of course, this works both ways, as a 10%-20% drop in silver prices can also result in a 30% loss, or greater. As you can see in the below chart, silver miners have provided leverage to silver prices this year, as the SIL ETF has returned 94.44% as of writing, compared to a 20% gain in the SLV.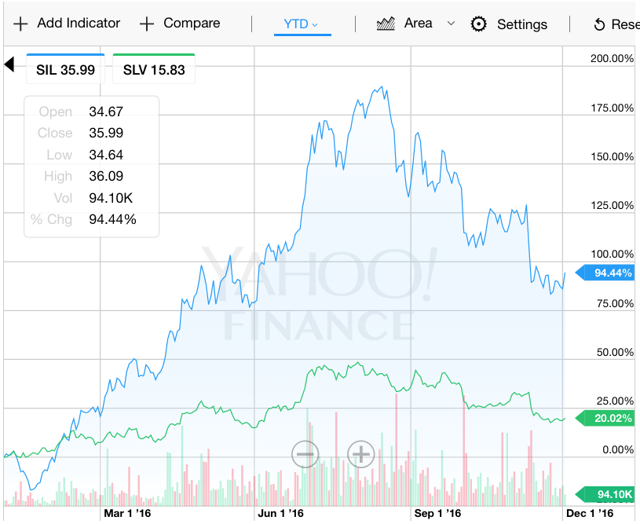 (Credit: Yahoo Finance)
As I point out every year, I strongly urge investors to consider dollar-cost averaging positions in silver stocks, instead of trying to time the market and go all-in at once. Silver miners are highly volatile and I think investors should try to use this volatility to their advantage, buying stocks on dips and perhaps taking some gains on upswings. You can see above that investors would have been smart to lock-in some gains in the summer, when the SIL was up 175% year-to-date at one point.
Here's a recap of my top picks for 2016, to show you the results I've achieved. Four out of my five top picks outperformed the benchmark SIL ETF. These picks have returned an average of 242.3%, and $10,000 invested equally in these stocks would have turned into $24,230 as of writing.
#5 Silvercorp Metals (SVMLF): My #5 overall pick has had an outstanding year, up 470% year-to-date, easily outperforming the SIL's return of 94%.
#4 First Majestic Silver (NYSE:AG): This silver miner focused in Mexico has returned 200.31% year-to-date.
#3 Hecla Mining (NYSE:HL): Hecla is a major producer of silver focused in North America and has achieved returns of 236.51% year-to-date.
#2 Silver Standard Resources (NASDAQ:SSRI): This is the worst performing stock on my list, yet has still managed to return gains of 94%, identical to the SIL.
#1 Great Panther Silver (NYSEMKT:GPL): The small-cap, Mexico-focused silver miner is up 211% year-to-date, and is the third-best performing stock on this list.
Here are my top silver stocks for 2017. You'll notice that more than a few of my top picks for 2016 also made the list for 2017.
TOP PICKS 2017
#5 Coeur Mining (NYSE:CDE): Coeur Mining is the largest U.S.-based silver producer and also produces some gold. The miner really caught my attention when it reported its third quarter 2016 financial results in October. After previously recommending avoiding the stock at $13.32 per share, I expressed much more bullishness in Coeur at $11.28; I'm more bullish now under $11. The company produced 8.6 million silver equivalent ounces in Q3, and while this was a drop of 10% from last quarter, the company managed to reduce its all-in sustaining costs from $19.61 to $15.89 per ounce.
With higher gold prices and new production from the recently acquired Wharf gold mine, Coeur produced $47.8 million in operating cash flow and $14.6 million in free cash flow in Q3. And Coeur has really cleaned up its balance sheet, as it now has $222.5 million in cash and cash equivalents, with $401.7 million in total debt; net debt fell by over $70 million in Q3. With a recent $200 million at-the-market stock offering, Coeur's net debt position will actually be close to neutral following closing of the offering and redemption of its 7.875% senior notes due 2021. Meanwhile, Coeur continues to trade at a low valuation, as shares trade at an EV/EBITDA of 10.9 and a forward P/E of 12.36, according to Yahoo Finance.
Coeur is a top pick for 2017 as I think the company gives investors big leverage to silver prices; I expect the company to continue executing in 2017.
#4 Endeavor Silver (NYSE:EXK): Endeavour owns and operates three underground silver-gold mines in Mexico: the Guanaceví mine in Durango state and the Bolañitos and El Cubo mines in Guanajuato state, with numerous development and exploration properties. The stock was previously listed as an honorable mention pick in my top silver stocks to own for 2016, and I later regretted the decision given the company's strong performance this year. I think Endeavor has really proven itself as a solid, low-cost silver producer as it is managing its costs well, has cleaned up its balance sheet and has numerous growth opportunities ahead.
For example, in Q3, Endeavor's all-in sustaining costs fell 24% to $11.47 per ounce. With silver prices north of $19 per ounce, the company produced solid operating cash flow of $17.8 million and EBITDA of $10.8 million. Its cash balance grew by $8.32 million and working capital rose to $91.9 million, so Endeavor has a healthy cash position and also has zero long-term debt.
But Endeavor's near-term, organic growth potential is the primary reason I put the stock on this list. The company's fully permitted El Compas gold-silver project is likely to become Endeavor's fourth mine in 2017, while the Terronera silver-gold project is growing and will likely advance to the feasibility stage, with production possible by 2018. With production at the Parral mine expected by 2019, the ultimate goal is to build and operate three new mines within the next three years. For these reasons, this is a silver stock worth betting on in 2017.
#3 Great Panther Silver: As mentioned previously, Great Panther Silver was my #1 pick for 2016. The company owns 100% of two mining operations in Mexico (Topia, San Ignacio and Guanajuato mines) and has numerous growth prospects (El Horcon, Santa Rosa). It's still one of my favorite silver stocks to own for 2017, landing the #3 spot on this list.
Great Panther is a profitable silver producer, reporting mine operating earnings of $7.2 million and net income of $2.1 million, or $.01 per share, in Q3. Like the other miners on this list, its balance sheet is a major strength: the company ended this past quarter with $52.9 million in cash and cash equivalents (up nearly $40 million from last year) and zero debt. All-in sustaining costs have averaged just $9.23 per ounce for the first nine months of 2016, and I expect similar costs for 2017.
Great Panther's ability to maintain low cash costs, the strength of its balance sheet, its growth prospects and leverage to silver prices are the main reasons I've put the silver miner at #3. I also think Great Panther is a strong takeover target for some of the larger silver miners mentioned on this list.
#2 Hecla Mining: Hecla is one of the largest and lowest-cost U.S. silver producers - while the company is also the third largest U.S. producer of both zinc and lead, and produces gold, silver production for 2016 is estimated to be 16.25 million ounces, far more than any other metal. Since 2012, the company has grown its silver production by 154%, from 6.4 million ounces to 16.25 million expected this year; meanwhile, gold production has grown 320% in that timeframe, from 55,500 ounces to 233,000 ounces.
Hecla blew past my expectations this past quarter, with a 17% jump in silver equivalent production to 10.3 million ounces, plus a 51% decline in cash costs to $3.68 per ounce. With higher metals prices and lower costs, Hecla had a blowout quarter, with $25.78 million in net income, or $.07 per share, and free cash flow of $27.7 million. With 16+ million ounces of silver production annually and 175.4 million ounces of proven and probable silver reserves, Hecla gives investors big leverage to silver prices.
All four of Hecla's mines are performing strongly, and I don't expect that to change in 2017. The only thing holding back the stock from a #1 ranking is Hecla's balance sheet ($167.8 million in cash, but also $500 million in long-term debt; although I should also point out that Hecla's net-debt to EBITDA has fallen from 3X in Q1 2016 to 1.4X in Q3, so its ability to repay debt has actually improved). And while I like Hecla's Rock Creek, Donlin Creek and Montanore projects, which give Hecla long-term upside, both projects are several years away from production, with 2022 as the earliest possibility for production at Donlin Creek. Still, I think Hecla is a silver stock that should be bought and held for long-term gains.
#1 First Majestic Silver: First Majestic lands the #1 spot on this list after I put it at #4 last year. Its strategy to focus 100% on Mexican silver mines has been a smart move; over the past 10 years, First Majestic's stock price is up 159%, outpacing its peers and the price of silver. The company owns and operates six producing silver mines in Mexico which are expected to produce between 16.8 to 18.7 million silver equivalent ounces in 2016.
First Majestic's 3-5 year goal is to produce more than 20 million SEOs, and it plans on doing this with new production from its Plomosas and La Luz mines, plus increased output at Santa Elena and Del Toro. So far this year, operating results have been real strong; while AISC guidance is between $11.50 - $12.35 per ounce, the company achieved $10.52 AISC in Q3 and is well on-track to achieve 2016 guidance. First Majestic's balance sheet is strong, ending Q3 with $122.5 million in cash and just $34.6 million in debt.
Numerous catalysts are ahead for First Majestic. First, the company is planning on installing a roasting circuit at its La Encantada mine, a move that is expected to yield an additional 1.5 million silver ounces to annual production. Meanwhile, First Majestic also plans to expand production at its La Guitarra mine to 1,000 tons per day, a move expected to double production while also reducing costs. Finally, costs are also expected to fall at La Encantada following the expansion to 3,000 tons per day production. For 2017, I'm expecting slightly higher production and lower cash costs.
Following First Majestic's recent slide from over $18 per share to under $10 per share, I think the stock is attractively priced here and poised to outperform in 2017. This is arguably the best gold/silver growth stock to own going forward. My current plan is to add shares at any price under $11 per share.
Honorable mention: Silver Standard Resources , Avino Silver & Gold (NYSEMKT:ASM), Pan American Silver (NASDAQ:PAAS), Silver Bull Resources (NYSEMKT:SVBL), Silvercorp Metals.
Disclosure: I am/we are long SVBL.
I wrote this article myself, and it expresses my own opinions. I am not receiving compensation for it (other than from Seeking Alpha). I have no business relationship with any company whose stock is mentioned in this article.
Editor's Note: This article covers one or more stocks trading at less than $1 per share and/or with less than a $100 million market cap. Please be aware of the risks associated with these stocks.