Another week has come and gone, and the end of 2016 is fast approaching. The defense industry is undergoing some of the largest changes it has seen in years, and it isn't likely to slow down. As investors, this is exciting; in the coming year, I have some more planned for the series, but before I get ahead of myself, let's take a look at where we stand on contract awards.
Lockheed continues to be just absolutely impressive, but taking a look at the totals of just one week ago, it becomes very clear that Boeing shouldn't be counted out as a major player in the defense market. Raytheon also continues to inch ahead, and United Tech took a major leap. The sector is healthy, and thanks to some developments we will discuss in detail below, it will continue to improve.
Significant Contracts
The first contract we will look at is what propelled United Tech to over half a billion in total FY17 awards. Just its third award of over $7 million from the DoD for the year, this nearly $310 million contract (N00019-17-C-0010) was for F-35 propulsion system services and support for the US military as well as foreign customers. The money will be spent on hardware, training course materials and equipment and will last into November 2017. The F-35, despite its detractors and skeptics, just keeps on generating revenue for literally dozens of large and small defense contractors.
Lockheed got a contract (FA8625-11-C-6597) for two C-130J-30 aircraft to be supplied to France. The $133 million contract isn't significant in dollar amount when looking at Lockheed's year so far, but any sales to foreign nations is significant for US-based contractors. Foreign sales are a huge area of growth for US-based contractors, and so far, Raytheon leads the way. Lockheed CEO Marillyn Hewson discussed the oil market and foreign military sales at a recent conference alongside Raytheon CEO Thomas Kennedy. Their remarks are worth a look. Defense firms need to position themselves for foreign sales if they wish to exploit the coming growth in defense budgets overseas. Large items such as Patriot Missile Systems and C-130 aircraft are very sticky and generate many revenue streams for years, great news for investors.
United Launch Services of the United Launch Alliance, the JV between Lockheed and Boeing, won a $269 million contract (FA8811-13-C-0003) for production services in support of FY17 Launch Vehicle production. Space is an exciting frontier for our favorite defense companies, and Lockheed and Boeing are right there at the line of departure. I've written before on the coming space arms race and how it related to Orbital ATK (NYSE:OA) but the space frontier is one that clearly impacts all defense firms. Investors with a long time horizon need to be aware of this and perhaps even start thinking about positioning themselves to profit.
Engage Your Brain Before You Engage Your Weapon
This was an exciting week for the defense sector.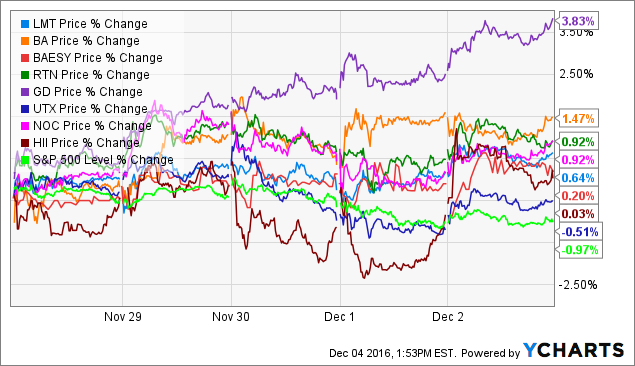 Once again the companies we focus on the most had a market-beating week. General Dynamics handily beat the others, and UTX actually had a down week. Overall, the defense sector continues to impress, and investors are being rewarded.
President-elect Donald Trump picked his Secretary of Defense, and it is none other than retired Marine General James "Mad Dog" Mattis. In the 241 years of Marine Corps history, there are some highly revered leaders that even non-Marines recognize. Past generations claim General Lewis B. "Chesty" Puller, Gunny John Basilone, and Gunny Carlos Hathcock. This generation has General Mattis, the Warrior Monk, Chaos, Mad Dog. He is far and away the most respected Marine in our Corps today, and his legend is well deserved. Whether it be stories of him relieving a 2nd Lieutenant from post on Christmas when he was a general or meeting with Iraqi leaders and threatening to kill every last one of them if they crossed him; the man is an absolute asset to this nation. Before he can take the seat, Congress will have to rescind a law that makes it impossible for an individual to serve as the Secretary of Defense within seven years of serving on Active Duty. Having retired in just 2013, General Mattis has four more years until he could serve under the current law. With a Republican Congress and every elected official being deathly afraid of a man who has said "Be polite, be professional, but have a plan to kill everyone you meet" I don't see this being a problem. If I were our nation's enemies, I'd be careful with my behavior for a while.
Defense Spending Goes...UP!
The biggest news to come out this week as it pertains to investors was easily the National Defense Authorization Act for 2017 being passed by Congress and just needing President Obama's signature. This comprehensive bill is what sets the standards for the Department of Defense for 2017, both on some policies but also spending. There are some very important aspects for us as investors. Most importantly the budget has been increased to $619 billion, and $3.2 billion of that is earmarked for Readiness Stabilization.
Readiness Stabilization is meant to slow the bleeding of the armed forces and be deployed quickly. Since the budget has stagnated, the military has been struggling dearly with keeping its equipment, and personnel, deployable. Our assets had been engaged in nearly constant combat operations since 2001 and that has created a problem. Airplanes are being kept in the air with recycled parts. Vehicles are quite literally being held together with bailing wire. Troops are being forced out of the service for no other reason than they didn't pull a ticket fast enough. This $3.2 billion will go toward:
A 2.1% pay raise for troops, the largest in quite some time.
Stopping that drawdown which has forced many good, experienced troops out.
Increases the training for ground and aviation activities.
Provides support for operations with increased depot level maintenance spending, spending on facilities, and ship maintenance.
Buys some more bullets to restock our ammunition stockpiles.
Ramps up ship procurement of both surface and submarine ships.
Right off the bat we can make some assumptions from an investment standpoint. Increased training can benefit companies such as Canada-based CAE (NYSE:CAE), which does almost nothing, but aviation training support. Depot level maintenance will benefit Oshkosh (NYSE:OSK) especially as the JLTV arrives at units and the aging fleet of tactical trucks needs refurbishment (which it does). Increased munitions purchases will benefit Raytheon, Olin Corporation (NYSE:OLN), Vista Outdoor (NYSE:VSTO), Orbital ATK, and National Presto (NYSE:NPK).
Huntington Ingalls and General Dynamics, along with BAE Systems, are salivating at the increased ship building possibilities. The rising tide of defense spending will lift all ships. These are which I see as the biggest beneficiaries in the next four years as president-elect Trump and his cabinet all appear to support a larger Navy. Huntington Ingalls has done very well since the election, and this won't stop so long as news like this keeps coming out.
The US also plans to "buy back" all critical missile defense capabilities and is going to fully fund Israel's missile defense weapons. For Raytheon and Lockheed, both owners of impressive missile defense systems like the Patriot and MEADS respectively, this is good news. Missile defense platforms continue to remain on the top of many countries' defense wish-lists, thanks to an increasing threat of offensive missiles being launched from conventional nations and rogue actors like Houthi rebels or Hamas.
Also inside the NDAA are a couple unconventional ways we can possibly profit. Commissaries (base grocery stores) are mentioned and will be run more like real grocery stores. Currently, SpartanNash (NASDAQ:SPTN) is the primary grocery supplier to the commissary system, this could help it, or hurt it, depending on if the DoD looks elsewhere for suppliers to save some money.
Military Treatment Facilities, the hospitals and clinics on bases, are also set to expand services, appointments and hours to keep the costs down inside the DoD and avoid having to use doctors "out in town." This could be a source of revenue for medical suppliers such as Hill-Rom Holdings (NYSE:HRC), Medtronic (NYSE:MDT), and Stryker (NYSE:SYK).
The NDAA is some good news for investors and the nation's service-members as well.
In Other News
On Seeking Alpha
The Coming Week
On the heels of the NDAA being sent to the President, I expect the defense sector to have another outperformance. The Italy referendum may wreak some havoc on the overall market, thanks to currency issues and uncertainties, but seeing as how the defense firms we like to look at deal mostly with the US government, we shouldn't see much trouble. Italy is a big customer for the F-35 program, but I don't think it will change its minds even if its PM is forced to quit.
Towards the end of this year, I'll be announcing some changes/updates to the series. I won't put this behind a paywall or anything like that, just will be making some changes to add some more value for everybody.
I appreciate you reading, please leave your thoughts and questions in the comments. If you don't already follow me and would like to receive the (mostly) weekly updates on this sector I'll provide, please hit follow.
Disclosure: I am/we are long RTN, BAESY.
I wrote this article myself, and it expresses my own opinions. I am not receiving compensation for it (other than from Seeking Alpha). I have no business relationship with any company whose stock is mentioned in this article.
Editor's Note: This article discusses one or more securities that do not trade on a major U.S. exchange. Please be aware of the risks associated with these stocks.