There are always strong leaders in the stock market that significantly outperform the S&P 500. One example of this is Amazon (NASDAQ:AMZN). Amazon's stock significantly outperformed the S&P 500 over many years. The stock did this while trading with a high PE ratio over many years. The stock was able to outperform with the PE ratio in the triple digits.
Amazon's ability to achieve long-term market-beating stock performance over many years was a result of being a true market leader. Amazon is achieving something that nobody else is doing. The company does have competition with standard brick and mortar retailers who also run websites of their own. However, no other company has an online distribution system as extensive as Amazon's. Amazon has 201 facilities in the U.S., which includes fulfillment centers, delivery stations, and hubs. The company has 145 facilities in the rest of the world for a global total of 346 facilities.
No other company has an online distribution system as extensive as that. While, Amazon sacrificed earnings to expand over the years, the stock increased at an outperforming pace as a result of overall revenue growth.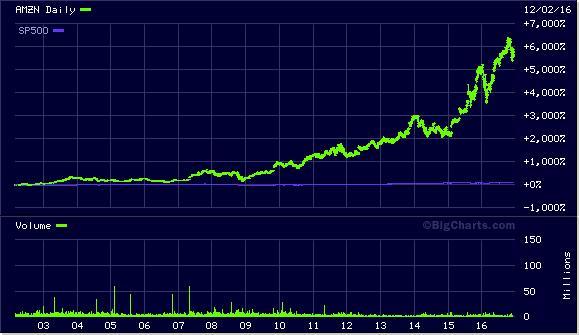 Another example of a market leader that has outperformed over long periods while sustaining a high PE ratio is Facebook (NASDAQ:FB). Facebook sustained a trailing PE ratio that was more than 2X higher than the market's average. The stock increased at a market outperforming pace during this high valuation.
Facebook also achieved something that no other company achieved. Facebook has the most daily active users among social media sites, which amounts to over 1 billion. Compare that to Twitter's (NYSE:TWTR) 317 million monthly active users. Advertisers have rewarded Facebook with strong double digit annual revenue growth to get their messages out to Facebook's high amount of users. Facebook's stock increased at a strong double-digit pace as a result of that revenue growth even in spite of having a high PE ratio.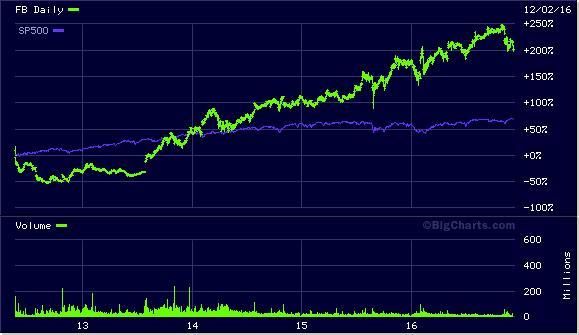 ULTA (NASDAQ:ULTA) is behaving in a similar fashion. ULTA's stock has significantly outperformed the market over multiple years while trading with a high, above average PE ratio (currently at 45). Just like Amazon and Facebook, ULTA is achieving something that no other company is achieving. ULTA is sustaining strong double-digit comp store sales increases.
Most recently, ULTA achieved a 16.7% increase in comp store sales for Q3. This was not a fluke. ULTA achieved double-digit comp store sales growth for the past 5 quarters. So, the company is showing that its stores are very effective in increasing sales.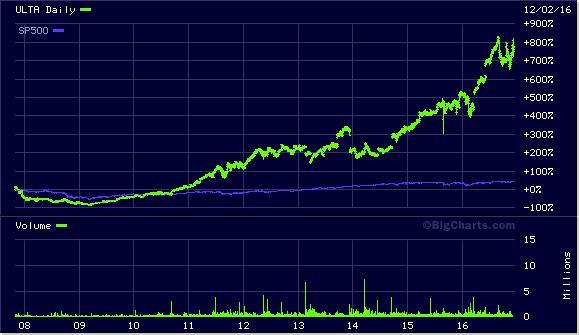 No other retailer is achieving comp store sales this high. Most successful retailers achieve mid-single digit increases in comp store sales. This is what separates ULTA from the rest of the pack. The company is a true market leader. That is why the stock can sustain an above average valuation.
One key factor for ULTA's sales success is that the company is somewhat insulated from online sales competitors. The reason for that is a result of ULTA's salon services, which have to be done in person. ULTA experienced sales strength for color, hair treatments, and makeup services.
Another reason ULTA is partially insulated from online competition is that many of the products contain fragrances, which customers like to test before making their purchasing decisions. It is a lot easier and practical to do a sniff test on multiple products to pick the one you like. You wouldn't buy something online if you weren't already familiar with how it smells.
ULTA also competed well with its own online sales. The company achieved a 59.1% increase in online sales in Q3. The company's launch of popular brands such as Origins, Proactive, e.l.f., and Shiseido, and the innovative Dyson hair dryer to its online offerings helped to stimulate e-commerce sales. ULTA has been getting the right mix of products in its stores and online. This shows in the quarterly results.
Conclusion
True market leaders that achieve significant sales milestones as compared to their closest competitors tend to trade with higher than average valuations. The high valuations according to traditional metrics such as the PE ratio will scare some investors away. However, these high valuations can be sustained over many years.
The risk for ULTA and other market leaders is that their stocks are likely to be punished if results are significantly less than expected. For example, if ULTA's comp stores sales increase dropped to the mid-single digits in a future quarter, investors would likely revalue the stock by taking some profits off the table or by selling the entire positions. However, with that higher risk comes a higher reward if the future results still significantly outpace the other retailers.
ULTA has been navigating its business well with the right mix of in-store services/sales and through its e-commerce offerings. With the valuation far above the averages, ULTA's stock is likely to increase a little less than the pace of earnings growth. With the consensus estimates for EPS to be about 24% for FY18, I estimate that the stock will gain about 15% to 20% and hit approximately $300 by the end of 2017. This should be enough to outpace the S&P 500, which is expected to average earnings growth of 11.4% in 2017.
Disclosure: I am/we are long FB.
I wrote this article myself, and it expresses my own opinions. I am not receiving compensation for it (other than from Seeking Alpha). I have no business relationship with any company whose stock is mentioned in this article.
Additional disclosure: If you like my analysis, click on FOLLOW at the top of the article near my name. That will allow my articles to display on your homepage as they are published. The article is for informational purposes only (not a solicitation to buy or sell stocks). I am not a registered investment advisor. Investors should do their own research or consult a financial advisor to determine what investments are appropriate for their individual situation. This article expresses my opinions and I cannot guarantee that the information/results will be accurate.