Before I turn my attention to what the Canadian Task Force on Marijuana Legalization and Regulation (CTFMLR) is going to tell us on December 15 th, here's a quick look at what the Canadian cannabis stocks have been doing.
As this chart shows the Let's Toke Business Marijuana Composite Index has been in a mild swoon since the U.S. election. Although this chart makes the performance appear terrible, it really hasn't been that bad.
(click to enlarge)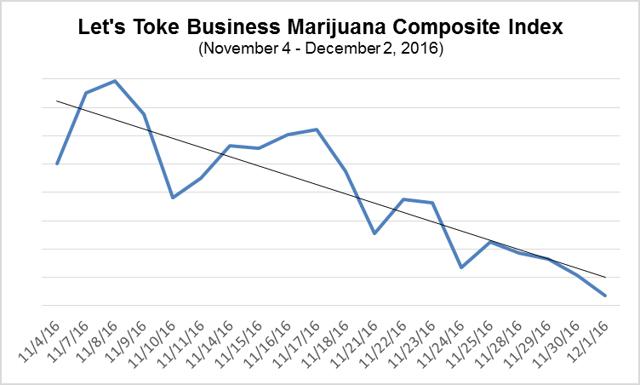 The next chart shows the same LTB Composite for the previous twelve months. Clearly it has been a spectacular year for the Canadian marijuana stocks with a correction in November.
(click to enlarge)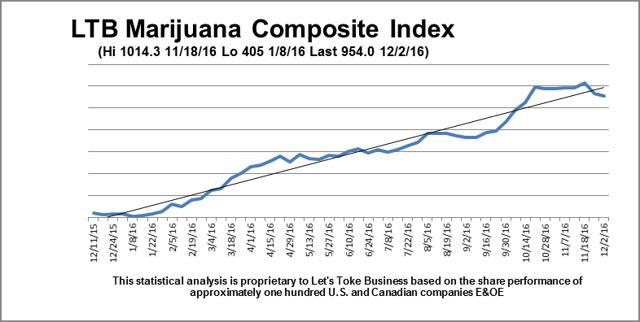 The following chart shows the performance of the Canadian Licensed Producers (LP) since the election. LPs are the companies authorized by Health Canada to grow marijuana. They are the largest Canadian marijuana companies measured by market cap. The blockbuster news this week was the largest LP, Canopy Growth (TWMJF) offered to acquire Mettrum (OTC:MQTRF). As the chart shows the LPs have continued to gain ground post election.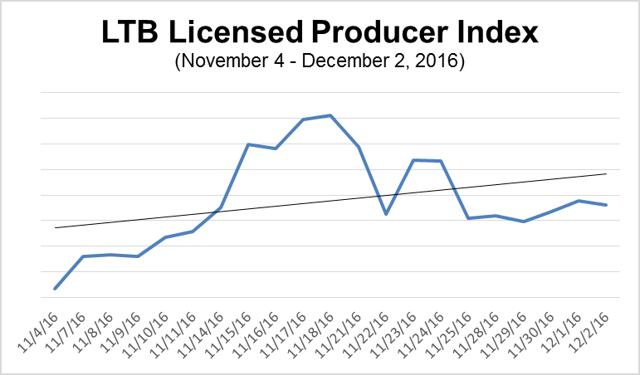 The next chart shows that the Canadian LTB Marijuana Index has outperformed the U.S. oriented 420 Cannabis Index since the election despite trending downward in price. We heard on CNN this week that Attorney-General Jeff Sessions "...liked the KKK until he found out they smoked pot." We think the outperformance of the Canadian cannabis stocks relative to the U.S. marijuana stocks will become known as the 'Sessions Effect.'
(click to enlarge)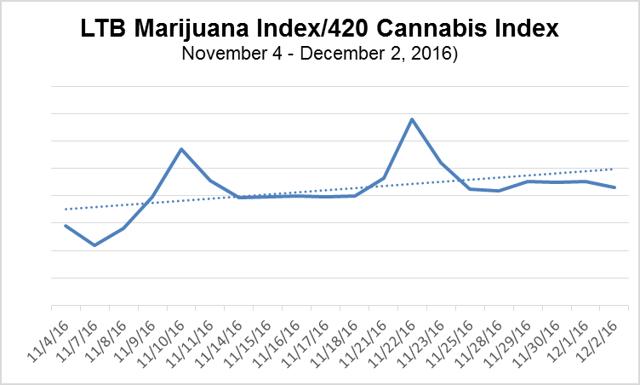 The next chart shows the outperformance of the Canadian LPs relative to the U.S. 420 Cannabis Index. This is the outlook we described in our last Seeking Alpha post.(What American Thanksgiving Revealed about Canadian Cannabis Stocks)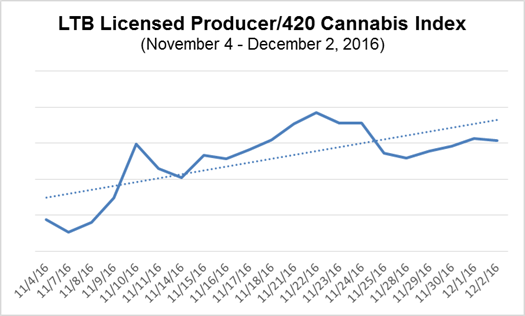 I continue to expect Canadian cannabis stocks in general and the Licensed Producer group in particular will continue to outperform their U.S. counterparts.
The report from the Canadian Task Force on Marijuana Legalization and Regulation (the task force) to advise government on a framework for legalizing cannabis in Canada was delivered to Cabinet on November 30, 2016 as mandated. However, the report was delivered in English and must be translated into French as Canada has two official languages. Depending on the length of the report, translation may take several days. We now expect the report to made public around mid-December and certainly before Christmas. Handing the report over to Cabinet puts it in the hands of 15 more people in addition to the nine committee members so there is likely to be some information leaking out before the task force report is released.
My thinking at present is guided by some clues I picked up along the way. Bill Blair, former Toronto police chief charged with putting together the task force and the report, said recently "It's easier to ease up later than to get strict later." Earlier, he opined that he liked the Licensed Producer operations he had seen. I am also taking into account the makeup of the committee which is heavily weighted toward law enforcement and lawyers. Anne McLellan, a Liberal political hack, who was clearly anti-marijuana, was the chair of the committee so the politics will be considered. Finally, I have the little comments and clues I continue to pick up including reports from Prime Minister Trudeau's meeting with the Toronto Star editorial board on December 2nd which produced the following remarks by the Prime Minister:
"We aren't legalizing marijuana to please recreational users….The promise we made around legalizing marijuana was done for two reasons... One: to better protect our kids from the easy access they have right now to marijuana. And two: to remove the criminal elements that were profiting from marijuana. On marijuana dispensaries: "The current prohibition stands," he says. Trudeau said we must continue to crack down on illegal dispensaries until marijuana prohibition ends….
Finally there are issues such as individual growing within limits that will be allowed as will edibles as both were ordered by the courts.(Grow-your-own court decision)
Taking all that into account, here is what I think the task force will say.
1. Who can legally grow recreational cannabis? Clearly the existing Licensed Producers (approved growers) will have a significant role to play. The acquisition of MT by CGC the day after the report was tabled makes this fairly clear. If recreational cannabis growing was going to be set up as a completely separate industry with totally different growers, this transaction probably would not have happened. We are not saying CGC or MT had inside information but they have an ear to the ground 24/7 which probably gives them the best sense of the way the political winds are blowing. In addition there is a practical consideration. If the government legalizes in 2017/2018, even including existing Licensed Producers there may be a shortfall in supply. To not use existing LPs would create a short term bonanza for the underground producers as prices go through the roof.
2. How will product quality, safety, potency and consistency be regulated? I think the existing regime does a good job of regulating quality and safety. But it is a high capital cost business that the average person cannot afford to enter. We don't see a system where the quality and safety are different for medical and recreational products. The regulation of potency was a specific question the task force was asked to address. We think there will be at least two facets to the potency issue:
* A limit on THC levels allowed.
* The legal age to buy and use marijuana increases with product potency.
3. How will cannabis be sold and distributed? This is likely to be the most controversial recommendation. I think one of two approaches will be taken:
* The task force may prefer starting with provincial government liquor stores to be expanded to other outlets in the future. This happened with liquor distribution that was a provincial government monopoly that varied from province to province that eventually expanded to allow other licensed distributors. It will also give the provinces the "piece of the action" they all want. But this is far from a unanimous choice. There have been recommendations against selling marijuana side-by-side with alcoholic beverages.(Backlash to marijuana in liquor stores) Also members of the task force did visit Colorado and Washington that both use licensed retail distributors.
* The political solution would be to turn the whole question of distribution to the provinces without a recommendation, in other words, this is a hot potato; let them handle it.
This is likely to be most controversial issue from the report. If independent distributors are not given a way to participate, many will continue to distribute as a form of civil disobedience. See What will the penalties be? next.
4. What will the penalties be? We believe penalties will be raised substantially. Criminal penalties are not set by politicians or police. Criminal penalties are decided by the courts and implemented by law enforcement. So far the courts have driven the relaxation of the marijuana laws and penalties in Canada. The courts are likely to continue to reflect the desire of the people and resist political pressure. However, growing without a license and drug trafficking to adults or minors will be clearly re-identified as ongoing criminal activities. Here the federal government in Canada can control law enforcement through the Royal Canadian Mounted Police (RCMP) that is the police force for much of Canada. What politicians can control or influence are the fines applied to non-criminal marijuana offenses. The situation in Vancouver, for example, has been an inside joke. Fines of a few hundred dollars every few weeks is miniscule compared to the profits generated by illegal dispensaries. But as we noted, the task force was stocked with law enforcement and lawyers so expect a substantial increase in the penalties for contravening regulations.
5. What age restrictions will there be? Two factors impact age limits. First, Prime Minister Trudeau's ongoing position that a major goal of legalization is to make it harder for children to access marijuana. Second, the heath claim that marijuana risks are higher until human brains mature at age 25 as noted in the task force discussion paper. We think age restrictions will parallel alcohol but will extend to age 25. This will be especially true if provinces are tasked with distribution and, as with alcohol, it could result in different age restrictions in different provinces. There will be limits on THC potency because the task force was asked to consider this matter, specifically. Obviously, the higher the potency, the higher the age limit. The Canadian Medical Association recommended a minimum age of 21 with quantity and potency limits extending to age 25.(CMA Recommendations) Finally there will be exceptions made for medical marijuana users younger than the recreational driven age limits.
6. How will it be taxed? The government has consistently claimed legalization is not a tax grab although less often of late. The promise was tax revenues will be used for drug treatment and rehabilitation services, research and public education on drugs. The only constraint on "sin tax" taxes on marijuana are the crooks. If taxes are too high, legal producers will not be able to compete with underground growers who pay no tax and this would run contrary to Prime Minister Trudeau's second goal of legalization. Also Canada has sales taxes and a goods and services tax. So how the product is distributed can have an impact on government revenues. But decades from now, assuming the criminal element is eliminated or reduced to almost nothing, marijuana will be taxed like tobacco and alcohol.
Conclusion: I hope this summary has given you an idea of what a complex subject Canada is dealing with and the number of opportunities there are to disappoint a market that seems to think there are only blue skies ahead. So I am sticking to my guns. If the Canadian marijuana stocks continue in a positive trend until mid-December, I think there will be a selling opportunity ahead. On the other hand, if there is a correction between now and then, I will assess the report and recommendations and try to identify the winners and losers.
Disclosure: I/we have no positions in any stocks mentioned, and no plans to initiate any positions within the next 72 hours.
I wrote this article myself, and it expresses my own opinions. I am not receiving compensation for it (other than from Seeking Alpha). I have no business relationship with any company whose stock is mentioned in this article.