By definition, dividend kings are the most elite group of dividend growth companies. Many investors are familiar with the dividend aristocrats, which are S&P 500 companies with at least 25 consecutive years of dividend increases. That list currently includes just over 50 businesses. But what about those super-powered dividend payers that have seen 50 or more years of increases? It is enough of a feat to remain in business for more than 50 years; it is quite extraordinary to have been able to distribute and increase their payouts for a half century. The list now counts 18 companies and are named the Dividend Kings. In these recent weeks, I'm reviewing the 18 Kings.
Today, I will analyze Procter & Gamble (NYSE:PG)
Since I've already done a lengthy analysis on Seeking Alpha (you can read it here), I will concentrate on PG's dividend payment future perspectives.
Business model:
Procter & Gamble is the world's largest household and personal care manufacturer. Management has made a bold decision to get rid of 100 brands and keep its strongest. With a leaner portfolio of 65 brands, the company has gained flexibility in its product offering and is more focused on generating growth for the future. These brands are world leading products with 21 brands generating between $1 and $10 billion dollars in sales annually and 11 with $500 million to $1 billion in sales. Basically, owning shares of PG is like owning shares of 65 different companies. Because of its size and the quality of its products, PG is a key player for many retailers and offers a guarantee of stability on their shelves. PG has obviously benefited from emerging markets growth as well over the past decades.
Main strengths:
PG's most valuable strengths lie in its intangible asset. Managing such a powerful brand portfolio positions Procter & Gamble as a "must-have" manufacturer for any retailer. By rationalizing their brands, the company was able to improve margins and add more focus to developing their most important assets. PG also benefits from substantial economies of scale due to their size and presence all over the world. Procter & Gamble also spends about $2 billion per year in R&D in order to come up with new products every year. They have the ability to rapidly launch a product and distribute it everywhere on the planet. With less brands to manage, PG will be in a better position to use its R&D budget efficiently.
Potential risks:
Procter & Gamble is active in so many countries that the currency volatility greatly affects their financial performance. As emerging markets develop, new local competitors arise and hurt PG's sales growth and margins. While they are smaller, these competitors often know their market better than PG and play on this factor to fight against the giant. Overall, these are more challenges management must face rather than important risks. The most important risk in my opinion is that PG's stock price is rarely cheap as there is an important premium paid for its stellar record. Therefore, you risk investing in a stock that doesn't grow much in value, but will always pay its due on time.
Dividend growth perspective:
imagine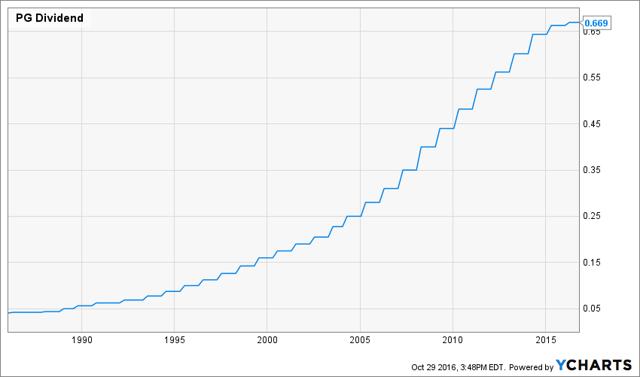 Source: Ycharts
As previously mentioned, Procter & Gamble is not only part of the Dividend Kings, but with 60 consecutive years with a dividend increase, it will most probably among the first companies to reach 75 and maybe 100 years with consecutive increase. PG's brand portfolio has been built around consumable products. This leads to continuous cash flow generation supporting their dividend payment. PG also seeks growth by innovating with new products each year. With their distribution and marketing power, many of these initiatives bring solid revenue growth for years to come. With a dividend yield over 3%, PG is among the most generous dividend kings on the list.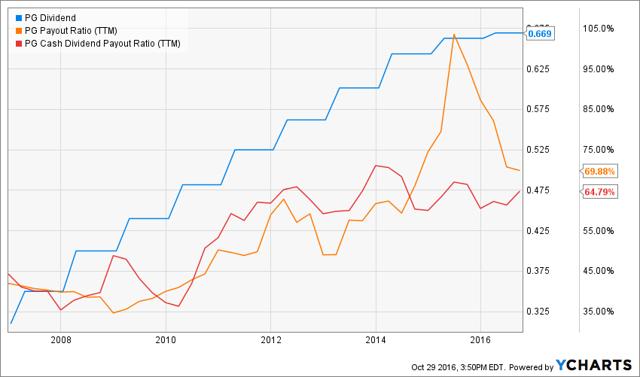 Source: Ycharts
When looking at both payout and cash payout ratio, we notice that besides a temporary spike in 2015, ratios have been under 70%. The dividend payment has increased faster than the ratios, but still, these numbers were a lot better prior to 2010. I believe PG's important brand restructuring will improve the company's profits and give more room to management to reward shareholders with dividend increases in the upcoming years.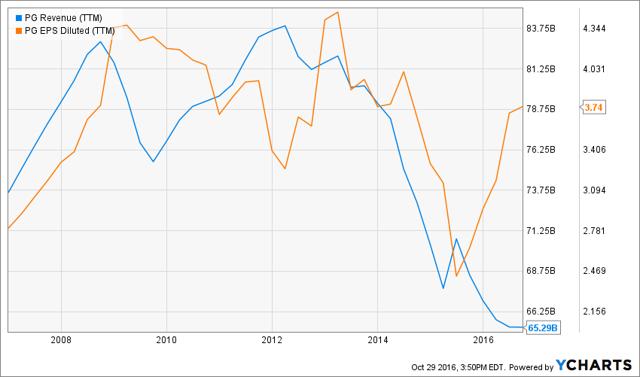 Source: ycharts
If you look at the earnings line (orange), my theory seems to take place. PG's smaller brand portfolio will enable more flexibility and more focus on products generating the highest profits. We should see earnings continue to rise while revenue will stabilize before going back following the same trend.
Investment thesis:
In my previous analysis, I concluded that Procter & Gamble meets 6 of my 7 investing principles. These principles have been based on academic research and cross referenced with many authors. The only principle PG didn't meet was in regards to the valuation. The problem with such strong company is that all investors want in. This means a consumer defensive company trading at very high PE. I see this problematic as a short-term risk as long term investors will still be rewarded by an ever-growing payout. Therefore, the spectre of seeing the stock price underperform the market is not a concern.
If you buy shares of PG at this price, your goal must be to earn a steady and increasing flow of income. Procter & Gamble is probably more stable than most bonds and pays a higher yield. There are no threats around this company that will jeopardize its dividend in the future. PG is a strong core holding, no matter how much you pay for it. However, don't expect to see the stock price surge!
Disclaimer: I hold PG in my DividendStocksRock portfolios.
Disclaimer: The opinions and the strategies of the author are not intended to ever be a recommendation to buy or sell a security. The strategy the author uses has worked for him and it is for you to decide if it could benefit your financial future. Please remember to do your own research and know your risk tolerance.
Disclosure: I am/we are long PG.
I wrote this article myself, and it expresses my own opinions. I am not receiving compensation for it (other than from Seeking Alpha). I have no business relationship with any company whose stock is mentioned in this article.