Valero Energy Corporation's (NYSE:VLO) stock finally bounced Friday (the 2nd of December) after topping out at $65+ a share on the 22nd of November. The stock fell almost $5 a share because of the unfavorable drop in the Gulf Coast crack spread which seems to catch many by surprise. In energy at present, this stock has one of the best balance sheets around, which is best summed up by its ultra low debt-to-equity ratio of 0.39. Furthermore, the stock's valuation metrics are all very attractive relative to the industry in which it is operating.
| | | |
| --- | --- | --- |
| Metric | Valero | Industry |
| Price To Book | 1.4 | 1.8 |
| Price To Sales | 0.4 | 0.4 |
| Price To Earnings | 12.8 | 24.1 |
| Dividend Yield | 3.9% | 3.7% |
Valero's sentiment is at the same level as it was back at the end of September when the stock was trading at $51 a share. This illustrates to me that there is plenty more upside left in this stock.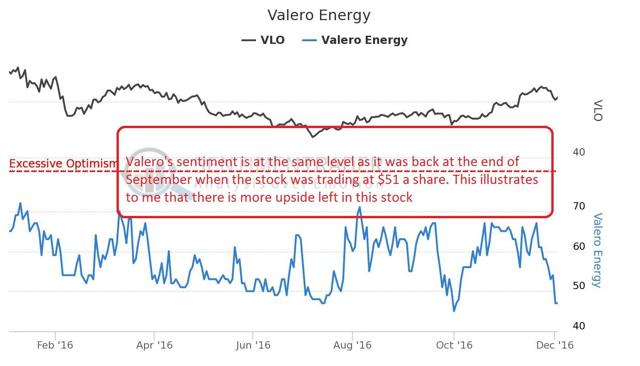 I just feel that downside risk may be nullified here to a large extent. Remember Valero's share price has a very low correlation to the direction of crude oil (under 20%) so investors should not be unduly worried about a spike in crude oil prices going forward. Here are strong reasons why I would get long this stock at this time.
Earnings Predicted To Rise Until 2019
Firstly, analysts have penciled on strong earnings growth for the company over the next few years. As the chart illustrates, share price gains have always come on the back of earnings growth and I see no reason for this trend not to continue. Earnings in 2016 on a rolling year basis were poor mainly due to the new renewable compliance costs and low margins but I don't necessarily see these headwinds playing out over the long term. 2015 was a bumper year for refiners (margin wise) and Valero, among others, has kept its production elevated in 2016 which has spiked inventory levels. However, sustained strong demand should over time reduce inventories which will stall the contraction in margins Valero and its fellow competitors are experiencing at present. This has to be bullish going forward from a fundamental point of view.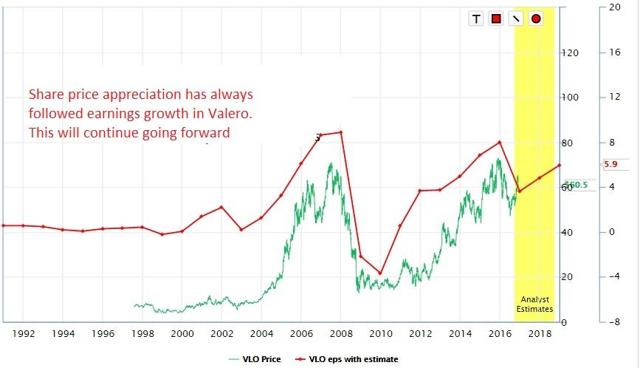 Source : Guru Focus
Impressive Dividend Growth Rates
Secondly, the dividend yield, its growth rate and balance sheet are all strong calling cards for this stock at present. Furthermore, even with its sub-par 2016 to date, which is due to factors outside its control, the company for its first three quarters has generated $1.922 billion in net income but has only paid out $840 million in dividends thus far. This gives us an average pay-out ratio of 43.7% for the first three quarters of this year. Therefore, when you combine the equity this company has on its balance sheet along with the earnings growth that is expected over the next few years, I believe robust dividend growth rates will continue which will continue to attract value investors.
Margins Remain Much Higher Than 2009
On a trailing-twelve-month basis, gross margins come in at 8.5% and operating margins at 4.9%. Last year these metrics were 10.1% and 7.2%, respectively, which were the highest margins since 2006. The company cut the dividend back in 2010 due to crippling margins in the previous year despite having a pay-out ratio of only 12%. This is why dividend investors can't solely rely on the pay-out ratio but also have to monitor margins and earnings closely. Refining is a serious capital intensive business where high fixed costs are the norm. Since earnings are expected to rise, I believe margins will as well, which will protect the dividend. Really conservative investors can monitor these metrics quarter-by-quarter to gauge how the company is doing but for now, I see this stock as a strong hold for at least the next 24 months.
Summary
When one combines sentiment, earnings growth projections plus the strength of Valero's balance sheet, I feel this stock is an excellent long candidate for at least 18 to 24 months. Margins must be watched closely but forward inventory fundamentals look sound. Long Valero.
Disclosure: I am/we are long VLO.
I wrote this article myself, and it expresses my own opinions. I am not receiving compensation for it (other than from Seeking Alpha). I have no business relationship with any company whose stock is mentioned in this article.