Lululemon (NASDAQ:LULU) is down ~ 30% off its high.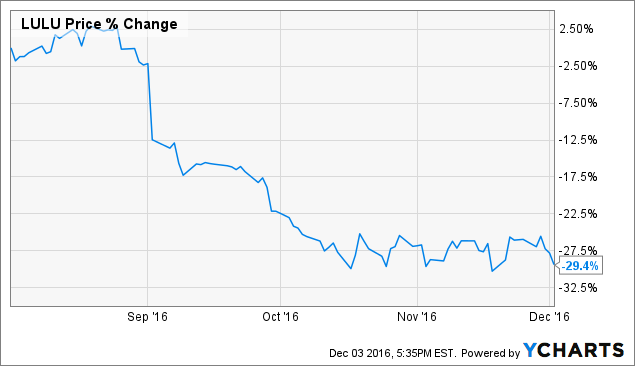 This is a drop that interests me because:
A) High quality products.
B) Strong growth and no debt.
C) Dominating the high end female apparel market.
D) I'd argue it would be easier to transition from a female market to male market than vice versa. LULU > Under Armour (NYSE:UA) (which needs more female customers). It's also easier to go from high end down, as opposed a cheaper product trying to market itself as better quality later on.
Lululemon has a lot of positive things going for it. One of my biggest challenges with Under Armour is that they are focused mainly on the male market. Why sell a product to 50% of the population when you can sell to 100% of the population? Women work out too, and they value high quality products as well. Just based on an eye test of Marathons I've attended to cheer on friends/family I'd guess 60% of marathon runners are female. A quick Google search here shows 57%. Under Armour is missing out on the female customer.
One of my siblings (marathon runner) hates Under Armour. She thinks the women's clothes aren't up to par and the company is all hype with products that aren't superior. The Yoga instructor I know says she ONLY wears Lululemon and that there is no comparison between their clothes and Nike (NYSE:NKE), Adidas (OTCQX:ADDYY) and Under Armour. Both of them felt strongly.
Lululemon is hot, growing, and it's taking the female market by storm. I'd argue that Starbucks (NASDAQ:SBUX) was a "girl brand" that is now a brand for everyone. Under Armour is a "male brand". One of my ideas was to eventually be long both Lulu and UA to cover everyone when the price is right. They do have some selection of men's clothes and are moving that direction but are still a girl brand. I work out very regularly in a pretty affluent area and haven't seen any guys at the gym wearing Lulu.
After studying the stock I will share what I don't like:
A) Revenue is growing but profits are not. This is the same problem that Under Armour has, only LULU grew revenue at 13% - not 22%. I know, I know, you have to spend to grow, but 13% growth doesn't get me THAT excited that it compensates for a lack of profit growth. Maybe I'm just more cut out for mature, boring DGI companies that constantly grow profits.
B) Limited market - not for everyone. I believe when I walked into a Lululemon store a few years ago I picked up a men's shirt, a plain white t-shirt, being sold for $70. I was immediately turned off. The cheapest men's shirt you can find on their website today is $58 and socks are $18. Yoga pants for women are $100. A very large segment of our population is completely priced out of that market. Lululemon will dominate the wealthy market, but can they sell to the middle class on down? Under Armour is already in Kohl's (NYSE:KSS) - but I don't think middle class Kohl's would be good for Lulu if they want to maintain their status as an elite brand. There are only so many SoHos, San Franciscos, Woodlands and Beverly Hills to sell to.
Besides price, the founder even said that their clothes aren't for everyone: "Frankly, some women's bodies just don't actually work [in our yoga pants]." Nobody wants to be called fat and, as you can imagine, he was punished for making those non-PC comments. This Huffington Post article reveals a culture of trying to make their brand for smaller sizes. One potential clue as to why they favor smaller sizes can be found in that article as well:
In an interview with the Calgary Herald in 2005, Lululemon founder and former chief executive officer Chip Wilson said that it takes 30 percent more fabric to create plus-size clothes, meaning that he would have to charge a higher price for them. That's something Wilson would never do, he said at the time, because plus-size people are sensitive and the company would feel intense fallout from the community.
Besides higher margins and more money, another reason to favor smaller sizes is branding. Taken from the same Huff post article is a comment Abercrombie (NYSE:ANF) CEO made in 2006.
"A lot of people don't belong [in our clothes], and they can't belong," Jeffries told Salon. "Are we exclusionary? Absolutely. Those companies that are in trouble are trying to target everybody: young, old, fat, skinny. But then you become totally vanilla. You don't alienate anybody, but you don't excite anybody, either."
I believe Lululemon follows a similar strategy. They have a niche market and they want to serve it well. It's an exclusive club, one that people are proud to be in or would want to aspire to. Personally I'd rather invest in inclusive companies that sell to as wide of a market as possible. In terms of food, I'd rather own Mcdonald's (NYSE:MCD) than Morton's.
C) This stock could end up like Whole Foods (WFM). Transformational company ahead of the organic curve (yoga/athlesiure in LULU's case) with a large coastal urban liberal customer base... but 10 years later the stock literally has nothing to show for it due to bid-up valuation. One analyst is already saying we might have hit peak athleisure.
In 2014 Lululemon had the 4th highest retail sales per square foot, which is very impressive. There are absolutely more opportunities for growth than just in the U.S., Canada, Australia, New Zealand, UK, Singapore, and now the Middle East. They have two stores in the UK, none in Germany, none in Paris, none in Sweden. In my opinion they can do very well in Asia but only have one store in Singapore. Why can they do well in Asia? The same reason they can do well in Paris, London, Oslo, Stockholm - brand-conscious consumers and high incomes. Excellent retailers continue opening more stores in wealthy European and Asian cities like Tokyo, Seoul, Shanghi, Beijing, Paris, Stockholm, etc.
The 18% direct-to-consumer is also impressive, and the company says that Digital is their next key strategic priority. Women love to shop online and many of their upper middle class customers don't have time to shop. They aren't selling to stay at home soccer moms - more like wealthy working women who are 25 - 60 years old. To back up some of that with data, the popsugar website says 24% of millennial women shop every single day and that 78% of millennial women bought something online in the past month. I agree with Lululemon's strategy of focusing on digital.
So there is a lot to like about Lululemon. But with a $7.5 billion market cap, a 28 PE and 13% revenue growth, I can't buy the stock in this overvalued market. The stock is good enough to follow on Seeking Alpha in future articles, and I will continue to monitor this company. The only investment I'm willing to make is $100 - for some tight black yoga pants as a Christmas gift for a girlfriend.
Disclosure: I am/we are long NKE, MCD.
I wrote this article myself, and it expresses my own opinions. I am not receiving compensation for it (other than from Seeking Alpha). I have no business relationship with any company whose stock is mentioned in this article.