With Facebook (NASDAQ:FB) taking a tumble in the past few months, speculation has gathered that the company may struggle to lift earnings from here, making the stock a potential sell going forward.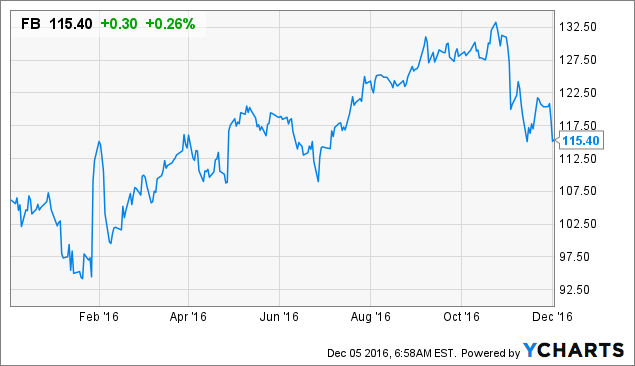 The purpose of this article is to outline why I fundamentally disagree with this point of view and why I see the stock rising from here.
Valuation
Some deem Facebook too expensive at a P/E ratio of 44. Well, price is what you pay and value is what you get. As a matter of fact, a P/E ratio of 44 stands at a three-year low for the company while growth in EPS Diluted has been hitting a three-year high - an investor is clearly paying less in price for bigger profits.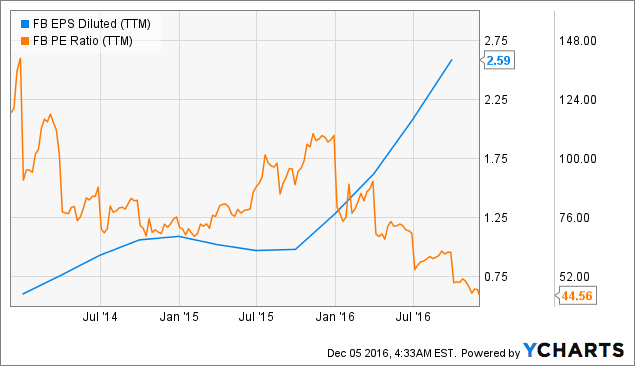 Therefore, on a historical basis Facebook is actually trading at a discount in P/E terms. Further confirmation of a potential discount also is evident in its free cash flow metrics, where we are also seeing free cash flow rise while P/FCF has fallen: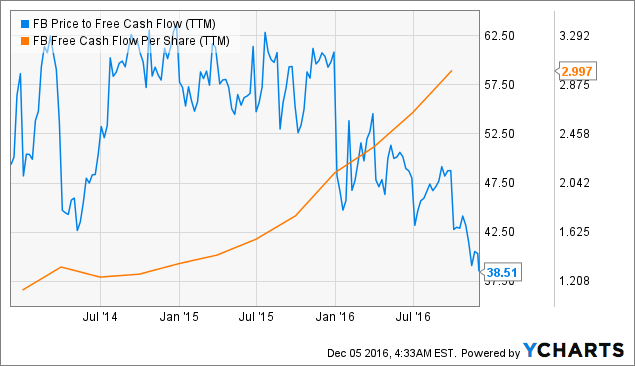 In this regard, the reason for the drop off was largely due to concerns over lower growth in ad revenue and speculation that user growth will struggle to continue from here. However, I see this as an overreaction and expect that the company is in a good place to rebound.
Can The Company Reduce Advertising Dependency?
As the behemoth of the social media industry, Facebook is in quite a different situation to a company like Twitter (NYSE:TWTR) in that it has 1.79 billion monthly active users as of the third quarter of 2016. There has been speculation that Facebook could end up going the way of Twitter - with user growth rates declining and revenues eventually dwindling as a result.
The company itself acknowledges that user growth cannot continue forever (which is understandable when nearly 2 billion people use your platform anyway). However, Facebook typically benefits from much higher levels of user engagement (in terms of time spent on the site, frequency of use, etc), and this is evidenced by the fact that Facebook's revenue per user in 2015 was $13.54, which is over double that of Twitter at $6.31.
However, the company makes no secret of the need to reduce dependency on advertising revenues, which easily make up 85 to 90 percent of overall revenues, the rest coming from user payments for different Facebook services.
Moreover, revenue from payments and other fees has been on the decline. As the switch to mobile accelerates, the company has seen less revenue from games traditionally played on personal computers. The challenge for Facebook is being able to maintain strong advertising revenue while concurrently increasing revenues from payments and other fees. Much of the increase in this sector will come from Facebook's ventures into artificial intelligence - although it will be some time before we see this monetized.
How Facebook Wants To Use Artificial Intelligence
While the company does not sell AI services directly, Facebook has already excelled significantly in this area. Being able to collate information about nearly 2 billion users every day, and customise a profile's news feed, advertisements, etc, takes some serious machine learning power. In this regard, the next goal for the company is to implement potentially revolutionary endeavors in making virtual reality social. As Mark Zuckerberg states:
"A decade ago, people online mostly shared text. Then we all got good cameras that were attached to our phones, and it got a bit richer. And now we're at the beginning of this - we call it the golden age of online video, and that's just richer. Photos are richer than text, video, much richer than photos. But that's not the end, right? I mean, it's like this indefinite continuum of getting closer and closer to being able to capture what a person's natural experience and thought is, and just being able to immediately capture that and design it however you want and share it with whomever you want."
While many big companies including IBM (NYSE:IBM), Microsoft (NASDAQ:MSFT) and Google (NASDAQ:GOOG) (NASDAQ:GOOGL) have branched out into AI, Facebook is undoubtedly in the best position to capture the social element of this technology. Undoubtedly, this is a gamble. It involves a high degree of investment in hardware to supplement this technology, and Facebook has already made a significant commitment through its acquisition of Oculus VR. However, demand for virtual reality platforms will undoubtedly have a significant commercial impact in terms of how companies can reach customers through virtual reality advertising. As far as payments and other fees are concerned, such a technology would expand the scale for Facebook to attract significantly more development opportunities in addition to gaming, and it is likely that one would see payments and other fees rise significantly as a result.
Conclusion
Facebook is a company that has significant opportunity to capitalize on the growing demand for AI, and has the potential to dominate the social space for this technology. On a valuation basis, I take the view that Facebook in fact trades at a significant discount compared to past valuations, and I would be a potential buyer of the stock at this price.
Disclosure: I/we have no positions in any stocks mentioned, and no plans to initiate any positions within the next 72 hours.
I wrote this article myself, and it expresses my own opinions. I am not receiving compensation for it (other than from Seeking Alpha). I have no business relationship with any company whose stock is mentioned in this article.
Additional disclosure: I/we have no positions in any stocks mentioned, but may initiate a long position in FB over the next few months.