The stock is bouncing off its lows. An OPEC deal adds to the excitement. Mr. Market just cannot wait for the good news to begin arriving.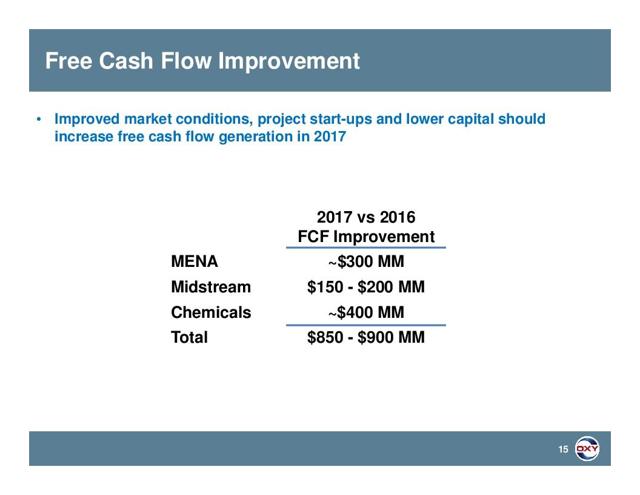 Source: Occidental Petroleum Bank Of America Merrill Lynch Global Energy Conference Slide Presentation, November, 2016
No matter what the company size is that makes this presentation, the market just salivates in anticipation when management shows a billion dollar improvement. At the market close on Friday, December, 2, 2016, the market cap exceeded $54 billion. Plus the latest quarterly report showed another $8 billion of long term debt.
With operating cash flow of nearly $2.4 billion in the latest quarter before working capital adjustments, cash flow ratios are rapidly becoming far more comfortable. In the first quarter, operating cash flow before working capital adjustments topped $800 million, and nearly dried up after working capital adjustments. Now the operating cash flow is nearly $1.6 billion after working capital adjustments, a huge improvement. Plus as shown above there is at least another $200 million per quarter of cash flow improvements on the way and production improvements promise still more.
All of a sudden the stock of Occidental Petroleum (NYSE:OXY) no longer looks very expensive. The latest operating cash flow of $2.4 billion before working capital adjustments annualized exceeds $9 billion and is about one-sixth of the market cap plus long term debt. The company has not only feverishly cut costs, but has handsomely benefited from better gas prices and higher oil prices since that miserable first quarter. With more cost cutting on the way, and the completion of another major project (a cracker) at the start of the new fiscal year, that increased cash flow will literally be gushing as long as oil and gas prices don't tank for a sustained amount of time.
Occidental has one of the better balance sheets in the industry and it maintained that better balance sheet by loading up California Resources (NYSEMKT:CRC) with debt and then spinning off the subsidiary to shareholders while market conditions were still relatively favorable. Right now that move is looking better and better for shareholders all the time. Basically Occidental received about $6 billion in restricted cash or so as was documented in previous articles that was sorely needed to get through the downturn. Now the cost cutting, the newly completed capital projects, and slowly improving industry conditions have combined to brighten the future of the company considerably.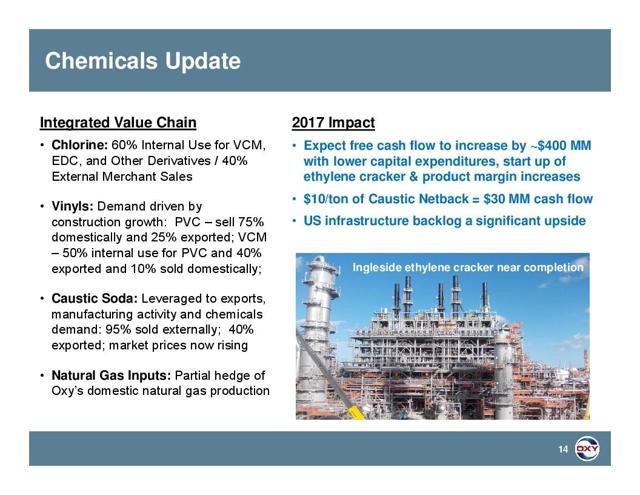 Source: Occidental Petroleum Bank Of America Merrill Lynch Global Energy Conference Slide Presentation, November, 2016
That ethylene cracker shown above had been a significant cash drain while under construction. The company had been spending up to hundreds of millions of dollars a quarter. Beginning in 2017, that cash drain switches to cash flow. The market may anticipate a smooth startup, but any startup hitches are likely to be common stock buying opportunities. Such hitches are not unusual and are usually short-lived. This was a major project for the company and provided some badly needed diversification that will stabilize earnings in the future.
As pleased as the market is about all these capital projects coming to completion, investors need to realize that there will probably be a period of low to no growth for the company overall in the future. This company grew by major capital projects that took years from start to profits. With the pipeline empty, the only source of profit growth will be improving commodity pricing and to some extent production volume growth. However, Mr. Market appears to factor in some improving industry conditions into the future of the company as the cyclical industry recovery becomes more apparent. That should give the company time to begin some more major projects to provide future growth later on. Right now though, those future projects are on hold.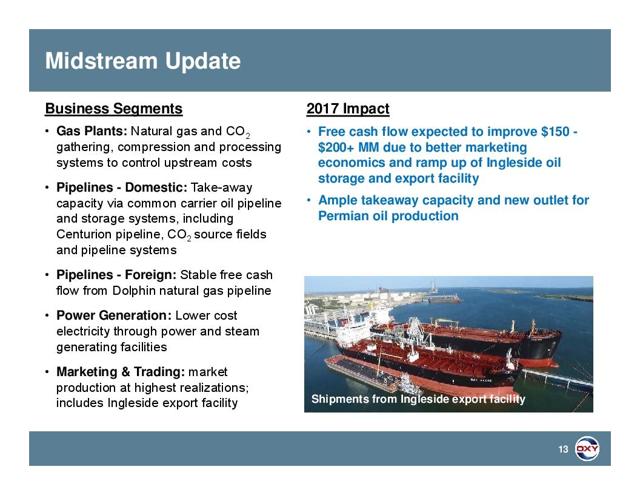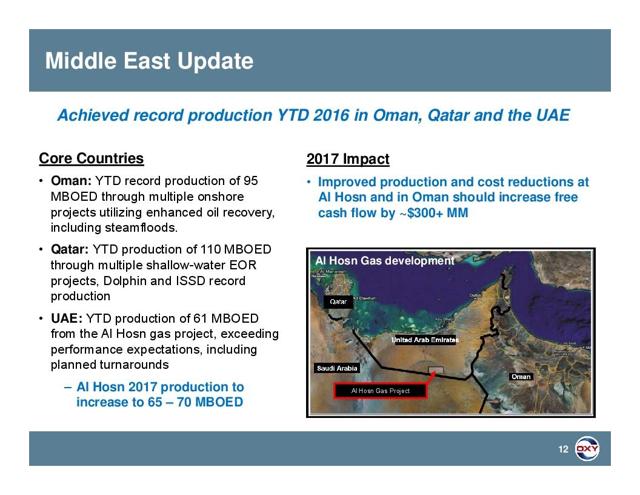 Source: Occidental Petroleum Bank Of America Merrill Lynch Global Energy Conference Slide Presentation, November, 2016
These two slides really detail the effects of more large capital projects that were earlier completed and have finished ramping up this year. Al Hosn has not only switched to generating cash, but now cost cutting will provide more benefits. The next fiscal year should fully benefit from the increased cash flow these projects provide. Plus some of them can be expanded relatively inexpensively now that the startup costs have been paid, and startup operations completed. Some need major expansion projects to grow. All will be examined routinely for sufficient profitability.
Source: Occidental Petroleum Bank Of America Merrill Lynch Global Energy Conference Slide Presentation, November, 2016
Of course there was the manditory stock price "plug" by mentioning the Permian operations. That area is so hot these days, that nearly every company that can includes a sizeable mention of their Permian operations if possible. Occidental Petroleum is definitely no exception to this trend. The company definitely has a commanding position of great acreage in the Permian. It is a perfectly legal way for management to state the stock is cheap because those hot assets are invariably undervalued somehow and increasing in value rapidly.
Of course, Occidental mentioned that management decided to purchase about $2 billion worth of interests in the Permian area. Large companies like Occidental tend to be conservative. Usually that means they are the last to buy in a hot area, and they tend to pay high prices. All of that is happening with this transaction.
However, investors should keep in mind that Occidental had a relatively large position before this purchase, so management should know the characteristics of the purchased assets unusually well. It was a "bolt on" purchase so there could be considerable cost savings. For the size of the company, that purchase was less than 5% of the market value of the company, and can be paid using the cash flow from the latest quarter. Long term debt will not increase significantly. So should something go wrong with the purchase, that write-off will not wreck the company, though it would be significant and temporarily hurt the stock price.
A far more significant issue was that Occidental Petroleum management allowed the Permian cost improvement to lag behind the industry progress rate for awhile. So management had to "catch up" those costs. It now appears that the costs rival some of the better operators in the area. The company supposedly had great acreage, but costs need to be controlled tightly so that another California Resources situation does not have to happen in the future.
Source: Occidental Petroleum Bank Of America Merrill Lynch Global Energy Conference Slide Presentation, November, 2016
As shown in the first slide, production is exceeding forecasts. Until the large capital pipeline fills, this may be the only future source of growth for the company. The production growth is based upon production that does not include anything that was sold to raise cash. Both slides confirm that costs are becoming competitive with the industry overall, and that the company is positioning itself to make money in a period of low commodity pricing. As some commentators have noted, the company has some of the best core acreage in the industry, so the market has every right to expect profits under the current conditions. The growth in cash flow is usually a precursor to those anticipated profits. So expect this company to become solidly profitable during the next fiscal year.
There have been so many acquisitions and bankruptcies that should industry conditions deteriorate, this company is in a very good position to outlast any commodity price drop. The billions raised from the California Resources spinoff are now gone. But in place of that money is a far better corporate cost structure, and much lower required capital for large projects. Many of the projects that are now complete have lowered operating costs or are generating cash flows.
Source: Occidental Petroleum Bank Of America Merrill Lynch Global Energy Conference Slide Presentation, November, 2016
The company is beginning to forecast a return to the growth mode. Production growth will be first. The least amount of capital is required to ratchet up production in the Permian (for example) in response to market conditions. Plus expenditures can easily be delayed if market conditions change. So the overall flexibility is far greater. Still that above capital forecast is a sign that management sees better industry conditions ahead. Since they are much closer to industry conditions that many investors, that is something to take note of and possibly act upon.
Long term, that forecasted production growth, when combined with the dividend promises an annual return averaging about 10% with below average risk. Once the ability to include some long term capital projects is included, that rate will probably climb to a 13% return. However, much of that average return will occur during the industry recovery. As shown above management is now beginning to forecast better profit conditions ahead, so now is probably the time to consider investing in the common stock of the company.
Most capital gains come from changing industry perceptions. The price-earnings ratio increases as investors become more optimistic about the industry future. Later, as the industry margins become above average during the cyclical highs, that ratio will contract, limiting capital gains. So really, now is the time to invest for much of the industry capital gains. This now appears to be the beginning of a new cycle.
I remember reading from several brokerage firms in 2013 and 2014 how Occidental common stock would reach or exceed $200 a share. That kind of capital gain is likely to happen over the next few years. Later, when a full blown industry prosperity occurs as the market top approaches, the stock tends to stagnate as Mr. Market anticipates the next industry down cycle. Maybe one-third of all the capital gains are available then. That is when all the articles appear about the "cheap" oil companies.
So this stock should at least double from the present price during the next five years with some dividend increases. The dividend has already been raised once, so look for more increases down the road. Usually the most significant dividend increases occur in the early stages of an industry recovery. By the time the market sees the dividend increase track record, the largest dividend increases will have been completed.
Disclosure:
I am not a registered investment advisor and this article reflects my own opinions. I do not and will not advise anyone to invest or not invest in this stock. You have to do your own due diligence and your own homework, by reading the company's filings and press releases, as well as any other relevant information to make up your own mind at your own risk. Your investments must match your own risk profile as well as your desire to take on risk and the patience to see out situations such as this.
Disclosure: I/we have no positions in any stocks mentioned, and no plans to initiate any positions within the next 72 hours.
I wrote this article myself, and it expresses my own opinions. I am not receiving compensation for it (other than from Seeking Alpha). I have no business relationship with any company whose stock is mentioned in this article.