Genocea Biosciences (NASDAQ:GNCA) is a biopharmaceutical company that discovers and develops vaccines and immunotherapies and aims to transform vaccine discovery and development to improve lives. They use a proprietary system termed ATLAS™ (Antigen Lead Acquisition System), that rapidly identifies T cell antigens associated with protective immune responses in humans exposed to a pathogen.
Genocea purports to have a pipeline of novel vaccine candidates that stimulate the T cell arm of the immune system, which is increasingly recognized as critical to generating protective immunity against a wide array of diseases. Genocea's pipeline includes clinical programs addressing genital herpes and pneumococcus and research efforts in cancer immunotherapy and infectious diseases.
It is a relatively low-priced biotech company with multiple catalysts within a single year. I am presenting a short-term trade idea here leading into the first set of catalyst events which occur in late January 2017. The price entry suggestions are based on support and resistance analysis and detailed later in this article.
In recent months, Genocea announced positive viral shedding data from its ongoing Phase 2b study. The study achieved its primary endpoint, demonstrating a statistically significant 40 percent reduction in the viral shedding rate immediately after dosing in the 60 µg per protein / 50 µg of adjuvant dose group, using a new Phase 3-ready formulation. This result was consistent with a statistically significant viral shedding rate reduction of 41 percent at this same dose and time point in the prior Phase 2 trial. Subsequent data from that prior Phase 2 trial demonstrated virologic and clinical efficacy durable through at least one year after dosing. The 60 µg per protein / 75 µg of adjuvant dose group in the Phase 2b trial reduced the viral shedding rate by 27 percent, a smaller reduction than that observed in the prior trial, and also showed a less acceptable reactogenicity profile than the prior trial.
Research has shown that over stimulation of the T cell immune system, as is suggested by this increase in reactogenicity, leads to a loss in efficacy for T cell therapies. In October 2016, the company presented immunogenicity data from its previous Phase 2 trial at IDWeek 2016, the premier annual meeting for healthcare professionals focusing on infectious diseases. These data show that GEN-003 induced antigen-specific polyfunctional T cell responses in immunized subjects, a hallmark of potent T cell immunity. These data also demonstrated that GEN-003 elicited increases in IgG and neutralizing antibody levels above baseline that persisted for one year after the last dose, consistent with viral shedding and clinical symptom reduction seen at 12 months.
The company's website reflects the pipeline described in paragraph-2 above in the following table: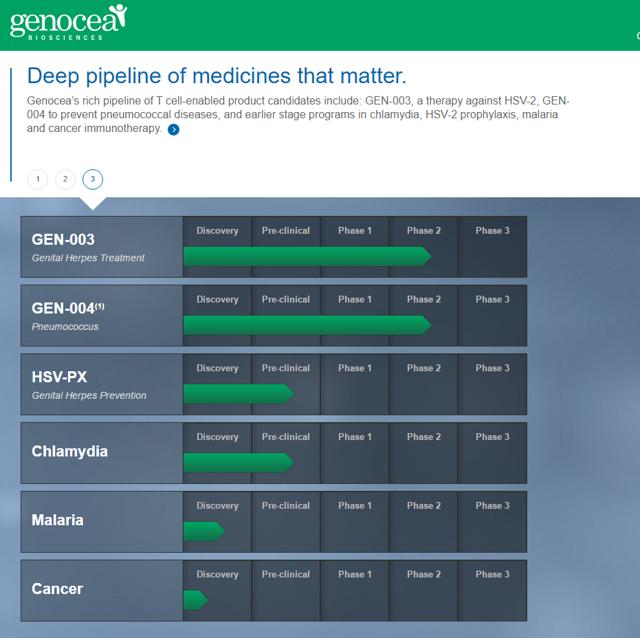 A phase II clinical trial demonstrated that a new type of treatment for genital herpes, an immunotherapy called GEN-003, may reduce the activity of the virus and the number of days with recurrent herpes. This effect of treatment, given by a series of three injections, appears to last for one year.
The Center for Disease Control & Prevention reports that annually over 776,000 people in the United States alone get new herpes infections. There is no cure for herpes. Antiviral medications can, however, prevent or shorten outbreaks during the period of time the person takes the medication. In addition, daily suppressive therapy (i.e. daily use of antiviral medication) for herpes can reduce the likelihood of transmission to partners.
Several clinical trials have tested vaccines against genital herpes infection, but there is currently no commercially available vaccine that is protective against genital herpes infection. One vaccine trial showed efficacy among women whose partners were HSV-2 infected, but only among women who were not infected with HSV-1. No efficacy was observed among men whose partners were HSV-2 infected.
A subsequent trial testing the same vaccine showed some protection from genital HSV-1 infection, but no protection from HSV-2 infection. GEN-003 is most certainly in the lead for development of a vaccine which has gone through Phase 2 testing and leading fast into Phase 3. Immuno therapies are leading edge as they are preventative in nature and help immensely by having an individuals own body find a way to fight this virus which has no known cures.
What is encouraging to note is that the current milestones include a Phase 2b 6-month placebo-controlled clinical efficacy data which is expected in January 2017. Subsequently the end-of-Phase 2 meetings with the U.S. FDA is expected within Q-1 2017. These multiple catalyst events in a leading edge therapy for a disease without cure is very promising. The antiviral combination study in the same field is now planned as GEN-003's Phase 3 program.
Earnings summarization for Q3-2016 (Source: 10-Q)
The company showed cash of approximately $ 75.46 Million and reported total operating expenses of approximately $ 12.43 Million for the 3-months ending September 30, 2016. When averaged and rounded to about $ 13 Million per quarter given the trend in spending, it gives the company enough cash to carry through with available cash for about more than five quarters (closer to six).
The condensed balance sheet and statement of operating expenses are provided below: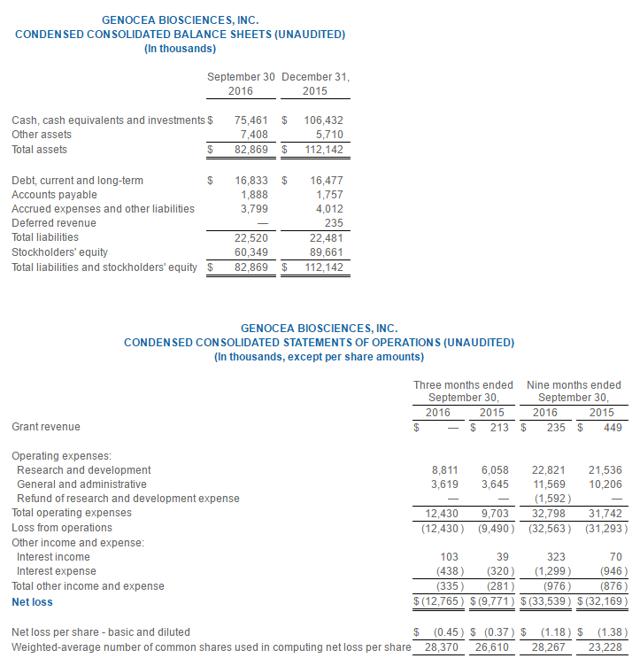 Trading GNCA into the catalyst events
Genocea has had positive data readouts for this same immuno therapy drugs earlier and therefore I would not expect anything other than a positive press release in January, or for that matter an expectation of a pat in the back by the U.S. FDA for continuation into Phase 3. The stock closed at $ 3.77 on Friday, December 2, 2016, and there is support in a wide band between about $3.33 to $3.55.
What I am presenting today is an idea to trade Genocea leading into the news. To me, it presents a very nice short-term trade opportunity with anywhere between 5% and 40% potential gains when traded within the context of the 20 period SMA curling above the 50 period SMA. This is a sign of inherent strength despite the recent retracement, which was likely the result of the entire biotechnology sector unwinding from the overbought conditions. I would therefore look for an entry on a pullback to somewhere between that wide support band to go long in anticipation of the catalyst event. The expectation is that we would run up anywhere from 5% to 40% on good news. I have a yearly chart below for all die-hard charting fans.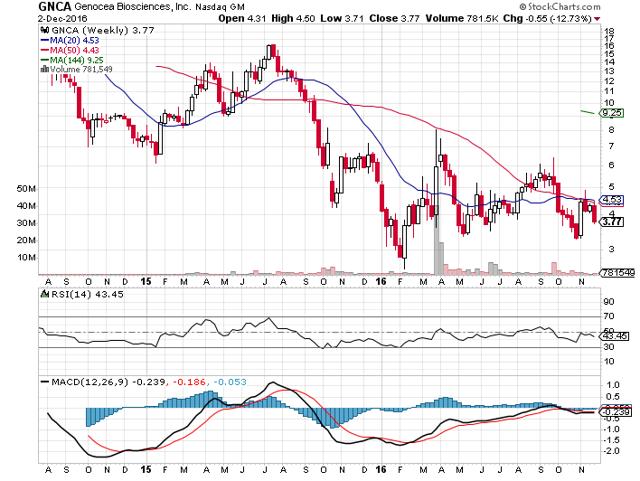 Disclosure: I/we have no positions in any stocks mentioned, and no plans to initiate any positions within the next 72 hours.
I wrote this article myself, and it expresses my own opinions. I am not receiving compensation for it (other than from Seeking Alpha). I have no business relationship with any company whose stock is mentioned in this article.