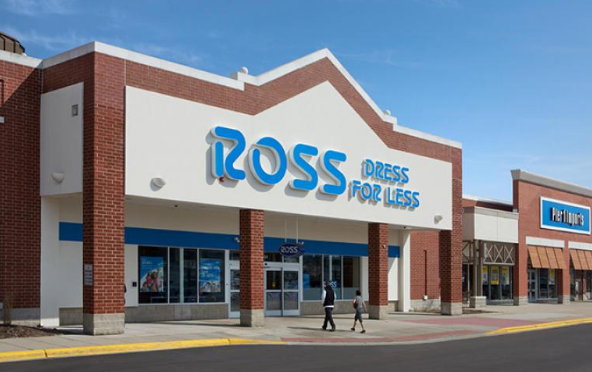 Ross Stores (NASDAQ:ROST) has been on fire for years now. The company's off-price model has resonated very well with customers and we've seen year after year of higher comp sales, margins and earnings growth as a result. The stock has looked a bit pricey at times but there is certainly no denying that ROST is not only the best in its sector of retail, but one of the best retailers anywhere. Another tremendous earnings report has the stock back near new highs once again but given all of its success, are expectations too high going into next year?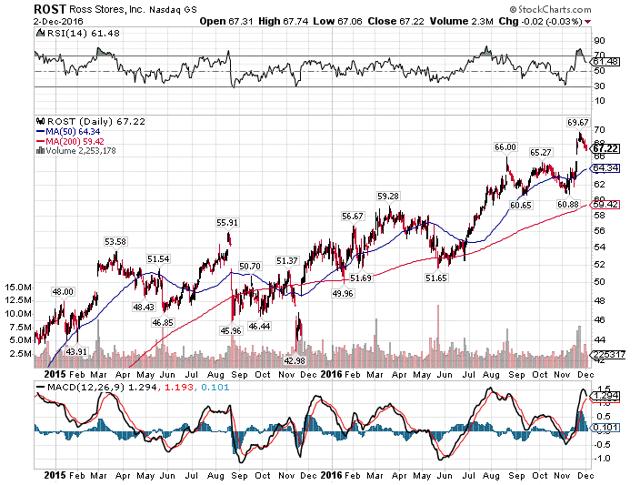 Retail has been a tough place to be in 2016 - particularly in apparel - as consumers have pulled back spending and as the proverbial tide has gone out, we're seeing who has been swimming naked. ROST is certainly not one of those names as it continues to chug along as though there is no sector weakness whatsoever, proving once again in Q3 its dominance over its peers.
Total sales were up 11% in Q3 on the back of a staggering 7% comp gain. Not only is that a huge gain on an absolute basis but compared to its endless list of peers that posted negative comps in Q3, it is nothing short of astounding. The gain also came on a 3% increase last year so it isn't as though this year was simply a rebound off of a bad number in 2015; these are real gains and ROST continues to find a way, quarter after quarter. Guidance for Q4 was for marginal gains as management offered up some cautious commentary. But on the prior two years of +6% and +4%, ROST is still certainly doing just fine if Q4 comes in a little light.
On the margin front, ROST's ever-higher comps produced higher gross margins once again as that number rose 52bps against last year's Q3. ROST continues to improve the efficiency of its supply chain and as it makes each store more and more productive, its buying costs decline as well. This is a long term story for ROST and there is no reason to suspect it won't continue as comps rise.
SG&A costs were roughly flat as a percentage of revenue in Q3 as ROST at least kept costs in line with revenue growth. I would have hoped with a 7% comp gain that some leverage would be achieved on its back office costs but that wasn't to be and ROST instead kept them flat. That allowed operating margins to rise by the same amount that we saw from gross margins, hitting 12.6% in Q3. That's a strong level of operating earnings from a retailer and as I said, ROST still has some room to run if it can continue to grow comps into next year. This company is already very efficient but does have some levers it can pull to produce moderate operating margin expansion. In short, the margin growth story isn't over here but I would say the low-hanging fruit has been picked and that any material growth from here is likely to come from SG&A discipline.
Analysts are looking for 7% sales growth and 11% EPS growth next year from ROST as a way of hitting $3.13 in 2017. Those are confident estimates in light of all the success ROST has already accrued but they are certainly not unrealistic.
ROST continues to open new stores and so far this year, that has accounted for 3% or 4% of total sales growth. We can assume something similar for next year so if we assume 3% sales growth from new units, that leaves about 4% for comp growth. That's no slouch to be sure but at the same time, ROST has proven the ability to do this over and over again. Expectations for comp growth certainly aren't low but I believe it is achievable.
If we assume that ROST gets its 7% sales growth it needs another 4% from a combination of margin growth and the buyback. ROST is buying back $700M per year right now, good for 2% to 3% of the float depending on the stock price. Let's go with 2% for next year as the stock is near its highs so buybacks are a bit less effective than they were earlier in the year. That gets us half of the 4% remainder after sales growth, leaving another 2% from margin growth.
Operating margins grew better than 4% in Q3 so it isn't impossible, but ROST will need to see additional leverage from gross margins and/or SG&A costs. I think the latter is where ROST has an opportunity because it hasn't really tried to trim those costs in the past. To be fair, it hasn't needed to but as gross margins get near their top - wherever that ends up being - the only other way to grow operating earnings will be through lower SG&A costs.
On the whole, at just 21.5 times next year's earnings, ROST still looks reasonably valued despite the fact that it is at new highs again. I also think 11% EPS growth is achievable next year so we shouldn't get any nasty downside surprises, barring some unforeseen disaster. The chart is still very bullish as well as the stock just keeps rallying and support continues to rise as well. Thus, after a terrific Q3 and despite somewhat cautious guidance for Q4, ROST still looks like a buy to me here.
Disclosure: I am/we are long ROST.
I wrote this article myself, and it expresses my own opinions. I am not receiving compensation for it (other than from Seeking Alpha). I have no business relationship with any company whose stock is mentioned in this article.