Bayer (OTCPK:BAYRY) first caught my eye around March when the first Monsanto (NYSE:MON) acquisition rumors began to float around the market. At the time, I had a small position in Monsanto, but had no holdings in Bayer. Even though it is a company whose products I (and probably most of us) consume on a routine basis, I did not have good knowledge of the company or its products except maybe for Aspirin. Figures 1 and 2 show some of the everyday products we use and the company's deep pharma pipeline.
Figure 1 - Portfolio of Bayer's Products with Sales Over 100M Euros and Recently Launched Products with Combined Peak Sales Potential Greater than 10B Euros

Source: Bayer Investor Relations Handouts
Figure 2 - Bayer's Pharma Product Pipeline

Source: Bayer Investor Relations Handouts
After a cursory look into the company, its products, competitive position, track record and valuation, I started a small initial position in March. The idea was to start following the company closely, validate some of my assumptions, and to add to my positions over time. I wanted to build my position in the company gradually in case my thesis on the company was wrong, it went into a bidding war for Monsanto, or if the market had a large sell-off.
My initial study found a company that was growing earnings at a 10% clip with $50B in sales and a robust pipeline. Most importantly, the company was trading at a PE ratio of 12 with a stock price that was down ~40% from a peak of $155 set in 2015 - at levels last seen four years ago (See Figures 3 and 4).
Figure 3 - Bayer's Sales and Earnings Track Record (in Euros)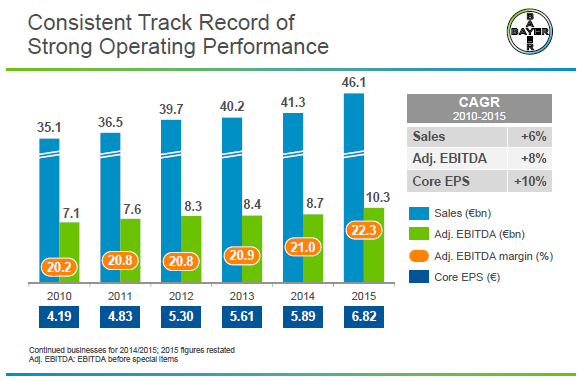 Source: Bayer Investor Relations Handouts
Figure 4 - Four-Year Chart of BAYRY Stock Price and PE Ratio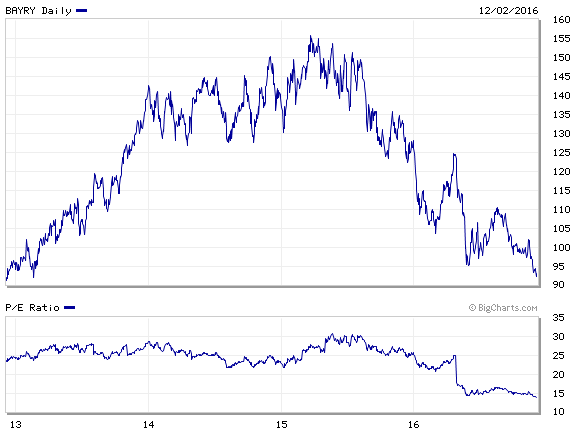 Source: MarketWatch.com
Note that the current PE ratio of the company is substantially lower than where it was in 2013 (or any time over the past four years) due to a combination of a stock price decline of ~40% and an EPS figure that has grown from 5.6 euros in 2013 to ~7.5 euros this year (see the company's most recent press release for Q3 earnings announcement and its increase in 2016 EPS guidance (Figure 5)). Note that these figures are in euros, and due to the declining value of Euro against the US $ over the past several years, the EPS growth stated in US $ is not nearly as robust. However, since the company states its results in euros, I kept the comparisons in euros. This is another reason that the stock price has lagged - the recent sales and earnings when converted to dollars are not nearly as impressive. However, over a long period, currency swings will stabilize and what once were headwinds will become tailwinds.
Figure 5 - Most Recent Company Guidance for 2016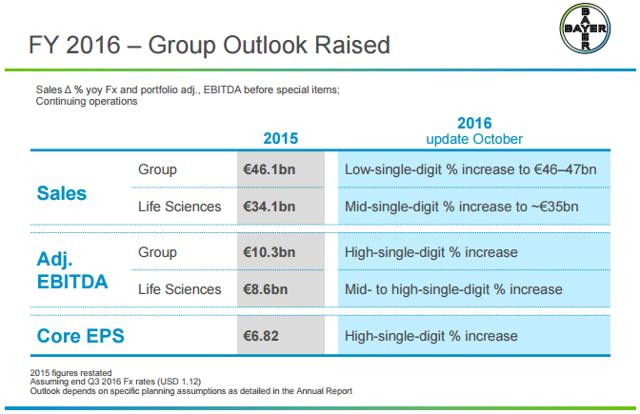 Source: Investor Relations Handouts, Q3 Earnings Announcement
Nevertheless, even with the weakening euro, the company is expected to make ~$8 in EPS this year (in dollar terms) and that is a PE below 12 for a company whose business is strategically placed in the midst of a growing sector with a promising future. Any hint of euro currency stability combined with continued EPS growth remotely approaching the 10% the company realized over the past several years will shift investor sentiment from pessimism to optimism, resulting in material share price gains for Bayer's shareholders as they will see the double impact of rising EPS accentuated with a powerful expansion of the PE multiple awarded to the stock.
Monsanto Acquisition
Prior to Bayer's $122 bid in May, Monsanto was trading at ~$90 share. However, even after the agreement was reached in September 14 for a transaction at $128/share - valuing the company at $66B (including net debt: at $128/share, the market cap of 444 million outstanding shares of Monsanto is ~$57B, leaving around $9B of net debt for a total Enterprise Value of $66B) - the company is still trading at $104 as of Friday's close, a substantial discount to the agreed acquisition price, reflecting a high degree of skepticism that the deal will actually get done. For a timeline of the closing of the planned acquisition see Figure 6.
Figure 6 - Monsanto Acquisition Completion Timeline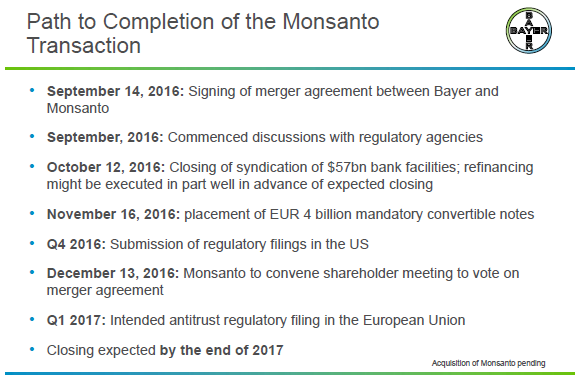 Source: Bayer Investor Relations Web Site
As Figure 7 shows, the value of Monsanto's stock has not risen anywhere near the implied 44% premium Bayer is offering for the company while Bayer's shares are down substantially.
Figure 7 - One-Year Chart of Bayer vs. Monsanto Stock Performance

Source: Google Finance
In fact, despite the expected synergies of $1.5B and the expected accretive nature of the acquisition as mentioned in company's press release (Figure 8), the combined market capitalization of the two companies is down ~$13B to $121B, representing roughly 10% of the market capitalization of the two companies prior to the announcement of the acquisition of $134B (See Chart 1).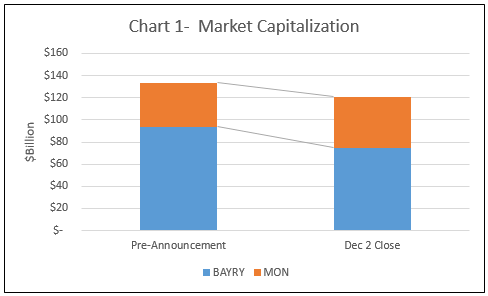 Source: Google Finance and Author's Work
While there is a great deal of skepticism around whether regulators will approve the deal, there is also genuine concern about Bayer overpaying for Monsanto as well as whether it can handle the additional debt it is about to incur. At the end of 2015, Bayer carried a net financial debt of ~ 17.5B euros, down roughly 11% from 19.6B euros at the end of 2014. Assuming it pays down a similar amount this year and prior to the completion of acquisition end of next year, it will have ~13B euros of debt, before taking on $47B in additional debt beyond the equity portion ($19B in convertible bonds and rights issuance) of the acquisition financing (see Figure 8 for details).
Figure 8 - Details of Monsanto Transaction

Source: Bayer Investor Relations Web Site
This roughly 61B in dollar equivalent debt will translate to about 4X of combined companies' EBITDA (see Table 1). Oddly enough, this debt to EBIDTA ratio is similar to what AB InBev (NYSE:BUD) is carrying after it completed its SABMiller acquisition (you can read my analysis of the post-acquisition AB InBev on Seeking Alpha here). While this seems to be a very high and uncomfortable ratio for investors, companies with consistent businesses and cash flows are comfortable taking on this level of risk, especially given the potential payoff. From an investor's perspective, I believe this debt overhang gives them an opportunity to buy healthy acquiring companies such as BUD and BAYRY at substantial discounts and enjoy big run-ups in EPS as synergies are realized, debt is paid down and PE ratios expand as investor fear gives way to optimism. Moreover, BAYRY's dividend payments as a percentage of EBIDTA are a lot less burdensome than BUD's, as such Bayer has a much higher margin of safety to pay back what seems like an onerous debt burden.
Table 1 - 2016 Estimated Revenue and EBITDA for Individual and Combined Companies in US Dollar Equivalents

Source: Zacks.com and Morningstar.com and Author's Work.
Bottom Line
Bayer is trading as if the merger will go through; Monsanto is trading as if it won't. Personally, I have no idea. However, either way, Bayer merits a close look and potentially a higher price, regardless of whether the acquisition goes through or not.
My Monsanto Positioning: I am holding onto my Monsanto shares that I had purchased prior to the announcement as well as some more opportunistically since then. But at this point, I am not buying more - there is a real risk of stock selling off if the acquisition does not go through ($2B in break-up fee from Bayer to Monsanto is nice, but it may not be enough to compensate for Monsanto investors' disappointment). On the other hand, I stand to make 20%+ in gains if the sale does go through. Furthermore, in case the acquisition is completed successfully, there may be a great opportunity to buy additional Bayer with the cash received from Monsanto shares, especially if Bayer's stock price goes down another notch post acquisition.
My Bayer Positioning: I initiated a small position after the merger rumors and continued adding to it after the official announcement (including taking advantage of the weakness as recently as last Thursday). I have continued to examine the new data as it comes in and watched the last two quarters of Bayer's earnings announcements carefully. If the merger announcement goes through and the stock reacts negatively, I will reinvest a substantial chunk of my Monsanto position into Bayer. If rejected, Bayer is a great buy at these levels even after a $2B break-up fee. As such, I feel that buyers of Bayer are facing a win-win situation in the mid to long term, regardless of the acquisition happening or falling through.
Disclosure: I am/we are long BAYRY, MON, BUD.
I wrote this article myself, and it expresses my own opinions. I am not receiving compensation for it (other than from Seeking Alpha). I have no business relationship with any company whose stock is mentioned in this article.
Editor's Note: This article discusses one or more securities that do not trade on a major U.S. exchange. Please be aware of the risks associated with these stocks.