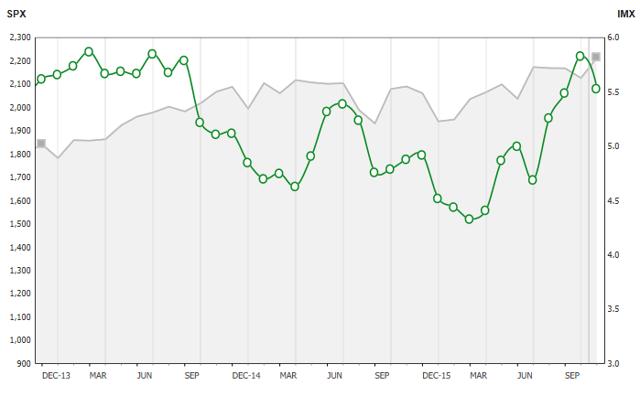 Declining to play follow-the-leader in a rallying market, retail traders pulled back their exposure to stocks last month for the first time since July. The move may reflect caution about stock exposure with equities at or near all-time highs.
Retail traders tracked by TD Ameritrade were net sellers of stocks in November, according to the Investor Movement Index, or the IMX SM. The November IMX reading fell about 5% from the prior month to 5.53, down from the two-year high of 5.83 posted in October.
While slightly lower, the index remains well above recent lows posted last March, and above the average reading of the last six years. But retail investors appeared to take a cautious approach, selling stocks as prices rose and searching for bargains in names that have recently been out of favor.
November's lower IMX reading doesn't simply reflect retail traders exiting positions. Lower relative volatility of some widely held names, like Apple Inc. (NASDAQ:AAPL), also contributed to the decline. Implied volatility of the S&P 500 as measured by the CBOE Volatility Index, or VIX, rose early in the month prior to the U.S. election, but subsided quickly following the event. A slight uptick in actual volatility of the S&P 500 during the same period helped to reduce the relative volatility of many widely-held names in TD Ameritrade accounts.
Investor decisions, not just volatility, also seemed to play a role in the IMX decline. Again and again this year, retail traders have taken profit on high-flying names as certain stocks and sectors climbed to new peaks, and looked instead for value elsewhere. That pattern continued in November. For example, net selling continued in the financial sector for a second month as some financial names soared. Both Citigroup Inc. (NYSE:C) and Bank of America Corp. (NYSE:BAC) were net sold as their prices rose sharply in November. In the basic materials sector, Freeport-McMoRan Inc. (NYSE:FCX) and Chevron Corp. (NYSE:CVX) each reached new year-to-date highs and were net sold as well.
On the other hand, stocks that had been under pressure continued to draw interest from retail traders, the IMX report showed, and dividend stocks also remained popular. Dividend payers Verizon Communications (NYSE:VZ) and AT&T Inc. (NYSE:T) have seen net buying in the last two IMX periods and were net buys again November. Each saw their stock prices rebound after declines earlier in the month. Facebook Inc. (NASDAQ:FB) and Amazon.com Inc. (NASDAQ:AMZN) have also been popular buys. Both companies share prices declined in November after setting year-to-date highs in October.
Additional popular names bought included Alphabet Inc. (GOOGL, GOOG) and Amgen Inc. (NASDAQ:AMGN). But airline stocks Southwest Airlines Co. (NYSE:LUV), Delta Air Lines (NYSE:DAL) and United Continental Holdings (NYSE:UAL) were net sold as their prices rose in November.
Remember, this sophisticated index is a tool that lets you see what hundreds of thousands of actual traders were doing in November across all markets. December brings the holiday shopping season, a Fed meeting, and anticipation of Q4 earnings in January. Let's see what retail traders decide to do next.
To learn more about IMX, watch this video.
Click here for a copy of the report.
Inclusion of specific security names in this commentary does not constitute a recommendation from TD Ameritrade to buy, sell, or hold.
Past performance of a security, strategy or index is no guarantee of future results or investment success.
Historical data should not be used alone when making investment decisions. Please consult other sources of information and consider your individual financial position and goals before making an independent investment decision.
The IMX is not a tradable index. The IMX should not be used as an indicator or predictor of future client trading volume or financial performance for TD Ameritrade.
TD Ameritrade commentary for educational purposes only. Member SIPC.
Disclosure: I/we have no positions in any stocks mentioned, and no plans to initiate any positions within the next 72 hours.
I wrote this article myself, and it expresses my own opinions. I am not receiving compensation for it. I have no business relationship with any company whose stock is mentioned in this article.