Introduction:
In a bid to curb the spread of black money, the 500 and 1,000 Indian rupee notes will cease to be legal tender from the 9th of November in India. The move by Prime Minister Narendra Modi seeks to recover illegal income and curb tax evasion. In this report, we take an in-depth look at the Indian market and the impact of this move for payments processing firms Visa (NYSE:V) and Mastercard (NYSE:MA).
Surprise announcement by PM Modi
PM Narendra Modi's announced on the 9th of November to wipe out more than 80% of the country's two largest bills in circulation, the 500 ($7.30) and 1,000 Indian rupee notes in an effort to crack down on corruption and tax evasion. This means that those holding large cash holdings of the two bills will be required to declare them to the tax authorities. The move will see Indians who have stockpiled undeclared income come out of the shadows.
According to The Reserve Bank of India (RBI), the 500 and 1,000 Indian rupee notes form more than 80% of the total bills in circulation. In its place, the Indian administration intends to replace this with the new 500 and 2,000 Indian rupee bills.
The surprise move, however, has caught the country by surprise and forced many to scramble to the ATMs. According to a New York Times report, many who had to stand in line outside banks for hours were unable to exchange the bills as the banks had run out of the smaller denomination 100 rupee notes.
Benefit to Payment Processing Firms
How does the above move benefit the payment processing firms?
According to estimates, over 98% of transactions in India is done by cash. The surprise move by the Indian administration caught the entire country by shock with a report by Bloomberg citing anonymous government officials admitting that the government is "…falling short of meeting requirements for 100-rupee notes."
This means that Indians who are unable to exchange for the smaller bills are now struggling to get basic necessities. The other alternative then is to use their debit and/or their credit card to make any purchases, benefiting payment processing firms like V and MA.
Regular followers of MA will recall that chief executive officer (CEO) of MA Ajay Banga (an Indian native) has long declared his support for taking cash out of the system. The recent move by the Indian government has already been hailed by MA as a "critical step in positioning India to be a leader in the global cashless and digital economy movement".
Overview of Indian Payments market
I will now attempt to provide data on the size of the payments market for India.
According to data from Bloomberg, real GDP in India expanded by 6.6% and 7.2% in FY14 and FY15, respectively. For FY17 and FY18, consensus estimates are for them to grow at 7.4% and 7.6%, respectively. This remarkable growth rate puts India amongst the world's fastest growing economies.

Source: Bloomberg
Despite this, however, India still lags behind the rest of the developing countries like Brazil, Russia, and China. According to RBI, more than 50% of Indian adults held an account with a financial institution compared with nearly 70% of adults in the other BRIC economies. Dormancy rates of these accounts, however, remained high at about 28% as Indian households typically hold their wealth in cash.
According to data from RBI, India has about 660 million debit cards in circulation and 23 million credit cards in force compared to their population of 1.3 billion. Whilst the numbers for debit card might seem meaningful, 87% of debit card usage is for cash withdrawals at ATMs. This makes any significant increase in the near-term usage of both the debit and credit cards unlikely.
In addition, the high cost of acceptance infrastructure in India also means that the acceptance of debit and credit cards are low in India. According to a study done by Visa, the cost of a point-of-sale (POS) terminal in India ranges from INR 8,000 ($118) to INR 12,000 ($178); countervailing duties and taxes account for 20% of the price. The annual operating cost is INR 3,000 ($44.60) to INR 4,000 ($59) per terminal. The high cost associated with the terminals means that merchants are currently unequipped with the terminals to accept card transactions.
Considerations
Reports of suicides and fights taking place on a daily basis because of the inability to exchange for smaller bills at banks have also emerged, highlighting the problem at hand. The Indian administration will also likely require six more months than previously estimated, this according to Saumitra Chaudhuri, an economist who advised the previous Indian administration. All this will almost certainly benefit payment processing firms like V and MA in the near to mid-term as consumers migrate to plastic because of the limited supply of smaller denomination bills.
That said, the low penetration of cards in circulation at the moment and the low adoption of POS terminals in India due to the high cost also means that the near-term effect of such a move will be fairly limited (more on this in Part II). In the longer term, though, after the entire fiasco, India might also revert back to the use of cash as there is little to discourage the underground economy from reverting back to business as usual. There is more that will need to be done to curb the underground economy than ceasing the legal tender of two bills.
Final Thoughts
Analysts currently expect V and MA to report 17% and 14% earnings growth, respectively for FY17, and have not taken into account the latest move by the Indian government.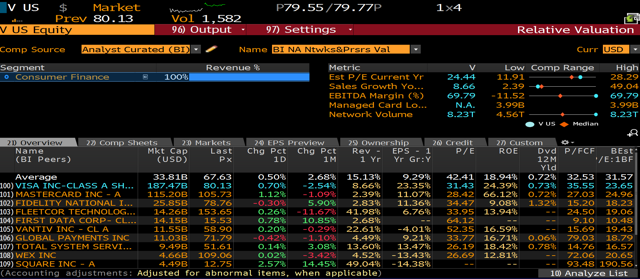 Source: Bloomberg
The street is currently still looking to estimate the impact of the above move by the Indian government, and any upward revision of its numbers in the upcoming weeks or months will be a catalyst for V and MA, which are currently trading at 21x and 24x of next year's earnings, respectively. V and MA do not give an individual breakdown of revenue from India, but MA derives a greater percentage of its revenue - 61% - from overseas vs. V's 47%.
I am currently long both V and MA.
Disclosure: I am/we are long V, MA.
I wrote this article myself, and it expresses my own opinions. I am not receiving compensation for it (other than from Seeking Alpha). I have no business relationship with any company whose stock is mentioned in this article.