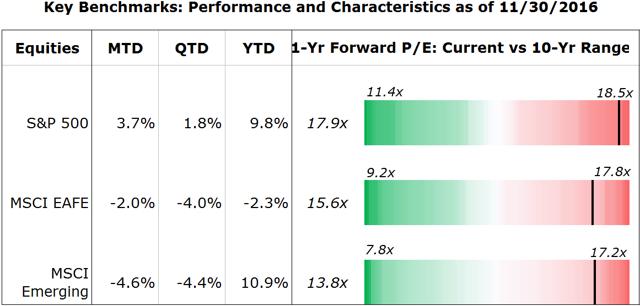 November 2016 Market Commentary: Value Trumps Growth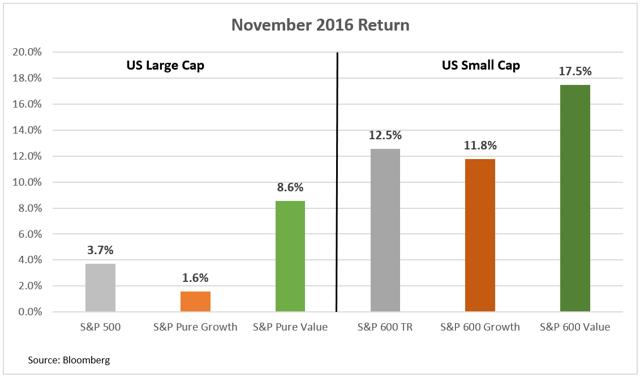 The Electoral Shot Heard Around the Pundit World
Donald Trump's 'surprise' electoral victory felt like Brexit redux except that markets were not caught as flat-footed as they were following last June's Brexit referendum. As with Brexit, the market reaction to Trump's victory defied many in the established circle of economic prognosticators ("If the question is when markets will recover, a first-pass answer is never…"). However, those predicting a major economic fallout from Trump's proposed policies may yet be proven right although it is difficult to forecast how much of Trump's stump speeches will translate into actual policies (and how they will be funded). Certainly, calls for infrastructure stimulus spending, tax cuts, and business deregulation should cause even the most partisan Keynesian pining for an alternative electoral outcome to tweak their models for higher near-term growth. And as is often the case, the market runs into quick discounting mode, pricing in higher growth long before the econometricians build higher growth into their forecasts. Indeed, between favorable December seasonality and euphoria over Trumpflation, current market optimism could stay strong through inauguration and the honeymoon period. A month-end OPEC deal also helped drive a month-end 9.3% surge in oil prices to $49.44/barrel as the Saudis were willing to take a 'big hit' to production.
Global investors drove global bond yields higher (Exhibit 1) as well as the U.S. dollar (Exhibit 2) while selling bond-proxy assets such as utilities and REITs. Emerging markets (Exhibit 3) also came under pressure over concerns that Trump will enact protectionist policies curtailing global trade.
Exhibit 1 - Rise in Global Bond Yields Reflects Confidence in the Reflation Trade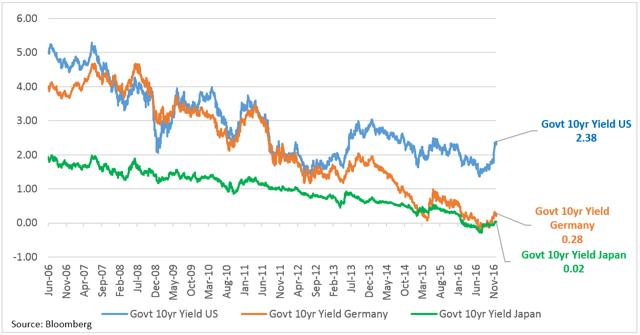 Exhibit 2 - U.S. Dollar Strengthening Reflects Expectations on Trump Policy Impacts on Domestic Growth and Global Trade

Exhibit 3 - Emerging Markets Lag All Other Major Regions

Yet, the rise in global bond yields have not produced a sell-off in credit risk as BBB and high-yield spreads remained stable (Exhibit 4). The bond market sell-off began well before the election as we highlighted in "Mission Accomplished (Updated September 2016)" as the market grew more confident in global central bank efforts to engineer steeper yield curves. The reflation trade took on momentum as global macro conditions improved with investors now pricing in higher inflation. The fed funds futures market has priced in near certainty of a December rate hike from the 0.25-0.50% range followed by one or two rate hikes in 2017 (Exhibit 5).
Exhibit 4 - U.S. Credit Spreads Remain Firm in the Wake of Global Bond Sell-Off

Exhibit 5 - Fed Funds Futures Pricing in One or Two Rate Hikes in 2017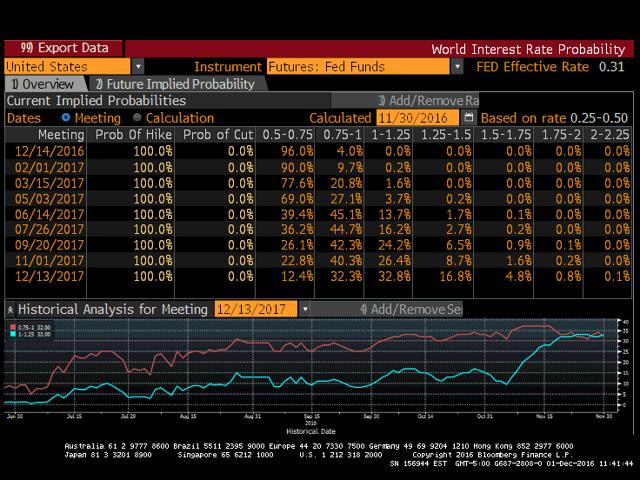 Source: Bloomberg
Despite the Atlanta Fed slashing its 4Q GDP estimate to 2.4% from 3.6% following downward adjustments to real exports, investments, and consumer spending, the U.S. macro picture appears fairly strong, even euphoric. U.S. home prices have recovered most of the lost ground following the 2008 recession despite higher mortgage rates. Consumer confidence has emerged from the election at levels not seen since 2007. Our own internal U.S. macro barometer that tracks some of the major leading economic indicators reached a two-year high (Exhibit 6) led by strength in consumer and business sentiment.
Exhibit 6 - U.S. Macro Conditions Point to a Strong Economic Environment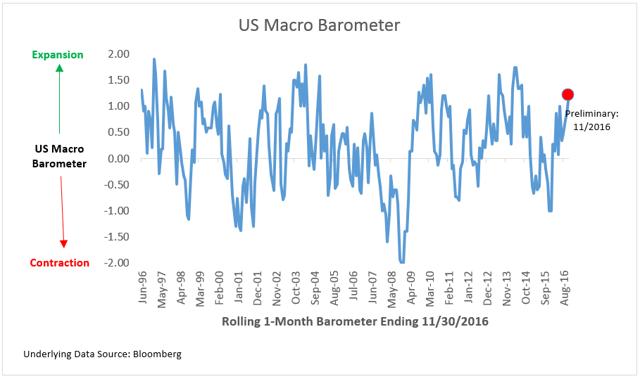 In October, private wages increased 0.6% from the prior month and have increased 4.5% over the prior year. This renewed optimism and higher wages are expected to make their way into the inflation pipeline. This can be seen in contemporary measures of inflation, such as the Core PCE Deflator (the Fed's preferred inflation metric) as well as the forward inflation expectations priced into the difference between TIPs versus nominal Treasury yields (Exhibits 7 and 8).
Exhibit 7 - Rising Wages Expected to Put Upward Pressure on Inflation Readings

Exhibit 8 - 5-Yr/5-Yr Forward Inflation Expectations Now Above 2%

Global fund managers are also feeling giddy as 35% of managers interviewed by BofA/Merrill Lynch expect the global real economy to strengthen over the next year, which is up from 19% before the election. Our own internal barometer for measuring market risk appetite has reached a two-year high (Exhibit 9) as cyclicals have outperformed defensives, credit spreads have narrowed, and market risk has been priced to post-Brexit lows. As Barron's columnist Kopin Tan writes, "…the stock market is behaving as if Trump will fulfill only the campaign promises it likes but conveniently break all those promises it doesn't like." Will the left-tail risks of potential policy errors offset the right tail risks of policy benefits?
Exhibit 9 - Market Risk Appetite in Full Swing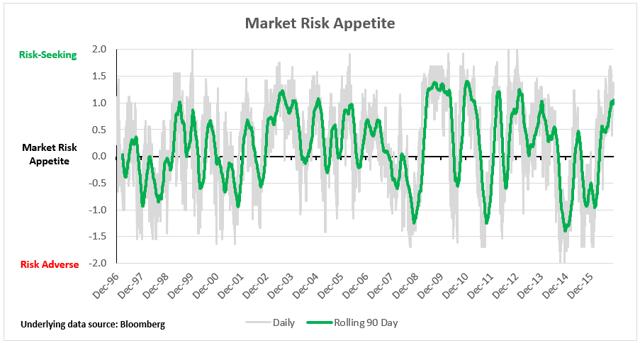 Value Trumps Growth
Honestly, who can pick a better last name to run for president than "Trump"? The word 'Trump' finds its roots in the Latin triumphus and has inspired several 14th and 15th century European card games. In modern card games, the term 'Trump' refers to the dominant suit that outranks all others (the card games Spades and Hearts are two examples). And in the case of the post-electoral market reaction to Trump's victory, 'value' emerged as the dominant style trumping 'growth' and 'safety' (Exhibit 10). Meanwhile, extending the card game analogy, interest-rate sensitive assets turned into 'hearts' - a suit that no one wanted to be stuck with.
Exhibit 10 - Value Trumps All Other Factors

Small caps also trumped large caps (refer back to Exhibit 1) as a Trump victory and a strong U.S. dollar led investors to focus on a stronger domestic recovery and profitability. Investor sentiment on U.S. equities is not misplaced. The earnings picture is improving for U.S. equities. Despite the November ramp up in U.S. equities, the S&P 500 forward P/E at 17.8x is off its 10-year high of 18.5x as the earnings picture has improved following the third quarter releases. According to FactSet Earnings Insight, 3Q earnings grew 3.2% based on 98% of reported companies. For 4Q2016, analysts are projecting 3.3% earnings and 11.4% growth in 2017 on top of 5.9% revenue growth. Typically, the beginning of year estimates will decline as analysts tend to be overly optimistic, but the earnings picture for U.S. companies looks a lot brighter heading in 2017 than it did in 2016.
What could derail the current euphoria? Italy will vote on a constitutional reform referendum on December 4. It is expected to fail, and the knock-on effects could flow through the European banking channel, as proponents have warned that a no vote could lead to several Italian bank failures. Italian PM Matteo Renzi would be expected to resign should the referendum fail, which could open the door for early 2017 elections that could elevate the Italian populist Five Star party. Five Star wants to launch its own referendum for Italy to leave the Eurozone. However, any post-vote sell-off can be viewed as 'localized' with the investors coming back in to support the current rally as some investors are willing to buy European bank debt before the vote.
Sentiment can also fade as political reality sets in following the inauguration. However, rather than looking tired and extended, the lease on this 7-going-on-to-8 year bull market may have been extended with the electoral results, but more political challenges mixed with high expectations await this market heading into 2017.
Disclosure:
The above is the opinion of the author and should not be relied upon as investment advice or a forecast of the future. It is not a recommendation, offer or solicitation to buy or sell any securities or implement any investment strategy. It is for informational purposes only. The above statistics, data, anecdotes and opinions of others are assumed to be true and accurate. However, 3D Asset Management does not warrant the accuracy of any of these. There is also no assurance that any of the above are all-inclusive or complete.
Past performance is no guarantee of future results. None of the services offered by 3D Asset Management are insured by the FDIC and the reader is reminded that all investments contain risk. The opinions offered above are as on December 1, 2016, and are subject to change as influencing factors change.
More detail regarding 3D Asset Management, its products, services, personnel, fees and investment methodologies are available in the firm's Form ADV Part 2, which is available upon request by calling (860) 291-1998, option 2 or emailing sales@3dadvisor.com or visiting 3D's website at 3dadvisor.com.
Disclosure: I/we have no positions in any stocks mentioned, and no plans to initiate any positions within the next 72 hours.
I wrote this article myself, and it expresses my own opinions. I am not receiving compensation for it. I have no business relationship with any company whose stock is mentioned in this article.