A rejection of reform proposals put forward by Italian Prime Minister Matteo Renzi was anticipated to have a possible negative effect on the euro.
However, the "No" vote which was anticipated as being a crisis for the euro has so far only been a crisis for Renzi himself - tendering his registration as a result of the vote. Instead, we have seen the euro rebound quite nicely in light of the vote: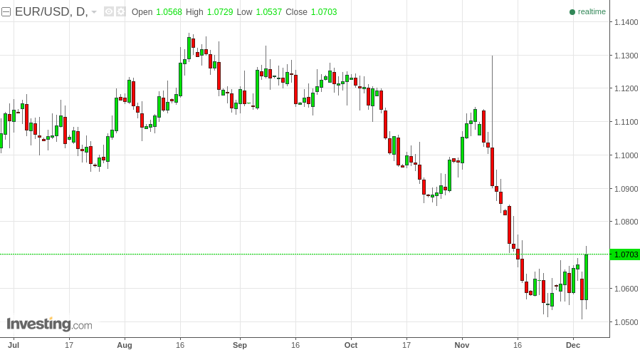 Instead of the event proving a downward force on the euro, it appears that investors have prepared for a No vote, and have anticipated to buy the low and sell the high in light of the Brexit and Trump events.
However, this does not necessarily spell the end of trouble for the euro. Even if the Five-Star Movement does eventually gain power and holds a referendum on euro membership - this is merely a symptom of the euro's problems, not the cause.
Now, it is anticipated that ECB President Mario Draghi will choose to extend quantitative easing measures by a further six months beyond the prior end date of March 2017. Given that interest rates are set to rise in the United States, this is very likely to place further downward pressure on the euro.
Moreover, the landscape in the United Kingdom has changed somewhat. With a ruling that the Brexit process cannot be activated without parliamentary approval and rumors that Britain could pay to access the single market, the GBP has been rising - a currency which at the moment is seen as providing safer exposure to Europe. As a result, funds continue to flow out of the euro.
In spite of the euro's resistance after the Italian vote, this is not necessarily the end of the currency's troubles.
Disclosure: I/we have no positions in any stocks mentioned, and no plans to initiate any positions within the next 72 hours.
I wrote this article myself, and it expresses my own opinions. I am not receiving compensation for it (other than from Seeking Alpha). I have no business relationship with any company whose stock is mentioned in this article.