On Seeking Alpha, I'm probably best known for evaluating speculative stocks that don't pay a dividend. Many of these like Universal Display (NASDAQ:OLED), Energy Recovery (NASDAQ:ERII) and InvenSense (NYSE:INVN) have multiplied investors' money. Even so, I hope that my reputation here is about to change, because retirement in my early 40s was NOT primarily the result of finding big winners. Rather it was the mostly enabled by the steady accrual of small, safe gains, combined with well-targeted shorts and market hedges which helped to protect my portfolio from the more severe market downturns. This article is intended to be the first in a series called "Esekla's GrIP" (Growth and Income Portfolio) which will give a truer picture of how I manage the bulk of my capital. The portfolio starts with BGC Partners (NASDAQ:BGCP), and each successive Pro article will introduce a little-known high yielding stock that I think is safer to buy and hold than many of the stalwarts. Periodic free articles will update the portfolio outlook and returns, and real-time updates and analysis are always available through my subscription service. This particular entry is being published now because Covanta (NYSE:CVA) should announce its next dividend very soon, confounding the skeptics.
A Recent History of Covanta
I've been following Covanta for a long time. It's North America's largest EfW (Energy from Waste) company, and has begun expanding internationally. Most of the income comes from waste disposal, but the company also generates income by supplying electricity and selling recycled metals. Thus, in early July of 2015, I removed Covanta from the pick list of my subscription service due to its exposure to commodities. The price of CVA was subsequently cut in half before I reinstated it with my dedicated coverage on my website, after examining the first-quarter earnings report and macro situation. The reasons for the decline in stock price centered on the commodity risk I cited, plus some delays in the opening of the company's plant in Durham. The latter issue is now resolved and I now have a better picture of how new management is handling the company.
Even so, it's easy to see how there was quiet concern about the company's dividend in the wake of the departure of the Chief Accounting Officer, especially given that the second and third quarters are seasonally weak. It's even understandable, in a company with somewhat complicated accounting, that the stock price should continue to languish while the next dividend was still over two months off.
Current Situation, Timing and One-Year Price Target
I will address each of the commodities issues in separate sections, but make no mistake about it: Covanta's dividend, which is approaching 7% yield, should no longer be in question. Although management confirmed, in its recent conference call, the dividend as completely sustainable even if the commodities cycle were to worsen further, HMS #1 prices for scrap metal have been unexpectedly on the rise, nearing $300 in recent days. Pricing like that should mean a small bump in operating results, particularly if the trend persists. This is just gravy, though; the real reason the dividend is sustainable is because about two thirds of revenue comes from waste processing, and over 90% of that is guaranteed by long-term government contracts.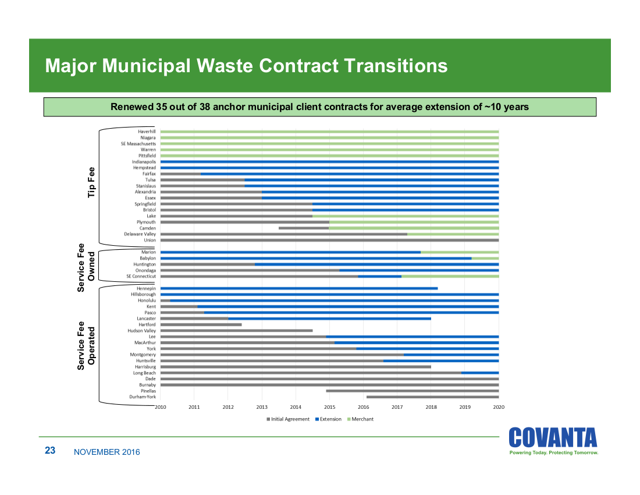 Though the adjusted EPS of 18 cents makes a 25 cent quarterly dividend look high, annualized free cash flow of $1.60 tells a different story. My viewpoint is further supported by the fact that Covanta has mostly fixed-rate debt, with no maturities until at least 2020. The last of its current development projects in Dublin, Ireland is already fully financed and business for the facility is fully contracted to 90% of capacity. Virtually all that remains is for expenses to wind down and earnings to roll in, as first-fire occurs in 1Q17, and the plant ramps to full capacity as the year progresses.
The new management I mentioned has done an excellent job in cost cutting and forecasting the current environment, which shows up in energy hedges as well as the company meeting forecasts even in what could be regarded as an unfavorably perfect storm. My confidence is further boosted by multiple open market insider buys over the last year:
Transaction
Date
Insider
Title
Shares
Purchased
Price
Shares
Owned
2015-Dec-14
Holsten, Joseph M
Director
80,780
14.49
128,318
2015-Dec-14
Holsten, Joseph M
Director
35,000
14.43
82,538
2015-Dec-8
Jones, Stephen J
CEO
20,000
14.80
130,444
2015-Dec-8
De Castro, Michael J
Officer
10,000
15.00
25,677
2016-Feb-19
Jones, Stephen J
CEO
15,000
13.09
145,444
2016-Mar-3
Silberman, Robert S
Director
2,077
14.98
64,500
2016-Nov-14
Silberman, Robert S
Director
2,000
14.73
66,500
Thus, although the current environment for Covanta is challenging, I think the company has shown its ability to easily weather it. For the short term, a more normalized 6% dividend yield would imply a price of $16.67, which I think is appropriate given the difficult environment. When that is combined with an extra dollar in dividends for the year, it results in a projected 20% gain, which just happens to be my minimum threshold for entering an investment at all. I further note that management has never cut the dividend, and that as 2017 (and expenses) winds down, it could resume its history of increases. That would justify further upside, but that would depend most immediately upon macro conditions...
Commodities Exposure and Long-Term Growth Factors
Metals: Metal recovery represents the smallest portion of Covanta's income, at 5.7% of revenue in the third quarter. Even before the slump in metals, it was less than 10%. In the past, management had forecast the impact of this segment based on the HMS #1 index, but this was an oversimplification. HMS mostly measures steel and iron scrap prices, and it has been roughly cut in half in recent years. By contrast, non-ferrous (mostly aluminum) has been more stable going from $716/ton a little over a year ago to $581 last quarter. For HMS, at prices under $200 per ton, many of the metals processors that served as middle-men have dropped out of the market. In response, Covanta has opened the Fairless Hills facility, which processes the metals in-house and can sell directly to international buyers. Even in the current environment, this facility has seen 20% ROI despite having been operational for less than a year. As a result, Covanta is looking to open more such facilities. This looks to me like another example of excellent adaptability from management and something that will eventually turn out to be an example of the what doesn't kill you makes you stronger paradigm.
International Expansion: As mentioned, Covanta's new facility in Dublin is nearly completed. Now that Covanta has begun international projects, there is interest in Australia, and Asia. Covanta's award-winning, proprietary CLEERGAS process was a hit in China, where the government bought out the company's share in a pilot project for over $110M in July. The reduced exposure to that country was well timed, but the technology is sorely needed as it reduces mass and volume by 75% and 90%, respectively. Covanta's implementation is uniquely efficient in that it uses only 20% to 25% of the air typically needed and, critically, does not require waste preprocessing. These claims have been independently verified in a study from Columbia University on the first commercial scale in implementation in Tulsa, OK. In light of the new international climate accord, Covanta is likely to continue expanding in Europe (including the U.K.) and other more environmentally conscious jurisdictions first. In fact, about half of the recently received capital from China is being kept in Luxembourg for just that purpose. I am encouraged that management chose not to proceed with the initial project in Perth, Australia, because it was not certain it could control costs. Apparently, the right lessons were learned from the mistakes of its predecessors in Durham.
Energy: Covanta typically gets about a third of its revenue by generating energy from the trash it collects in environmentally-friendly ways. Not only does this drastically reduce landfill requirements, but it also cuts overall greenhouse gas emissions more than any other power source. About 80% of the company's energy revenue was contracted or hedged in 2016, allowing Covanta to continue to grow its revenue from this segment even in the current environment. As the U.S. eventually catches up to Europe and other countries in environmental management, I expect this to grow into a replacement for coal, especially in the PJM region that is Covanta's historical home base. Outside that region, there are signs that attitudes are already changing. Should fuel prices rise again, CLEERGAS even has the potential to be a better alternative to hydrocarbon drilling or even the budding electric economy that I've written about.
Biomedical: Two facilities are now licensed and have begun biomedical waste disposal. This is characterized as small volume for the present, but at high margin, and the business line is expected to expand.
Business Optimization: Many aspects of the business from maintenance to building and operating methods continue to be optimized, but one in particular deserves highlighting. The fly ash from these operations has many uses and is finding new ones, which can improve both sustainability and profitability. In fact, the pilot program for ash reuse in Pasco, FL, has already won the first place in Tampa Bay Regional Planning Council's Future of the Region Awards. From the county's annual report:

The successful completion of this project has led to the approval for the use of waste to energy bottom ash in road construction in Pasco County.... Estimates project the cost savings from the beneficial use of waste to energy ash to be in the neighborhood of $50,000-$100,000 dollars per mile of two-lane road constructed. Pasco County's plan is to continue to move forward with sustainable ash recycling and will begin full scale road construction projects using bottom ash in 2016.

This is potentially a big deal because Covanta spends $100M annually on ash disposal; any reuse that replaces disposal or even monetizes the material goes straight to bottom line. The company is evaluating a new ash processing technology for extending the pilot and more info is expected over the next few months.
Summary
Covanta is no different than other companies I cover in that my primary interest stems from the promise inherent in its technologies. The commodities crash has put some of those technologies on hold while others have been refined, but the company's main business has only continued to grow. As with BGCP, I think some challenging situations have only served to show that the company has savvy management which can really shine in terms decision making.
Sometimes the best time to invest in a good company is when everything seems to go against it. Before the commodities crash, CVA spent much of its time priced in the 20s. Even though macro factors make it unlikely for the stock to return to those levels next year, the current one has proven that the dividend is sustainable in just about any financial environment. That makes CVA a bargain already, with 20% short-term upside and very little downside, due to government-contracted revenue streams. Looking just a little further out, it's the real environment and broader human situation that put time on the side of the company and its investors.
---
If you found this article informative, please click on my name and follow me. The Esekla's GrIP portfolio management articles will always be free, and readers can always use them to ask for a performance update in comments. My original analysis articles introducing new stocks are never formulaic and always try to provide original, actionable analysis.
Disclosure: I am/we are long CVA, BGCP. I wrote this article myself, and it expresses my own opinions. I am not receiving compensation for it (other than from Seeking Alpha). I have no business relationship with any company whose stock is mentioned in this article.