Investment Thesis
Abercrombie & Fitch (NYSE:ANF), like many retailers, is selling quite cheaply. But in spite of its cheap valuation (which is what attracted me to it in the first place), I believe that there is little upside from its current share price and that this investment has minimal margin of safety.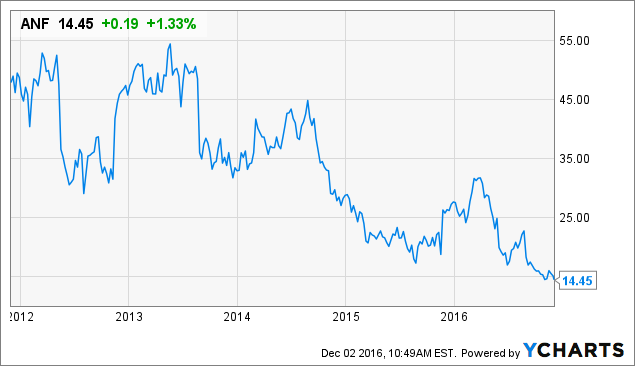 Business Overview
ANF is a retailer that operates stores in North America, Europe, Asia and the Middle East and its website. It sells apparel under the Abercrombie & Fitch, Abercrombie kids and Hollister brands.
Financials
Although ANF has been profitable nearly every year over the last decade apart from fiscal 2009 when it just about broke even, it is not growing. The average growth over the last 10 years is ~2% which is nearly the same as inflation alone. Therefore, in spite of the fact that it has been buying back its shares over the last 5 years (highlighted in green below), as well as paying a large and sustainable dividend, I do not believe ANF to be a good investment in spite of the appearance of trading cheaply.

Source: Morningstar.com, author's calculations
Moreover, while many investors like to define good business as one with high ROE, I prefer to define a good quality company as a one that is able to generate a free cash flow margin above 5% (defined as FCF/Revenue (%)). In the case of ANF, it fails to be a good business on both of these metrics.
The Illusion of Stability
What is slightly worrying is that management is saying:
On a total company basis, conversion trends remained positive across both channels and the direct-to-consumer business grew domestically and internationally.

- Press statement, Q3 2016
But that international growth is coming from the investment in new stores, up 6% YoY (see below).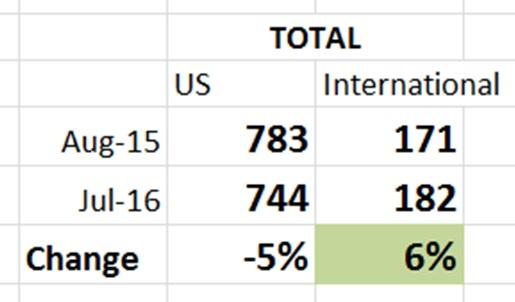 Source: Author's calculation
The fact that revenue from its international segment is being masked by the increase in store count is evidenced by the metric that comparables in its international segment is down -7% YoY.
Additionally, ANF has guided investors that capex will be around $140M for the year, which is nearly 40% less than its normalized amount. This level of underinvestment is likely to compound problems into the next couple of years.
Short Sellers
As a deep value investor, the more shorted the stock, the better. The reason is twofold.
First, because anyone that sells shorts is fully committed to repurchasing the shares at some point in the future. Of course, short sellers are betting that they will buy the shares at a lower price. But they are committed nevertheless. Currently, about ~25% of the shares are short sold.
Secondly, when a share is heavily shorted, all the pessimism is already priced into the share price. That is why I enjoyed buying stock when there is no hope being priced in, and at a 5-year low there is no expectation priced in, just pessimism.
Comparison With A Peer
When I compare the safety of an investment in ANF with Buckle (NYSE:BKE), which I wrote about last week, I think that at the current price BKE trades at, there is a bigger margin of safety in BKE. Also, BKE is a much better quality business with stronger pricing power (which is reflected in its higher FCF yield), higher ROE and larger dividend (if one includes the special cash dividend that BKE returns to its shareholders).
Valuation
It is not all bad when it comes to an investment in ANF.
I performed both a relative valuation and a DCF valuation.
First from the relative valuation perspective. My favorite metric is the P/S. I like because it is quite a clean metric. I like to compare what investors have been willing to pay for a stock over the past five years and what they are willing to pay for it now. In the past five years, investors were happy to pay 0.9x P/S. Currently, investors are asked to pay only 0.3x P/S or less than half, while getting more than twice the dividend yield at 5.6%.

Furthermore, I really enjoy buying stock when it trades at a 3-year low, which ANF is pretty much trading at. While I am not saying that ANF will be as profitable as it had been the recent past, I can easily see at least 20% upside to the current share price.
I confirmed this when I performed a back-of-the-envelope DCF analysis, with a normalized $140M of FCF, with 2% growth over the next five years (which is equal to its historical growth over the last 10 years, or in other words, 0% real growth in revenue), before leveling off at 1% (below inflation). I then discounted this FCF back at 12%. I used 12% because ANF is very cyclical and not very diversified. This brings the DCF valuation to ~$1.4B or at least 25% upside to the current share price.
Conclusion
In spite of the fact that its valuation is compelling, I do not believe that an investment in ANF has the necessary margin of safety required of investors. Therefore, I recommend that investors look for better opportunities in another retailer or something a little different.
Thank you so much for reading my article. If you have enjoyed reading this article, please click "Follow" to get more articles of mine in real time.
Disclosure: I/we have no positions in any stocks mentioned, and no plans to initiate any positions within the next 72 hours.
I wrote this article myself, and it expresses my own opinions. I am not receiving compensation for it (other than from Seeking Alpha). I have no business relationship with any company whose stock is mentioned in this article.