A little over 2 years ago, Del Frisco's Restaurant Group (NASDAQ:DFRG) traded for over $27 per share, while today the stock has slumped to just over $17. What happened? In short, comps have slumped across two of Del Frisco's core concepts - the legacy Sullivan's steakhouse brand and the company's new and casual, yet still underperforming, Grille concept. Analysts turned against the stock following a couple of weak quarters in 2015.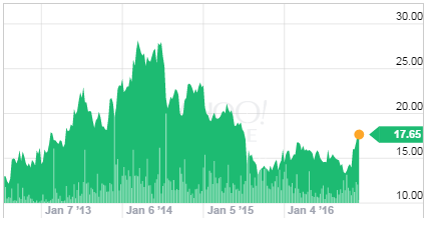 However, the third DFRG segment - the ultra-high end Double Eagle steakhouse chain - continues to be on a tear, and represents well over half of the company's sales and EBITDA. The Double Eagle boxes are enormously accretive to company earnings, begging the question: Can the business double down on the concept, open more boxes than management's run rate of 1 unit per year, and reinvigorate the stock? We analyzed tens of thousands of customer reviews to try and understand consumer sentiment around the brand. Is there enough love for Double Eagle (and enough stability in the other concepts) for a differential thesis of blowing out the Double Eagle rollout? Our analysis suggest there may be.
In the PDF that follows, you'll find the full analysis from the review compilation, suggesting there is real affinity for the Double Eagle concept. Consumers rank it as high as uber-luxe Mastro's, and nearly as high as Capital Grille and Eddie V's. Capital Grille has over 50 boxes in the US, far in excess of Double Eagle's 12, suggesting there is room for major brand expansion. Below are historical actuals, consensus expectations, and our view of a potential differential Double Eagle expansion scenario: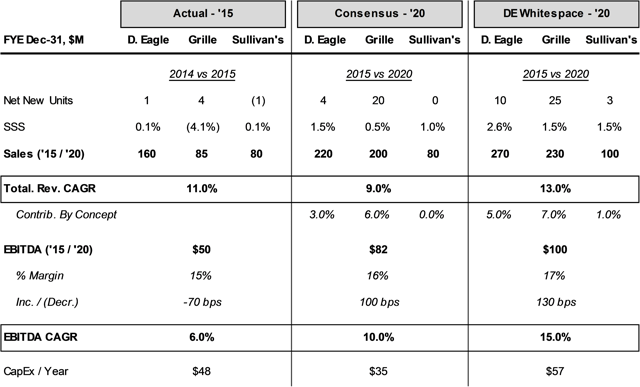 Our analysis suggests a 25%+ IRR in a potential take-private scenario, or more than triple the stock price over the next 5 years, in this case. See the following PDF for our review analysis with QuickPulse and the financial implications and math around the case. Full review dataset available for download.
Supporting Documents
Disclosure: I/we have no positions in any stocks mentioned, and no plans to initiate any positions within the next 72 hours.
I wrote this article myself, and it expresses my own opinions. I am not receiving compensation for it. I have no business relationship with any company whose stock is mentioned in this article.