For a while now I have been watching Whiting Petroleum (NYSE:WLL), waiting until I figured the storm has passed before buying in. Now, after news broke that OPEC had agreed to cut their oil output and after a non-OPEC cut appears to be in the works, and despite seeing shares of the business surge, I believe the time to own the stock, for me, has come at last.
A look at OPEC
After around two years of trying to kill US oil production through a costly output war, OPEC finally admitted defeat and decided to let their oil production drop by around 1.2 million barrels per day (1.14 million barrels per day based on their October 2016 production of 33.64 million barrels per day). In addition to this, the group convinced Russia to cut output by up to 0.3 million barrels per day, but this seems to be all contingent on other non-OPEC nations agreeing to cut their production by a further 0.3 million barrels per day.
All-in-all, this should result in total oil production declines amounting to around 1.74 million barrels per day compared to October's levels. Based on the terms of the agreement, this cut will start in January of next year and will last for a period of six months, but it's not unreasonable to expect OPEC at least to see this production stay flat for a longer period of time if matters go well.
What this means for Whiting
Leading up to an announcement by OPEC about whether or not the group would cut production, I feared taking a position in Whiting. The company is a low-cost producer and, even without hedges, should be able to survive with oil prices around $45 per barrel, but the lower prices drop, the worse things get. Unlike companies like Memorial Production Partners (NASDAQ:MEMP), which are not affected to any great extent by changes in the price of oil and natural gas, Whiting is due to its terrible hedging.
This has an upside, which is simply that for every small move higher in the price of either product, Whiting's profitability should soar. In fact, if oil prices moved from $45 per barrel to $55 per barrel while natural gas stayed flat at $3.49 per Mcf, the company's profits would rise by $239.75 million in 2017 and would be higher by $329.69 million in both 2018 and 2019 using current guidance. However, this also has a major downside, which is simply that if prices drop by $10 instead, its profits will contract by those amounts.
It is for this reason that I decided to hold off on buying into Whiting for as long as I did because if OPEC had failed to come to an agreement, then the downside for investors could have been (and almost certainly would have been) tremendous. As exposed to the oil space as I already am, I felt comfortable making the tradeoff of missing out on a nice swing higher in exchange for being guaranteed that no large loss would come from it.
Now that OPEC has decided to cut, the picture is changing very quickly for Whiting. Take, for instance, the table below, which shows the firm's projected cash flow (their guidance combined with my assumptions) for 2017 through 2019. This model assumes that oil prices average $51.19 per barrel and that natural gas averages $3.49 per Mcf in perpetuity and it also assumes that the firm's cost structure remains unchanged moving forward.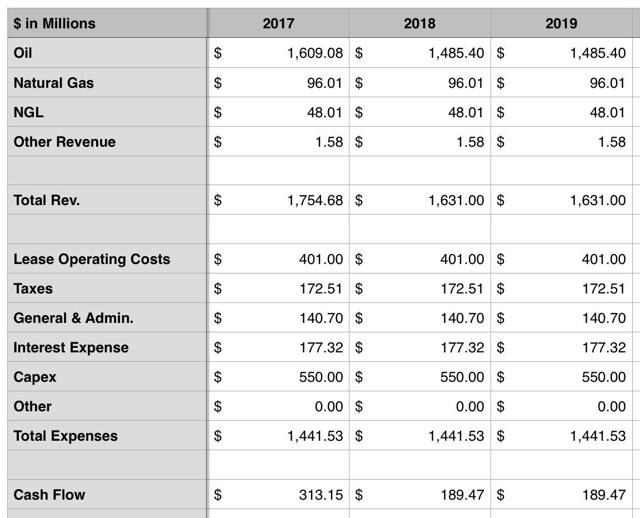 *Created by Author
Based on the data provided, Whiting's bottom line should look pretty good next year with free cash flow of $313.15 million, but this trails off in 2018 and 2019 with each year generating $189.47 million. Putting this in perspective, shares now look valued at 11.1 times next year's free cash flow and 18.3 times cash flow thereafter. While 2017's metric is reasonable and is far better than the situation right before the move higher for oil and natural gas (with cash flow of $164.23 million next year and -$13.06 million every year after), the 2018 and 2019 price/free cash flow ratio is pretty nasty.

*Created by Author
Fortunately, now that OPEC has decided to cut, and if they actually follow through, it seems pretty likely that energy prices will be materially higher next year than they are this year. In the table above, I show cash flow for each of the three years under oil prices of $55 per barrel and $60 per barrel for oil (natural gas is staying unchanged), and in the table below, you can see the trading multiples for the firm (price/free cash flow ratio to be precise) based on these different price levels. Obviously, it is possible that oil prices could move beyond $60 per barrel next year, but this is probably unlikely unless non-OPEC production is lower than anticipated, OPEC and maybe some non-OPEC nations agree to keep their deal in place longer than six months, global demand is stronger than expected, and/or Libya and Nigeria are unable to increase their output meaningfully through 2017 (which will partially offset increases from this cut).

*Created by Author
Takeaway
Right now, the picture for Whiting looks really positive in my view. I am saddened that I missed such tremendous upside following OPEC's decision, but I was prepared to forego potential gains in order to guarantee that I wouldn't be hit with tremendous losses had OPEC elected not to agree on a deal. Now that we have a great deal more clarity regarding the oil environment and now that shares are going for between just 6.6 times forward free cash flow and 11.1 times forward free cash flow (depending on the year and if oil prices range between $55 and $60 per barrel in 2017, 2018, and 2019), I've decided to buy into the firm.
It is a relatively small position for me, accounting for around 10.5% of my AUM, but if its share price corrects without a justifiable reason, then I may very well double my exposure to the business. In order to complete this transaction, I sold out some of my ownership in Trinity Industries (NYSE:TRN) and I used the proceeds from my 80% sale of Memorial. Trinity is still my largest holding as of the time of this writing, and I am very bullish about it, but this has been my goal all along. It, as well as Chicago Bridge & Iron (NYSE:CBI), are what I refer to as my "fortress holdings", firms that may go up and down a lot but, absent fraud, have practically zero chance of going under. As the energy picture continues to improve, I intend to continue making this shift toward firms like Whiting and Legacy Reserves (NASDAQ:LGCY), but I suspect that I will continue to hold meaningful stakes in both Trinity and CBI (especially the latter) for a long time.
Disclosure: I am/we are long WLL, LGCY, CBI, TRN, MEMP.
I wrote this article myself, and it expresses my own opinions. I am not receiving compensation for it (other than from Seeking Alpha). I have no business relationship with any company whose stock is mentioned in this article.
Additional disclosure: I own shares in LGCYO, not LGCY.