Ariad (NASDAQ:ARIA) had poor October performance because of government scrutiny from Senator Bernie Sanders and Rep. Elijah Cummings.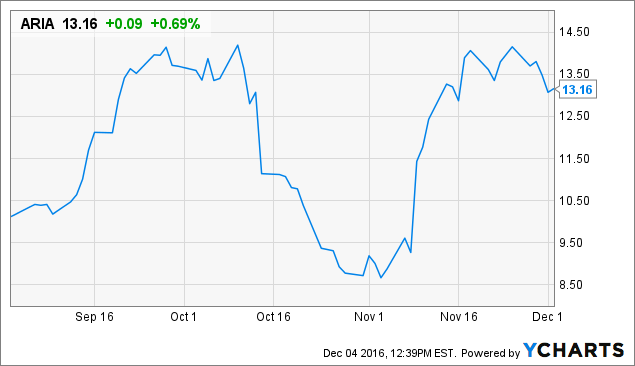 Many felt Ariad would be forced to lower prices for P/R reasons or find itself suffering the same fate as firms like Valeant (VRX) or Mylan (NASDAQ:MYL) - price hikes were the first breadcrumb on a trail into more controversy.
Increasing the price of a life-saving drug is a good motivator for lawmakers to look closer, and I don't think it is a coincidence that whenever pharmaceutical companies/managers gain attention for price 'gouging' they often find themselves on the hook for often unrelated lawsuits.
In Ariad's case, Sanders and Cummings issued an open letter to the firm asking for more information. They seemed to be suggesting problems with the way the firm was dosing Iclusig: allegedly raising the price while decreasing the dose, discontinuing a smaller does to force customers to buy a larger one.
However, all this appears to have blown over. The threat of a Martin Shkreli, Valeant or Mylan style controversy seems to be averted. I don't think they found any skeletons in Ariad's closet.
In addition, several bullish catalysts have emerged, completely defraying the company's losses during that month: The election of Donald Trump and progress with the FDA.
Catalysts
1. Trump
The election of Donald Trump to the U.S presidency was seen as a breath of fresh air for many in the pharmaceutical industry.
Hillary had favored increasing regulations on the sector in the wake of the high-profile price gouging controversies. Also, Hillary would have been pressured to regulate to placate her left-leaning base -many of whom were angry about her victory over Bernie Sanders in the primaries.
The truth is, Trump does not strike me as overly laissez-faire, but the market thinks he is and that is good enough. According to Robert Weissman, the President of Public Citizen, Trump has used "code language" for deregulation.
2. FDA
In addition to positive industry-wide news, Ariad has had some bullish headwinds in its dealings with the FDA.
On November 29th The FDA granted Ariad's flagship drug Iclusig full approval and updated its labels based on the completion of more studies. The drug's net product sales increased 25 percent YoY and U.S net revenue grew by a whopping 66 percent. Naturally, much of this performance was due to price increases, so don't get too excited.
However, with the drugs full approval status and expansion plans into non-US markets, Iclusig should see strong organic sales growth for years to come. With some of the heat taken off the companies pricing behavior, management can juice up revenue with tasteful price increases.
Long-Term Outlook (Next 12 Months)
In 2017, the FDA will be looking at Brigatinib, an oncological asset designed for the treatment of non-small cell lung cancer in patients who do not respond to Xalkori (Pfizer).
This is a relatively small market. The first line treatment only generates $560 million annually, and Brigatinib will only capture a small fraction of that. Most of this asset's value will have to come from pricing power.
Ariad is a strong Oncology pick because of its FDA success and a robust pipeline. In addition, I think investors can rest assured that the company will be free to exploit its pricing power without drawing too much attention from lawmakers.
Disclosure: I/we have no positions in any stocks mentioned, and no plans to initiate any positions within the next 72 hours. I wrote this article myself, and it expresses my own opinions. I am not receiving compensation for it (other than from Seeking Alpha). I have no business relationship with any company whose stock is mentioned in this article.