By Parke Shall
It was nothing short of a surprisingly awful quarter for Dollar General (NYSE:DG) when it reported earlier last week. The discount store missed on several metrics, posting lower than expected earnings as well as lower than expected same-store sales. Those looking to hop into Dollar General for the long run and perhaps use this miss as a buying opportunity might be disappointed because we believe that the chain may not be able to turn things around as quickly and in as short of an order as it would like to.
First, let's review the results that the company posted last week. Seeking Alpha reported:
Dollar General Q3 EPS of $0.89 misses by $0.04.
Revenue of $5.32B (+4.9% Y/Y) misses by $50M.
Dollar General reports same-store sales fell 0.1% during a "challenging" Q3.
The retailer saw strength in consumables and weakness in the apparel, seasonal and home products categories.
Gross margin fell 49 bps to 29.8% of sales as higher markdown took a toll.
SG&A expenses were up 50 bps to 22.5% of sales.
Inventory +5.6% Y/Y to $3.49B.
The company paid an effective tax rate of 36.2% in Q3 vs. 37.0% a year ago.
"We saw an acceleration in headwinds from average unit retail price deflation and reductions in SNAP benefits," says CEO Todd Vos on the quarter.
The company wound up blaming its miss on profit on pricing pressure from perishables. The company stated on its conference call that lower pricing pressure from Wal-Mart (NYSE:WMT) on food and other perishables led to Dollar General having to lower its prices, which in turn took a noticeable hit to the bottom line and had a meaningful affect on margin.
Here is what Todd Vasos said on the conference call about pressure from perishables:
Yes, the real thing to look at there is that - a lot of our initiatives coming into the year 2016 were around those traffic driving areas; so again, around perishables in the food areas and immediate consumption. So while we're facing great headwinds on deflation there, what we're starting to see is that those - those initiatives are overtaking even some of those deflationary pressures but make no mistake, those headwinds are pretty strong...
The Street also wrote an article suggesting that financial challenges from the company's low income customer base continue to affect it negatively as federal funding for food stamps is cut:
In May, 43.5 million Americans were receiving food stamps, down 9% from the 2012 peak. Food stamp enrollment is on the wane as several states have ended benefits earlier than they were required. Seven states - all Republican-led - opted to end waivers for some enrollees that were created in the 2009 government stimulus package, despite the benefits being federally funded.

With less money in their pockets, Dollar General's customers are focusing on buying food as opposed to a new shirt that they probably don't need. It noted that while sales of consumable goods such as frozen food and candy sold well, sales were soft in non-essential seasonal products, apparel and home goods.
We think both of these headwinds could remain for a while and actually get materially worse. When we combine that with the company's valuation, we can pretty easily make a case that Dollar General is not yet ready to be a buy, even if you are a long-term investor simply looking for value over the course of the long term. Let's talk about why.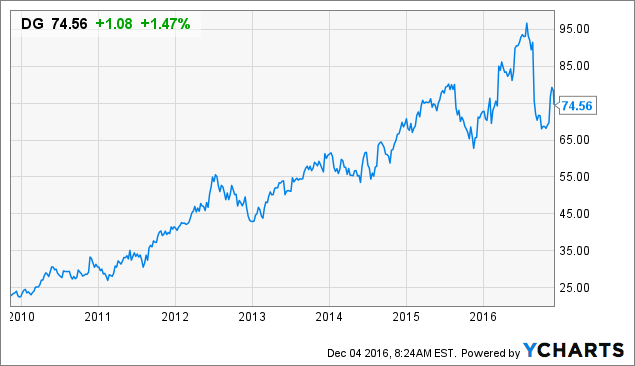 First, pricing pressure on perishables from larger chains should actually continue. Companies like Wal-Mart and Target (NYSE:TGT) have tried to expand their outreach when it comes to food meaningfully over the last couple of years. Not only are they pressuring stores like Whole Foods (NASDAQ:WFM) with their inclusion of organic and all natural items, but they are simply trying to increase the overall footprint in the area of food.
In fact, Wal-Mart is looking to revolutionize how grocery shopping is done. The Washington Post wrote in October:
On a sweaty September morning in the Nashville suburbs, Anna Brummel pulls her white SUV into a Walmart parking lot to stock up on groceries.

But she never sets foot in the store.

The mother of three tapped out her order on her smartphone earlier while lying in bed. Now, she parks in a designated spot during a time slot she selected, and Walmart workers load up her car with the goods they picked and packed for her.

Walmart is America's largest grocer, and its aggressive expansion of pickup services has turned its parking lots into a laboratory for the future of online grocery shopping - one of the trickiest puzzles in all of retail.

Plenty of companies have tried to carve out a market for this. Instacart, along with tech titans Google and Amazon.com, have put their muscle behind doorstep grocery-delivery models that are similar to what Peapod has offered for decades.

And yet, despite an e-commerce stampede that has upended sales of items such as books, electronics and clothes, researchers estimate that online shopping accounts for 2 percent or less of U.S. grocery sales.

With the pickup model, Walmart is testing whether its best weapon in this digital fight is its most old-school - and hardest to replicate - asset: a network of more than 4,600 stores.
We expect food will continue to be a focus for the mega-retailer and that this will continue to pressure competitors.
Dollar General has more of a product mix that is geared towards food when compared with other companies like Dollar Tree. The pressure from larger "supercenters", whether they are from Target or from Wal-Mart should continue to keep pressure on food pricing going forward. This is not an initiative that Wal-Mart is going to be abandoning at any point soon. We expect this to be a secular headwind for the company that continues for some time.
Then you have the Trump administration. We know that under President Obama, millions of Americans saw their food stamp and social benefits increase, a move that meaningfully impacted stores where the consumer base is a lower income individual. The Trump administration will likely start to pull back some of these benefits which can continue as a secular headwind for the company moving forward. Eater.com reported after the election:
The funding of government food assistance programs, like SNAP, or the Supplemental Nutritional Assistance Program (previously referred to as food stamps), hangs in the balance.

SNAP is funded via the Farm Bill, a massive piece of legislative passed roughly every five years. The marriage between SNAP and the Farm Bill, which funds subsidies for both agriculture and food stamps, has long been an uneasy one, as Harvest Public Media reported back in 2014.

Donald Trump's 2016 Republican platform calls for breaking the SNAP program away from the Farm Bill, a move largely consistent with the Republican stance on SNAP funding. But, as Politifact notes, taking SNAP out of the Farm Bill would make it more vulnerable to budget cuts.
If the pullback from the SNAP food stamp program is meaningful enough for them to mention it now, before Trump is even in office, think of how meaningful it will be once president Trump begins to get some of his policies enacted.
Finally, knowing that those two headwinds will likely not go away soon, we have to look at the valuation.
How is the company priced right now?
Value seekers will argue that the company is only trading at about 16x forward earnings at this point, but one needs to remember what the potential effects of even lower estimates going forward could do to the company's valuation. In addition, 16x earnings is actually a relatively robust valuation for a company in retail. If you are like us and believe that consumer spending is going to slow into the Trump administration and that the short-term debt cycle will turn over, you'd assess that there's more meaningful risk to retail spending than many think right now.
Are we prepared to give DG a valuation that is, to us, relatively aggressive at about 16x earnings? We think DG may be better to take a look at around 13x earnings, which would put today's prices at about $64, rather than the $74 range they are in today. We'd also keep a close eye on the retail environment and spending environment going forward as we wait for our price. Right now, however, we don't think the valuation is appealing to go in and be buyers of DG.
We think that for the price, this is not a spot to go in and try and catch the bottom at Dollar General. The company has had a substantial run over the last 10 years, as you can see in the above chart, but we'd be waiting for a bit more of a dip to buy on than what we've recently seen.
Disclosure: I/we have no positions in any stocks mentioned, and no plans to initiate any positions within the next 72 hours.
I wrote this article myself, and it expresses my own opinions. I am not receiving compensation for it (other than from Seeking Alpha). I have no business relationship with any company whose stock is mentioned in this article.