In layman's terms, PDL BioPharma, Inc., is a healthcare venture capitalist born in 1983, a time when few knew what venture capitalism was. The company earns money with royalty agreements, patents, license agreements and provides credit financing to a range of healthcare startup or early growth niche operating small companies with favorably high interest rates. PDL has committed over $1 billion and funded approximately $937 million in these investments to date. The company has $300 million in 4% coupon outstanding convertible notes that have a high certainty of being paid back in early 2018.
Investment Summary
The nature of this business is that royalties of patents will eventually have to be passed as new patents will be filed whereas old ones will expire; the intellectual property will always be around and firms like PDL Biopharma will be able to get small niche deals from the sector. I am not convinced with the equity since many things (credit to startups, litigation) can go wrong, but the bonds make sense. Due early 2018, the company is properly capitalized, the notes can be converted to cash under certain conditions and the rule of certainty favors ~8% price return plus 4% coupons from the fixed asset side than seemingly hypothetical limitless equity upside.
Going forward, I do believe they will refinance the current issues with more issuance as free cash flow will not be sufficient to cover entire principle. While this will depress the liquidity profile as visible from the forecasted ratios, I have conviction bonds will mature with full payment. Positive free cash flow, liquidity and interest coverage ratios will result in a respectable return over the remaining life of the notes, thus my preference of notes over equity.
PDL Biopharma: 4% Coupon Due February 2018
Sector: Pharma & Biotech (Small-Cap)
Judgement: Cheap
Bond Basics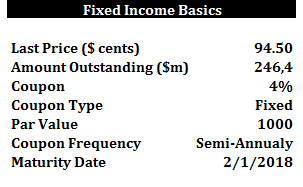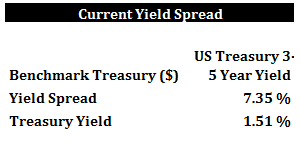 Revenue Split (Source: Annual Report)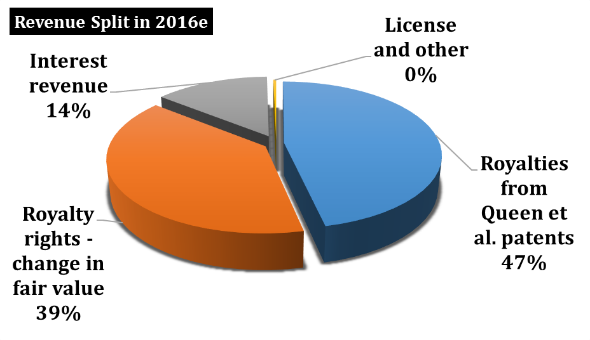 Poor Man's Note Preference

Equity Valuation

SWOT
Strength

Niche healthcare operations. Extensive royalty operations knowledge. Healthcare cigar-butt "investing company". Provide capital on highly favorable interest rates with extensive collateral cover. 10 full time employees managing almost all of the business.

Weaknesses

Provide credit financing to many unknown/developing biotech's. Queen et al patent revenues (82% of 2015 full rev.) are zero in 2HY 2016. Serious credit risk exposure for portfolio. (Wellstat D. ~$40m/7% of rev. = impaired) Genentech accounted for 70%, 71%, and 81% of revenues 2015, 14 & 13.

Opportunities

Healthcare world never short of patent expires, always an opportunity available. Valeant and others may dispose-off assets, PDL may buy.

Threats

Serious competition in the business model space. Inflation expectations plus interest rates on the rise. Low free cashflow in future is a surety.
Revenue & Investments (Source: Annual Report/Company Website)
Revenue Evolution due to Royalty Expiry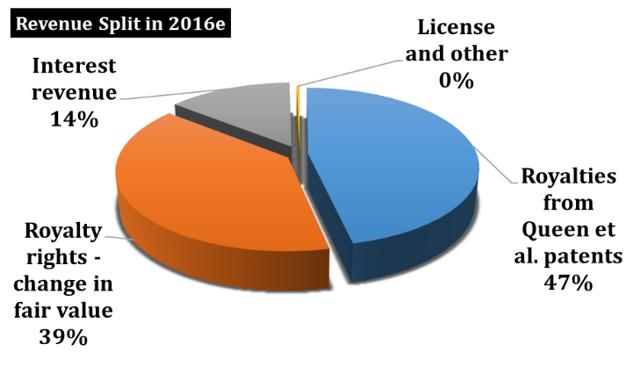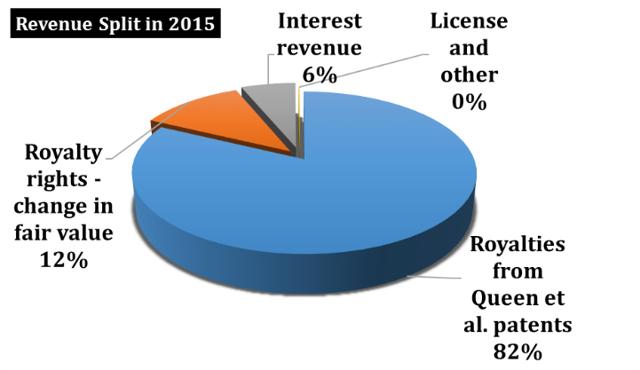 Credit History: Obligation Side
Series

2012

Notes

Exchanged $169.0 million aggregate principal of new Series 2012 Notes for an identical principal amount of the February 2015 Notes, plus a cash payment of $5.00 for each $1,000 principal amount, totaling approximately $845,000. Also, PDL did a private replacement of $10m of 2012 notes for 2015. Remaining $131.7 m and later $48m payment settled through cash and equity offering.

In our case, I believe the same formula follows but the only difference is that revenues will be highly depressed, so will be the cashflows therefore (equity which is already depressed) may not be an option. They will try retiring the major chunk faster this time with the cash in hand causing price to rally.

May

2015

Notes

Issued $155.3 million in aggregate principal amount, at par, for net proceeds of $149.7 million. At 3.75% interest rate, notes were retired at stated maturity plus 5.2 million shares of its common stock for the excess conversion value.

February

2018

Notes

In 2014, company issued $300.0 million in aggregate principal amount for net proceeds of $290.2 million. At 4% interest rate, the proceeds were used to redeem some previous outstanding notes. In November 2015, company initiated purchase of $53.6million for $43.7 million.
Credit History: Investments Side
The company provides credit to aspiring companies for various sources of revenues including royalties & high interest.
Wellstat

Diagnostics

In 2012, company executed $7.5 million at 10% interest two-year senior secured note with equity holders at Wellstat. PDL is still legally owed $94 million and the transaction was one of the major failures.

While some of the credit has been successfully retired at very high interest rate, quite significant investments have gone under water. Primary reason being that credit is extended to new enterprising healthcare startups that on a larger scale don't stand the test of time. This again adds to my conviction that the equity part of the company is a horse too rough to ride.

LENSAR

In 2013, LENSAR was provided upto $60 million for its laser system. Interest rate charged was 15.5% and currently the company is going through restructuring, therefore PPDL is salvaging all it can.

Durata

In 2013, Durata was given upto $70 million at around 14% interest rate with repayment made in full by 2014.

Direct Flow

Medical

PDL provided upto $ 50 million to Direct Flow at 15.5% interest rate secured by all assets of Direct Flow. Loan is now impaired.

Paradigm

Spine

Upto $75 million at 13% was provided in 2014 and is secured by all of Paradigm's assets.
Model and Assumptions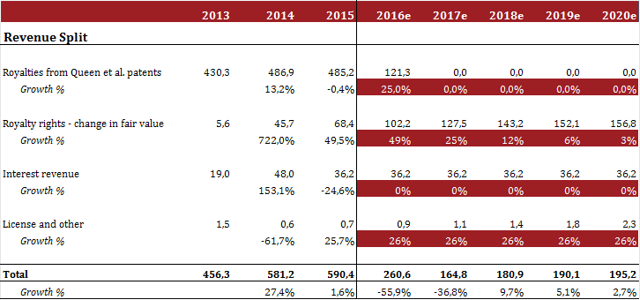 Explanation
Very conservatively modeled. Royalties are modeled at 25% in 2016 since only the first quarter is revenue generating. Interest revenue is kept constant in line with recent failures. Royalty rights change in fair value growth with decreasing rate.
Reporting Quality
| | |
| --- | --- |
| Language in 10K | Standard |
| Auditor's Opinion | PwC: Pass |
| ESG and Sustainability reporting | None |
| ESG Materiality Matrix Reported and Assessed | |
| Quantitative Identification of all key ESG metrics | |
| Usefulness of ESG metrics in current scenario? | Helps identifying the worthiness of credit investments the company takes. Quite significant of those have been failures therefore PDL would do better by incorporating an ESG assessment into extending credit to new enterprising healthcare startups. |
Supporting Documents
Disclosure: I/we have no positions in any stocks mentioned, and no plans to initiate any positions within the next 72 hours.
I wrote this article myself, and it expresses my own opinions. I am not receiving compensation for it. I have no business relationship with any company whose stock is mentioned in this article.