This article takes a macro view, particularly with interest rate hikes and the US dollar versus foreign currencies as these things will affect Apple's (NASDAQ:AAPL) earnings on a fundamental level. This article also covers the company's financial and operational performance and forecast.
Rate hike will affect Apple's earnings.
There is a 95% chance of a rate hike at the Fed's December 13-14 meeting, according to Reuters. The U.S. dollar has been steadily gaining ground, and an interest rate hike would force it higher still, while weakening other currencies. Apple would see a sizable foreign-currency sales hit in its earnings. The company said in its latest 10-K filing that their net sales declined 8% or $18.1 billion for 2016. This has been primarily driven by the effect of weakness in most foreign currencies relative to the U.S. dollar and its YOY decrease in iPhone net sales.
Within a year, common currencies such as China's Yuan have fallen by about 12% against the US dollar, while the English Pound is down by about 31%. In light of an almost certain interest rate hike, Apple will likely post poor earnings due to the weakening of foreign currencies. If the company doesn't buy back its own shares, its dividends will also be negatively affected.
Regarding foreign currency risk, the company said in its SEC filing as follows:
Changes in exchange rates, and in particular a strengthening of the U.S. dollar, will negatively affect the company's net sales and gross margins as expressed in U.S. dollars. There is a risk that the company will have to adjust local currency product pricing due to competitive pressures when there has been significant volatility in foreign currency exchange rates.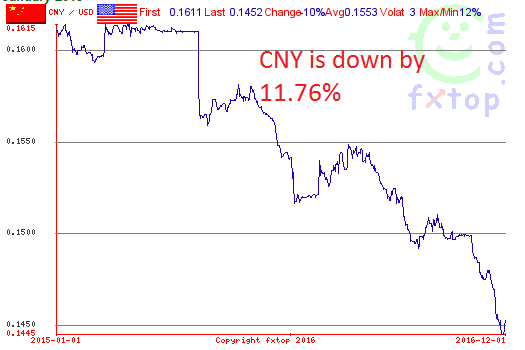 Source: Fxtop (notation was added by author)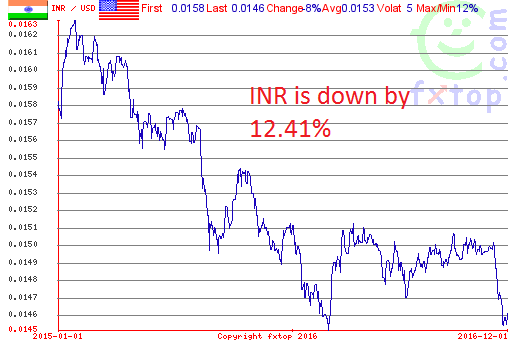 Source: Fxtop (notation was added by author)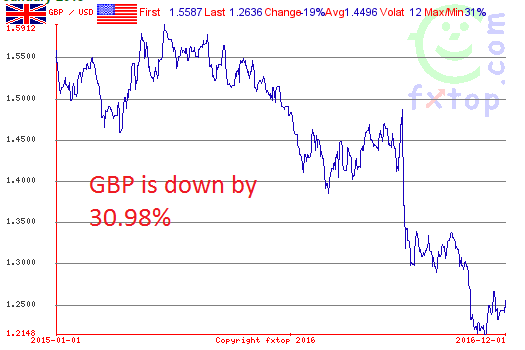 Source: Fxtop (notation was added by author)
Apple's reportable operating segments consist of the Americas, Europe, Greater China, Japan and rest of Asia Pacific.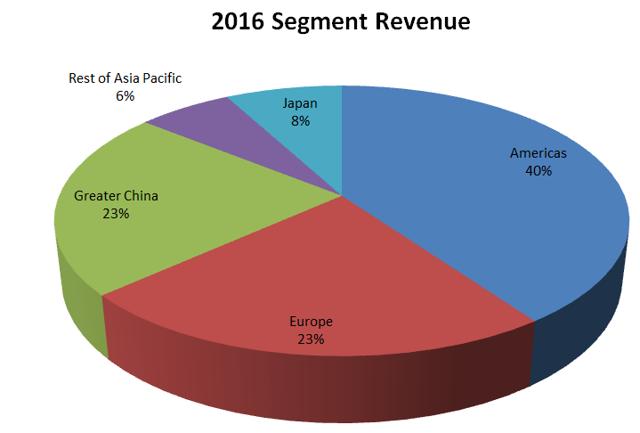 Source: Created by Author
Financial and Operational Performance and Forecast:
Shareholders' Value: Apple has been paying higher dividends year-over-year, creating shareholders' value by generating higher revenue growth. The company returned more than $47 billion to shareholders through dividends.

Source: Created by Author

Source: Apple Annual Report 2016
The above chart shows that if you had invested $100 in 2011 it is worth about $213 in September 2016, which is about a 113% gain.
Regarding earnings guidance, according to the Harvard Business Review:
Do not manage earnings or provide earnings guidance. The companies that fail to embrace this first principle of shareholder value will almost certainly be unable to follow the rest.
Revenue: From 2012 ~ 2015, Apple generated net revenue at the rate of 9% ~ 28%.
Net Revenue by Operating Segment:
Americas: net revenue decreased by 8%
Greater China: net revenue decreased by 17%
Europe and rest of the Asia Pacific: net revenue decreased by 1% and 10%
Japan : net revenue increased by 10%
Overall, the total revenue for 2016 has decreased by 8% from 2015's revenue.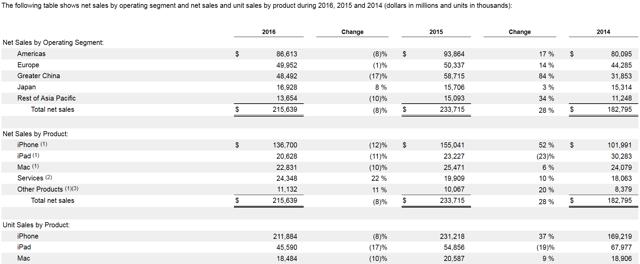 Source: Apple 2016 Annual Report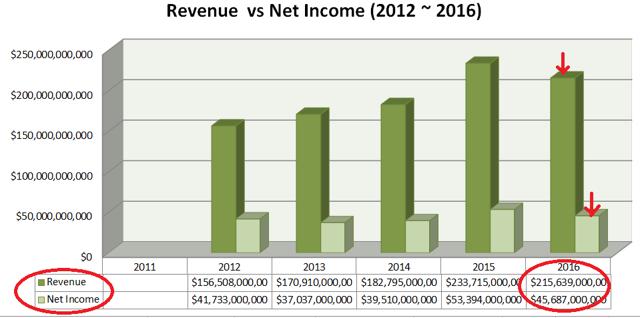 Source: Created by Author
Shares Repurchase: Apple has been aggressively buying back its own shares from the marketplace. In the last four years, the company re-purchased $133 billion worth of shares.

Source: Apple 2016 Annual Report
Shares re-purchases show the company believes its shares are undervalued. Because a share re-purchase reduces the number of shares outstanding, it increases earnings per share and elevates the market value of the remaining shares.
Operational efficiency: From 2012 to 2016, Apple's net income generated has been inconsistent. In 2014 and 2015, they generated net income at the rate of 7% ~ 21%, while net income decreased by 11 ~ 14% in 2013 and 2016.
Liquidity: The company maintains a healthy cash position: about $21 billion - cash and cash equivalents.
Valuation: The company is currently trading at a P/E ratio of 13.23, $110 a share. This means that investors are willing to pay $13.23 for every dollar of earnings that Apple has. As of the third quarter, the average P/E ratio of the computer hardware industry is 13.25, according to CSI Market. The stock is currently fairly valued.
P/E ratio = Price per share / earnings per share

Source: Created by Author
2017 Q1 Guidance: Apple expects to generate net revenue of $76 ~ 78 billion while the company generated about $76 billion in net revenue in Q1 2015.
Conclusion:
Interest rates, the USD and exchanges rates are interlinked. As mentioned in the company's SEC filing, net sales declined 8% or $18.1 billion during 2016 compared to 2015, primarily driven by a year-over-year decrease in iPhone net sales and the effect of weakness in most foreign currencies relative to the U.S. dollar. With a 95% chance of an interest rate hike this December, the USD will strengthen further while other currencies weaken and when this happens Apple will see a sizable foreign-currency sales hit in its earnings. With these macro environment factors and very intense smartphone competition, the company may not able to meet its Q1 2017 guidance of $76 to 78 billion in net revenue.
The chart below shows that Apple iPhone sales worldwide spiked on two occasions, Q1 2015 and Q1 2016. It is unlikely that there will be another spike in its iPhone sales in Q1 2017 as Apple and Samsung have been constantly losing their market share. Read my previous article "smartphone prices will collapse soon."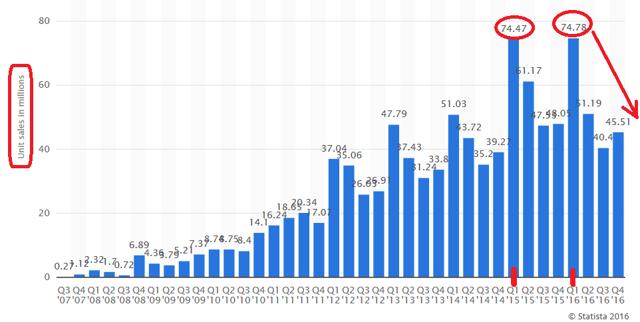 Greater China (includes Hong Kong and Taiwan) and Europe (includes India, Middle East and Africa) remains a crucial key to Apple's profit-driving machine and its market share. The combined market share of those segments are about 46%.
Based on my analysis, I recommend Apple as a SELL. The stock is currently trading at closer to all time high. I would stick with the basic principal of stock investment, buy low and sell high.
Here are the ETFs with major exposure to Apple: iShares U.S. Technology ETF (NYSEARCA: IYW), Technology Select Sector SPDR Fund (NYSEARCA: XLK), Fidelity MSCI Information Technology Index ETF (NYSEARCA: FTEC), Vanguard Information Technology ETF (NYSEARCA: VGT), iShares Edge MSCI Multifactor Technology ETF (BATS: TCHF), iShares Global Tech ETF (NYSEARCA: IXN), Recon Capital NASDAQ 100 Covered Call ETF (NASDAQ: QYLD), PowerShares QQQ ETF (NASDAQ: QQQ), iShares Morningstar Large-Cap ETF (NYSEARCA: JKD), iShares North American Tech ETF (NYSEARCA:IGM); First Trust NASDAQ Technology Dividend Index Fund (NASDAQ:TDIV); Vanguard Mega (NYSEARCA:MGK); iShares Russell (NYSEARCA:IWY); Fidelity Nasdaq (NASDAQ:ONEQ); iShares Global (NYSEARCA:IOO); SPDR S&P 500 (NYSEARCA:SPYG); Vanguard S&P (NYSEARCA:IVW)
Disclosure: I/we have no positions in any stocks mentioned, and no plans to initiate any positions within the next 72 hours.
I wrote this article myself, and it expresses my own opinions. I am not receiving compensation for it (other than from Seeking Alpha). I have no business relationship with any company whose stock is mentioned in this article.