On Monday, shares of Tesla Motors (NASDAQ:TSLA) rose about 3%, a majority of the gains coming after a company analyst gave a glowing note on the company's fourth quarter. The note came from Global Equities' Trip Chowdhry, who has been one of the most bullish on the street regarding Tesla. Unfortunately, for investors, his wild predictions are often quite wrong, and that has lost money for those who have followed his calls.
Let me start by discussing Trip's overall stance. He started bullish on the company late in 2013, but he's had a $385 target on the stock for quite a while now (Tesla has yet to hit $300). According to TipRanks, he's had 30 instances where he gave a buy recommendation on the stock. The chart below shows that the majority of those ratings came at prices well above where we are now. If you bought one share at each rating, your average cost in the stock would be $215.06, ignoring transaction costs, while your median would be $226.77. You'd be down about $30 a share now.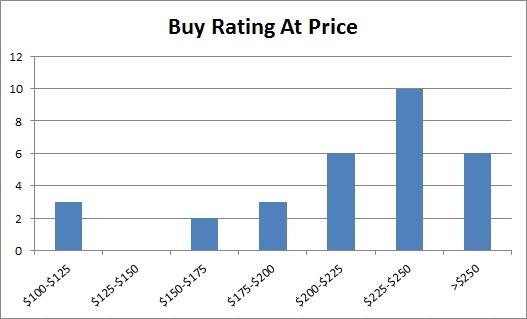 (Source: TipRanks analyst summary)
Now I understand there are a lot of analysts who have been positive on Tesla. However, not too many have had price targets of $385 or more. Additionally, most street analysts have not had some crazy declarations on Tesla's future, some of which I detailed below:
These are just a few of the gems I decided to discuss. There are certainly other predictions about quarterly or yearly results out there that have been proven extremely wrong. Also, before someone claims that Trip is not a legitimate street analyst, I should point out that he's been listed as a participating analyst on three Tesla quarterly conference calls since the start of 2014.
So while Tesla shares did rise on Monday, I hope investors don't take too much stock into the latest analyst note from Trip Chowdhry. He's been one of the most positive analysts on the street regarding Tesla, perhaps almost as positive as Elon Musk. Those that have followed his recommendations have likely lost money, as many of his crazy predictions for Tesla have not come true.
Disclosure: I/we have no positions in any stocks mentioned, and no plans to initiate any positions within the next 72 hours.
I wrote this article myself, and it expresses my own opinions. I am not receiving compensation for it (other than from Seeking Alpha). I have no business relationship with any company whose stock is mentioned in this article.
Additional disclosure: Investors are always reminded that before making any investment, you should do your own proper due diligence on any name directly or indirectly mentioned in this article. Investors should also consider seeking advice from a broker or financial adviser before making any investment decisions. Any material in this article should be considered general information, and not relied on as a formal investment recommendation.