We live in unprecedented times as far as financial markets are concerned. Never before have we seen so much intervention or influence in the financial markets by governments, Central Banks and Investment Banks. The Fed probably has the largest trading desk and they don't have to report or care whether they make millions in daily profits like a Goldman Sachs. According to the Wall Street Journal nearly half of Goldman's last quarter revenue was from investment trading, $3.75B out of $8.17B total revenue.
Interest rates and QE are the obvious interventions everyone sees. Some say there are no markets, only intervention. Others deny or ignore it while some are so fixated about it they are labeled 'conspiracy theorists'.
I believe most of the market investors or watchers are making grave mistakes because they either do not factor in intervention or lean too far the other and are consumed about it. And forget what you hear in the main stream media, there is no investigative reporting anymore and all you see there are prepared news briefs or stories only scratching the surface and sadly in many cases, pure propaganda.
Markets are too large for any entity to control completely or do so all the time, but when some of these big elephants get together, they can influence the market a considerable amount in the short term, meaning days and some instances even a year or more like Oil recently.
Big elephants include Governments, Central Banks or even the large Investment Banks. You better know what they are doing and either get out of their way or walk with them in the same direction. You must factor this into your analysis.
I spend considerable amount of time digging deep below the surface and over the years found some innovative ways that helps keep a pulse on these elephants. I am not able to figure out their every move, but sometimes I find it obvious. In 2014, I became convinced that the U.S. and Saudi would work together to drive Oil prices down, so I bailed out of the market and sold all my Oil stocks around $90 Oil.
I am not going into any detail or rehash this topic, just see my previous SA article.
The U.S. and Saudi are currently the world's top two Oil producers so fit the 'elephant' status. I am not surprised at the recent OPEC deal on the back of a promised 4.6% cut by Saudi.
The election of Trump who is an Oil supporter was a factor as well as the realization that low Oil prices failed to create much of a benefit to the U.S. economy, nor hurt Russia as much as hoped for.
Saudi seeing a shift in Washington, was writing on the wall that further U.S. support for low prices was unlikely. Another major factor is the planned IPO of Aramco, the mammoth Saudi oil company. Bloomberg reports that Saudi plans to sell a 5% stake in 2017 that would value the company in the trillions. Obviously they would prefer a rising Oil market.
The WTI Oil (NYSEARCA:USO) price is set in the U.S. and I would not be surprised to see what I called 'phantom oil storage' reported by the EIA start to come down.
I believe the two Government elephants have reversed direction. Russia is supportive and the large commercial short position in Oil got caught off side. Forbes reported end of October that the "smart money" has collectively built a short position of approximately 400,000 futures contracts, which is the largest commercial crude oil short position since the spring of 2014.
This is a weekly Oil chart and you can see that this past Friday prices were on the verge of breaking higher. As of this writing Monday, we are at $55, a clear break out now being confirmed.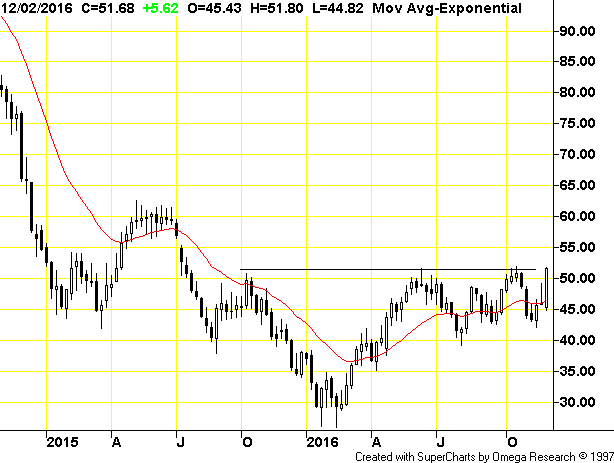 In the last up cycle from 2008 to 2014 I went with a basket of large integrated oils like Total (NYSE:TOT), Royal Dutch Shell (NYSE:RDS.B), as well as Haliburton (NYSE:HAL) for dividend yield and some high growth juniors.
The 1998 to 2008 was the best cycle I seen and that time I was strictly in high growth intermediates and junior explorers like Oilexco, Connacher, Ultra Petroleum and Petro Rubalis etc. I have lost track of most of these as I was out of them pre 2008 or stopped out in 2008.
I believe every cycle is some what different, now we have shale oil, more challenging exploration for conventional oil and this market has not and will not be a sharp 'V' like recovery that we seen in 2008/09. This time around I prefer the more senior and intermediate established producers. This is where I see the best value and best risk/reward. During the bottom process I went for the yield in the Pipelines and as I gained confidence that a new up cycle would soon begin, I added Whiting Petroleum (NYSE:WLL) recently and now am adding Baytex (NYSE:BTE) and Athabasca Oil (OTCPK:ATHOF).
I believe the most leverage lies with companies whose break even price is around current Oil price or slightly higher, basically between WTI $50 and $60. This way a small move in the Oil price can dramatically and positively effect cash flow and earnings. At the same time we want to be assured their financial structure is sound enough to weather low Oil prices a while longer if necessary.
Before I get to Baytex and Athabasca, a brief update on Whiting Petroleum
Since my October article on WLL, they released their Q3 results and while disappointing to some, it was in line with what I expected. Their loss was $693.1 million but this amount includes $1.7 billion in non-cash pre-tax impairment charges for the partial write-down of the North Ward Estes Field in Texas and other non-core proved and unproved oil, gas, and CO2 properties that were not being developed due to depressed oil and gas prices.
Whiting's realized price per BOE was only $32.34, but they have continued to make good progress lowering costs and improving efficiency. This was nicely outlined by Chairman, President and CEO James Volker in the Q3 report:
During the third quarter, we continued to improve our capital efficiency with production at the high end of guidance on lower than projected capital spending, and LOE per BOE improving to $7.98 per BOE on the sale of North Ward Estes.This resulted in our net cash from operating activities exceeding our capital spending by $66 million. In the Williston Basin, the combination of high quality acreage and innovative completion methods drove solid results. Our thirteen new wells completed in McKenzie County tested at an average rate of 3,727 BOE/d and our leading edge design 10+ million pound completions in Williams County are tracking a 1,500 MBOE type curve.We believe the focus on balance sheet strength and capital spending discipline in the first nine months of 2016 provides us with a strong financial base to continue to deliver solid operational results and realize the potential of our world class asset base.
On Nov. 21st Whiting announced purchase and sale agreements to sell its 50 percent interest in its Robinson Lake natural gas processing plant and its 50 percent interest in its Belfield natural gas processing plant and associated natural gas, crude oil and water gathering systems, both located in North Dakota. An affiliate of Tesoro Logistics Rockies, LLC, has agreed to purchase the assets for $700 million, pending regulatory approval. Whiting's share of the sale price would be approximately $375 million. The transaction is expected to close in the first quarter of 2017.
This along with converting another $721 million of debt for shares will put Whiting's balance sheet in a very good position going forward. Whiting has the right to convert debt to common stock if the stock price is above $8.75 for at least 20 trading days during a 30 consecutive trading day period.
Relative to this and the best update since my previous article is the stock chart. I highlighted here a very strong doji morning star reversal pattern. It looks like a pretty good bet that Whiting will be able to convert the $721 million debt.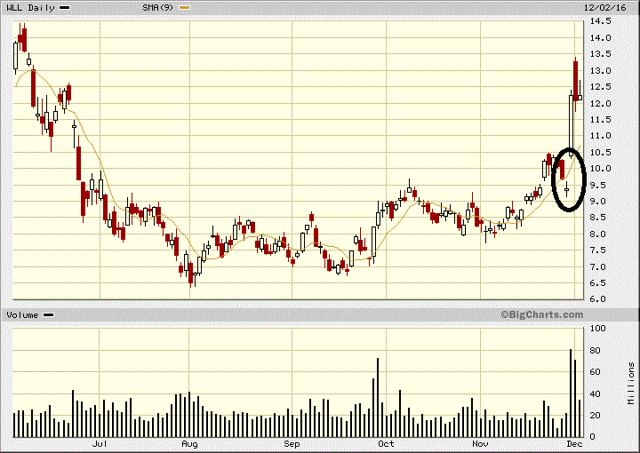 Baytex Energy is closely divided between production in Canada's Western Basin and Eagle Ford in Texas.
Shares Outstanding 211.5 million Recent Price US$4.75
Q3 Production of 67,167 boe/d (78% oil and NGL) with main producing areas:
Eagle Ford, Texas 33,500 boe/d
Peace River, Alberta 15,200 boe/d

Lloydminister, Alberta 9,950 boe/d
Guidance from Q3 report We are revising upward our full year 2016 production guidance range to 69,000 to 70,000 boe/d (previously 67,000 to 69,000 boe/d). We anticipate our full year 2016 exploration and development capital expenditures will be toward the high end of our guidance of $200 to $225 million. At this level of spending and based on the forward strip for crude oil and natural gas, we expect our funds from operations to exceed capital expenditures in 2016. In the Eagle Ford, we are currently running 4 drilling rigs and 2 completion crews on our lands. We expect this level of activity to continue into 2017. We have also commenced preliminary work in advance of a 2017 development program in Canada, including lease construction and surveying.
Their timing was very poor, entering into Eagle Ford by acquiring Auroa Oil&Gas in 2014 just before the Oil crash. The transaction valued at $2.8 billion closed on June 11, 2014 and the share price of Baytex hit it's high for the year around $46 by months end. It was pretty much straight down hill from there to below $15 by the end of 2014 and the ultimate low of briefly under $1.50 in January of this year.
Baytex wrote off Cdn$1 billion related to Eagle Ford in 2015.
Baytex was paying good dividends but on August 20, 2015, Baytex announced that it was suspending the payment of monthly dividends on its common shares after the September 15, 2015.
Data Source : Baytex Presentation
Net Debt at September 30th $1.9 billion. Long Term debt is $1.555 billion but only $8 million matures by 2020 and $721 million in 2021.
Baytex is focusing on their Eagle Ford asset where they have significantly increased efficiencies since 2014.
DC&E costs reduced by ~ 35%

30-day IP rates increased ~ 20%

Drilling efficiency improved ~ 40%

Adopted tighter frac stage spacing and higher proppant intensity

Currently four rigs and two completion crews working Eagle Ford
Improvements in drilling and completion design have increased 30-day IP rates by approximately 105% since Q4/2011 with 180-day cumulative recovery increasing 74% over the same time period. Drilling times have decreased by 55% since Q4/2011 resulting in reduced completed well costs.
Their YTD 2016 operating Netback is US$16.16/barrel at Eagle Ford and only $5.59 in Canada. Since their focus is Eagle Ford, I put this chart together.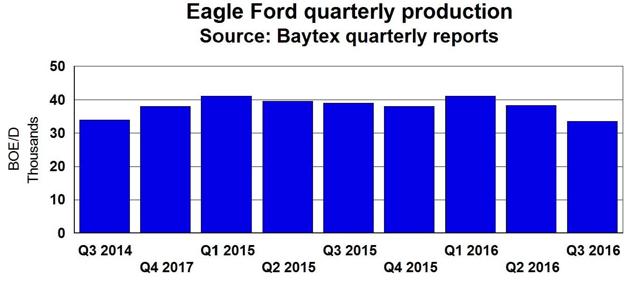 Baytex has done a great job at Eagle Ford, but with the fast decline rate in shale coupled with a 21% decline in completions through the first nine months of 2016 compared to the first nine months of 2015 a noticeable decline to 33,552 boe/d is evident for Q3 2016. Obvious capital restraints caused the decrease in completions along with the previously announced divestiture of some operating assets in Eagle Ford, that were contributing about 1,000 boe/d.
I expect Baytex will be able to maintain this lower production rate with an opportunity to expand as Oil prices and capital expenditures increase.
Growth with Peace River Expansion
On November 22, Baytex entered into an agreement to acquire heavy oil assets located in the Peace River area of Northern Alberta, for cash consideration of $65-million. The assets are located immediately adjacent to the company's existing Peace River lands, add approximately 3,000 barrels of oil equivalent per day of production and more than double the company's land base in the area.
The Peace River region has been a core asset for Baytex since the company commenced operations in the area in 2004. Through the company's innovative multilateral horizontal drilling and production techniques, the area is recognized as having some of the strongest capital efficiencies in the oil and gas industry and, over the years, has contributed significantly to the company's growth.
In addition, the acquisition includes approximately 3,000 barrels of oil equivalent per day of production that is shut in due to regulatory requirements and economics. Baytex estimates the total capital required to bring these volumes back on line to be approximately $30-million. Subject to a favourable crude oil price environment, the company expects to incur the majority of these expenditures over the next couple of years.
Summary
Baytex has no significant debt due until 2021 so there is no pressure to worry about on the balance sheet. Baytex presentation indicates they are slightly cash flow positive at US$55 WTI oil price, so provide good leverage to rising Oil prices.
I also find of interest on page 15 of the presentation that at current $50 Oil, on a per well basis Eagle Ford provides the best return, but once Oil is up to $60, the Canadian assets at Peace River and Lloydminister catch up and even move higher. Therefore we only need to see $60 Oil and Baytex can be firing on all cylinders.
That is leverage I like.
The chart looks very good. Support held at $3.50 and last week we seen a strong morning doji star reversal pattern that broke the down trend line. The stock made a higher high above $4.50 and around $5.50 should be near target.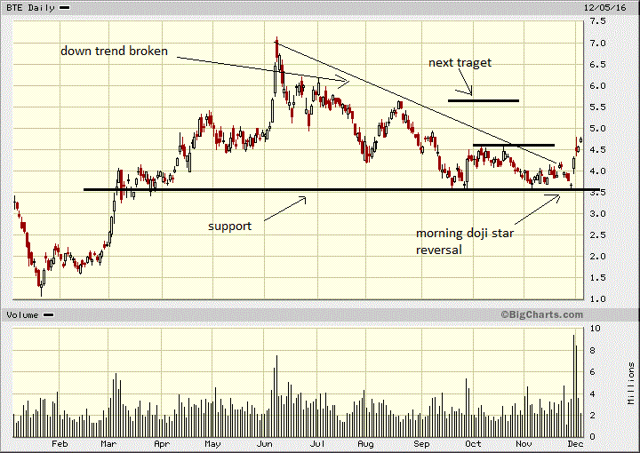 There is not many Oil companies that have a strong growth profile going forward considering the Oil price crash, but Athabasca Oil is one of them.
Athabasca Oil mostly trades on Toronto symbol:ATH Recent Price C$1.45
Shares outstanding 406 million
Long term debt $550 million
Cash $700 million
Strong balance sheet with $150 million net cash, after debt
Production was running around 6,000 boe/d from 2013 to 2015 and the company is exiting 2016 at around 12,000 boe/d.
2017 projected around 18,000 boe/d.
2018 projected around 28,000 boe/d and continuing to grow to 35,000 boe/d by 2020.
Founded in 2006, Athabasca Oil is an Alberta based company, focused on the sustainable development of light oil resources in northwestern Alberta and oil sands in the Athabasca region in northeastern Alberta.
This year, Athabasca made a couple of strategic moves and one quite unique that position the company for strong growth and no stress on the balance sheet.
Athabasca sold a 70% interest in its Greater Kaybob area assets and a 30% interest in its Greater Placid area assets for gross proceeds of $486-million, including. Athabasca received cash consideration of $267-million and an additional $219-million capital-carry commitment, whereby Murphy will finance 75% of Athabasca's share of Duvernay development capital up to a maximum five-year period. Murphy will assume operatorship of the Greater Kaybob area assets, and Athabasca will retain operatorship of the Greater Placid area assets.
Defined and material light oil growth:
Scalable Montney position: Building on a successful five-well appraisal campaign, Athabasca will operate a multiyear development plan under the Placid joint venture, with a current inventory of approximately 165 gross wells, and a 70% working interest. This development is expected to have top-quartile returns and is economic in today's commodity price environment. The asset has gross production potential in excess of 8,000 barrels of oil equivalent per day (5,500 boe per day net) in 2017 and in excess of 17,000 boe per day (12,000 boe per day net) at the end of five years.
Financed Duvernay development: The development plan under the Kaybob joint venture is structured to result in approximately $1-billion of gross investment over the first four to five years, which is expected to drive gross production potential to approximately 30,000 boe per day (9,000 boe per day net) at the end of five years. Athabasca's net capital exposure under this development plan is approximately $75-million, following which the assets are expected to be self-financing. Athabasca retains a 30-per-cent working interest in over 200,000 gross acres and up to 1,500 gross drilling locations.
Royalty on Oil Sands at $75 WTI and higher raises $257 million cash
November 3rd Athabasca upsized the previously completed contingent bitumen royalty on its thermal assets with Burgess Energy Holdings LLC for additional cash consideration of $128.5-million. Including the initial royalty, Athabasca has now raised total cash proceeds of $257-million through this unique financing structure.
The upsized royalty will be calculated on a sliding scale ranging from 0 per cent to 12 per cent (previously 0 per cent to 6 per cent) of Athabasca's realized bitumen price (in Canadian dollars) for each thermal oil asset. The realized bitumen price will continue to be determined net of diluent, transportation and storage costs, and has been structured so that the assets will not be encumbered at lower pricing levels.
For example, at Hangingstone, oil prices would have to reach approximately $75 (U.S.) per barrel West Texas Intermediate (at nameplate capacity of 12,000 barrels per day) before the first 2-per-cent royalty is triggered. At this pricing level, Hangingstone project 1 is estimated to have an annual operating netback of approximately $120-million (net of a $4-million upsized royalty payment). The royalty is not expected to materially impact economics of future Hangingstone expansion phases or other future thermal oil development projects, and there are no associated commitments for future development.
An oil price of approximately $108 to $124 is a 6% royalty
Greater than $157 Oil triggers the maximum 12% royalty
Q3 2016 was announced Nov 10th and production averaged 11,848 barrels of oil equivalent per day (86 per cent liquids), an increase of 63 per cent year over year. Capital expenditures were approximately $18-million in the quarter.
Q3 2016 loss was $33 million.
Strong balance sheet - Currently after subtracting debt they have $150 million cash (excluding $104-million of restricted cash).
The company also has approximately $213.5-million of further financing available through the capital-carry balance with Murphy on its Duvernay joint venture lands.
The company estimates they would break even between $50 and $55 per barrel WTI prices, depending on production levels. At $12,000 boe/day they estimate $34 million operating income for the year. At $65 WTI it would jump to $84 million. These projections look reasonable based on what I seen in recent financials.
Summary
At current oil prices Athabasca is around break even so a rise in prices would give very strong leverage on the share price, even if they continued at 12,000 boe/d. In 2014 when Oil was around $90, the market was willing to anti up Cdn$7 to $8 per share. Now in 2016, production has doubled and the market struggles to give the stock $1.50 and they have almost $0.40 per share in cash. If Oil goes back up to $90, this stock could easily make new all time highs.
We have a solid base built between $1.15 and $1.50 and are above the 200 day MA. The downtrend line was broken in the summer and not shown here, there was a 'golden cross' in September (the 100 day MA crosses the 200). A break above $1.50 would be very bullish.
Chart on TSX, C$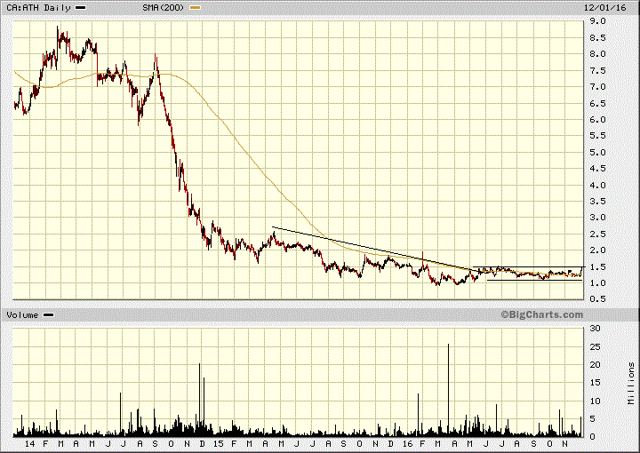 Disclosure: I am/we are long ATHOF, WLL.
I wrote this article myself, and it expresses my own opinions. I am not receiving compensation for it (other than from Seeking Alpha). I have no business relationship with any company whose stock is mentioned in this article.
Editor's Note: This article discusses one or more securities that do not trade on a major U.S. exchange. Please be aware of the risks associated with these stocks.