Capital One: Restless M&A During 20 Years
The key elements to understanding what Capital One (NYSE:COF) is at the end of 2016 and the potential it holds are: 1) its aggressive and successful M&A acquisition story and 2) the man behind the construction of the eighth largest US lender by assets from a tiny monoline insurer, Richard Fairbank.
The lender has its origins on the credit card business spun off from Signet Financial Corp., Virginia, in 1994. Building on the boom of the late '90s before the dot.com crisis, Capital One grew aggressively, developing an important technological edge in customer data storage, data mining and analytic & pattern recognition.
During the 2000s, acquisitions such as Hibernia Bank (2005), North Fork Bancorporation and Chevy Chase Bank, a mortgage originator and consumer credit lender in Delaware, Maryland and Virginia, multiplied the balance sheet of the lender.
In the late 1990s and early 2000s (1997-2003) asset growth (33.06% on average during the period) matched profit growth (31.35% average) and book value per share growth (32.3%),even with a slight structural percent difference between the three ratios (Data from Bloomberg and WRDS databases).
Therefore, Capital One managed to keep an extremely high ratio of growth with a stable increase in returns and book value per share even if it was at the cost of dividend payout ratio, which was very low or non-existent. ROE during the period was a reasonable 17%.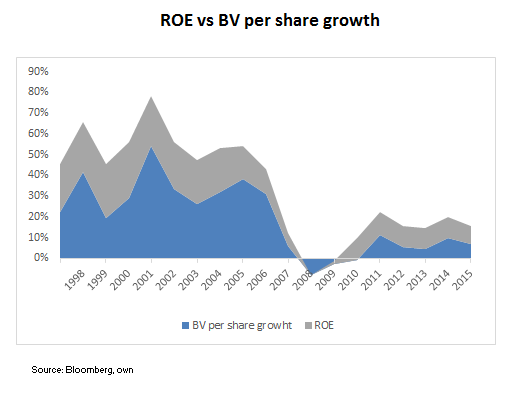 Since 2009, the pattern of Capital One's acquisitions has changed, from the purchase of organizations to direct balance sheet growth with deposits and loan package acquisitions. The purchases of ING Direct USA, HSBC's (NYSE:HSBC) credit card operations and the healthcare finance unit of General Electric (NYSE:GE) increased the balance sheet from $177bn in early 2009 to the $345bn level at the end of 2016.
Another historic trend at Capital One changed during this second stage of growth after the crisis though; the pattern of high asset growth and parallel net income and book value per share growth was no longer sustained as profitability collapsed.
Asset growth continued with opportunistic acquisitions during and after the crisis (averaged 13.66% growth during 2009-2015), but book value per share growth collapsed at 5.74%, and return on equity stabilized at around 10%, not to reach pre-crisis levels again. Significantly, the dividend payout ratio increased from 2013 up to 30% in 2015.
Summarizing, since 1997, assets at Capital One have grown circa 53x while profits have grown around 25 times; most of the divergence between assets and profits is attributable to the post-crisis period.
Upside To Be Realized In A Highly Sensitive Stock
Capital One is an excellent short-to-mid-term play for three reasons: the lender has an important ROE optimization potential, is well positioned for the recovery in the US economy, and its stock price is very sensitive to good news.
Overall, Capital One has not done a bad job in fundamental terms, particularly taking into account the extraordinary asset growth over the last 20 years. Over the period 2011-2015, assets have continued their growth trend, but earnings per share have been stagnating at around the $7 level though.
This has been combined with low payout levels - even if they increased compared with the previous history of the lender - and low return on equity compared with better performing competitors and the historic return of Capital One itself before the crisis. Therefore, CPF has an important potential for ROE optimization.
Furthermore, Capital One is well positioned to profit from the recovering US economy, particularly after Donald Trump's announced economic stimulus combined with the so-called "bonfire of financial regulation".
And even without the Trump impulse, the consumer lending cycle in the US is at its bottom and starting to pick up, taking into account various measures such as employment levels, household financial obligation ratio, and disposable income per household.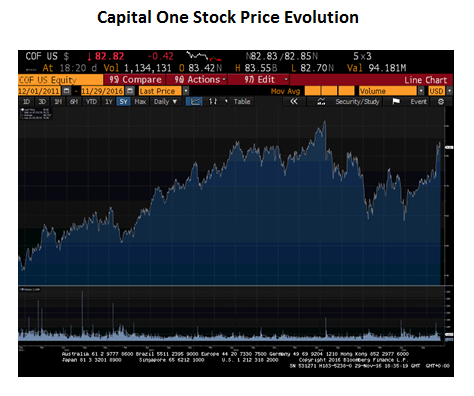 Finally, in terms of stock price, Capital One's price per share has been historically very sensitive to short-term shocks and perceived changes in macroeconomic and banking landscape; beta values for the stock have moved around 1.4 over the period 2010-2015.
Looking at the stock chart, we can see that the fall in 2007 was extreme, even when compared with other peers in the consumer banking sphere that did not go bankrupt. Consequently, the stock price recovery in 2009-2010 was extreme too, with a 260% increase just in 12 months. After that, the stock price increased far more moderately to recent prices of around $70 per share.
Therefore, we are talking about a stock very sensitive to positive - and negative - news.
Summarizing; taking into account 1) the potential for ROE optimization 2) the positioning of the lender in an economic recovery and 3) the sensitivity of stock price to good news, a long short-to-mid-term position on Capital One would be very profitable for a prudent investor.
For a longer-term investment horizon, a more stable growth/returns pattern that might be found in some of Capital One's competitors - American Express (NYSE:AXP) - should be taken into account though.
Disclosure: I/we have no positions in any stocks mentioned, and no plans to initiate any positions within the next 72 hours.
I wrote this article myself, and it expresses my own opinions. I am not receiving compensation for it (other than from Seeking Alpha). I have no business relationship with any company whose stock is mentioned in this article.