While there are positive forecasts for the Australian economy, it is valuable to note that there are always scenarios that oppose one another. The basis for the positive course of events is a lower exchange rate vs. the fixed exchange rate for the forecasts. Principally, that would generate stronger economic growth and provide further triggers for integral growth. Alternatively, vagueness regarding the global economic outlook might culminate in households becoming more cautious. In such situations, people will look to save more and consume less than expected.
Another reason for the uncertainty is the growth in non‑mining business investment in the country. There has been a transition in the economy from capital‑intensive resource investment to labor‑intensive service sectors. According to the Organisation for Economic Co-operation and Development (OECD), economic growth in Australia is projected to go up to only 3% until 2018. Taking into account global macro models for trading economics and the expectations of analysts, the inflation rate in Australia is estimated to be 1.30% by the end of Q4. In the long term, it is estimated to stand at 2.00% in 12 months' time.
A few days ago, we saw the global oil policy change. For the first time since 2008, OPEC agreed on production cuts. The intention is to reduce the world's oil stock back to a normal level. As Secretary General Mohammad Barkindo said in a Bloomberg TV interview, "The Organization of Petroleum Exporting Countries' 'landmark' agreement to cut production will accelerate the decline of global stockpiles." As we know, the higher the volume of oil kept in storage, the lower the price will be. Proceeding from this condition, the production cuts are the best way to see prices increase up to more than $60 a barrel. Nine months later, OPEC's agreement should bring inventory stocks closer to normal levels and will most likely raise crude oil prices up to $70 a barrel, as per Venezuelan Oil Minister Eulogio del Pino. As we can see, right after this agreement was reached, crude oil prices had jumped.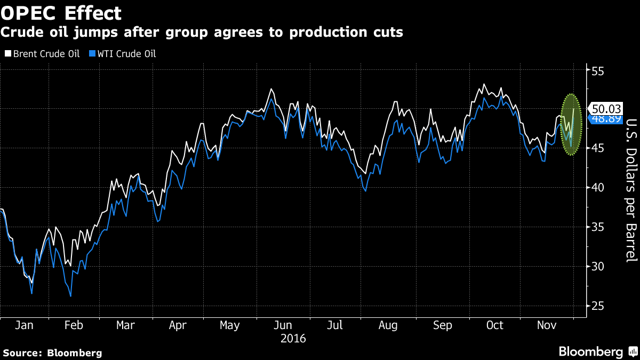 "OPEC Confounds Skeptics, Agrees to First Oil Cuts in 8 Years"; Source: Bloombergquit.com
It is apparent that now Australia is a net importer of oil and petroleum products. Clearly, Australian households and businesses are willing to have as low fuel prices as possible. Nevertheless, gasoline prices increased to 0.91 USD/liter in October from 0.89 USD/liter in September 2016. That is one confirmation that the OPEC agreement could influence oil imports in a negative way.
There are several other facts that are worth mentioning. There was the weakest expansion of the Australian economy since the second quarter of 2015. It expanded 0.5% in Q2 2016. Just as a comparison, in Q1 the growth was 1.0% and the market consensus was 0.6% growth, which is slightly above the Q2 results. In addition, special attention should be paid to car production in Australia. It has significantly shrunk to 11,766 units in October, which is almost 4,000 fewer units than in September 2016. In total, manufacturing production decreased 2.18% in Q2 2016 vs. the same quarter in 2015. Taking into account the challenging and dual situation in Australia's economy, the reduction of imported oil volumes with higher prices is likely to happen in the near future.
Even if you take into account the fact that oil exporters are encouraged to try new long-distance routes (for example, Algeria is sending barrels as far as Australia) because of the relatively low price of crude oil and cheap shipping rates, this will not help balance out the current situation. To support this statement, our calculation based on tanker tracking data shows that Australia received 2.5x less oil in November than in October.
Overall, we think that the challenging situation in Australia most likely will result in oil imports decreasing in the near future. This point is proved by statistics regarding the decrease in the number of imported barrels during the last two months, negative economic forecasts and the recent OPEC agreement. Any changes inside of OPEC are always a crisis (short term or long term) for others. We think that it will be natural for Australia to take an import "timeout" to adapt to the new conditions.
Disclosure: I/we have no positions in any stocks mentioned, and no plans to initiate any positions within the next 72 hours.
I wrote this article myself, and it expresses my own opinions. I am not receiving compensation for it (other than from Seeking Alpha). I have no business relationship with any company whose stock is mentioned in this article.
Additional disclosure: The material presented in this article is provided for informational purposes only and is based upon information that is considered to be reliable.