Overnight model runs turned sharply colder for the week ending Dec. 23. HDDs were revised higher for the next three weeks, and we have already published our storage forecasts until Dec. 23 to premium subscribers.
Natural gas prices went a notch higher as the cold blast lingers over the coming weeks.

We wrote over the weekend that natural gas bulls were getting a bit too excited, and with this one-week bullish revision, natural gas prices are now sitting over $3.60/MMBtu.
Here's what prices look like until April:

The question to ask now is: How much upside do natural gas prices have? And what will the weather outlook be for the end of December and going into January?
With natural gas prices where they are today, the odds that used to favor the bulls are slowly diminishing. The upside reward has been reduced for going outright long, while the downside has increased. With the current supply/demand fundamentals, natural gas prices should find support around $3.25/MMBtu, but we don't see the math to $4+ being very smooth. Our expectation is for natural gas prices to move to $4+ for 8-12 months in 2017, but the road ahead might be very volatile and present good trading opportunities for those who dare. We aren't traders and do not trade our natural gas producer positions. Our premium subscribers get real-time trade alerts if we do make changes, and so far, we haven't done anything.
Price action from here on out will give equal odds for bulls and bears. Natural gas prices are pricing in some of the bullish forecasts already, so if there are any bearish revisions, you will see natural gas prices sell off equally hard. We maintain our stance that being outright long natural gas here does not possess enough risk/reward.
Eight- to 14-Day Outlook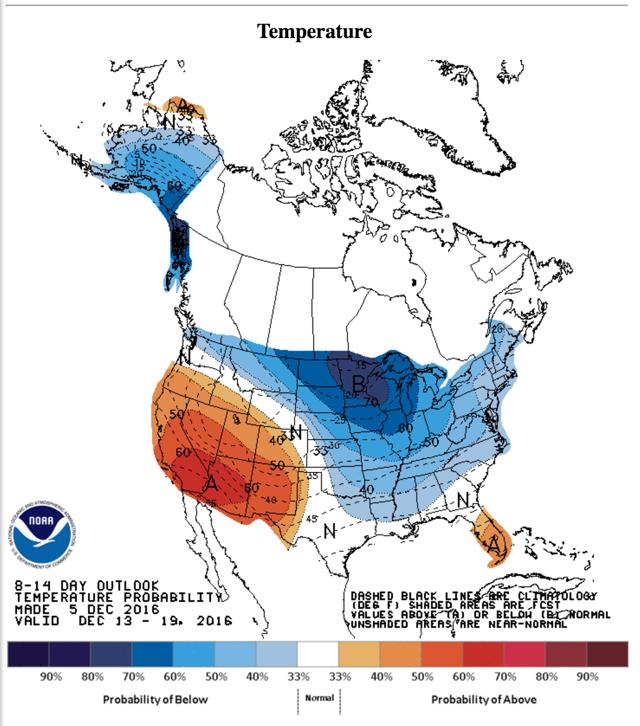 Disclosure: I/we have no positions in any stocks mentioned, and no plans to initiate any positions within the next 72 hours.
I wrote this article myself, and it expresses my own opinions. I am not receiving compensation for it (other than from Seeking Alpha). I have no business relationship with any company whose stock is mentioned in this article.