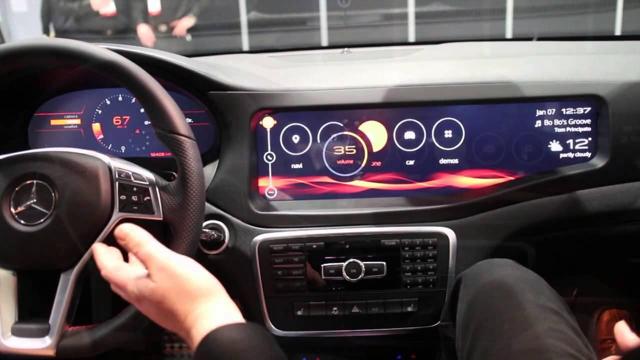 Samsung's (OTC:SSNLF) game-changing deal with Harman brought a new twist to the connected automotive industry. In a move that is intended to position Samsung as a dominant leader in the space, there has been much debate about the effect of this deal on BlackBerry (BBRY).
In my previous article, I showed how this acquisition would result in net negative for BlackBerry, as the company would likely be unable to compete with such a formidable and well-equipped competitor.
BlackBerry responded to the conclusion via its blog. In the reply, the COO highlighted 5 key points that make this a huge gain for the company.
While the response majorly highlights the gains from a 30,000-foot view, a more microscopic scrutiny reveals a number of hidden cracks.
1. Harman/Blackberry relationship
The first point exaggerates the relationship between BlackBerry and Harman. This relationship, which has been going on for some time, was forged when BlackBerry needed a better OS to compete in the smartphone and tablet segments. Then, at the peak of the recession, Harman sold QNX to BlackBerry, largely due to pressure from suppliers.
While BlackBerry's QNX-based tablet and smartphone OS didn't survive against Android (GOOG, GOOGL) or iOS (NASDAQ:AAPL), the company continued to leverage QNX's pre-existing foothold in automotive.
It is safe to conclude that QNX wasn't acquired for its revenue-generating abilities in auto, as it was already in 17 million vehicles. How has the acquisition played out since then?
Harman specializes in the design and production of In-Vehicle Infotainment (IVI) systems, and QNX provides one of the operating systems used for the IVI (Linux and Android are others). QNX is also used for the Electronic Control Units (ECU) found in vehicles.
Ultimately, car manufacturers will pick the most compelling IVI irrespective of operating system. A car manufacturer won't much care if the operating system is QNX, Linux or Android as long as it meets requirements for user experience. The relationship here is clearly between Harman/Samsung and the car manufacturers.
2. BlackBerry and Harman are at different levels of the supply chain
Making a strong case for BlackBerry by putting Harman on a different level of the supply chain only favors Harman at the expense of BlackBerry.
As earlier reported, the bulk of the revenue from the IVI industry goes to OEMs and Tier 1 suppliers like Harman. The crumbs are mostly left to the Tier 2 players. This bold claim validates the previous conclusion that BlackBerry will largely remain a Tier 2 player given the level of human capital required to work simultaneously with multiple OEMs like Ford (NYSE:F) and other auto clients.
In addition, Harman's expertise in OS integration and IVI deployment will continually minimize the involvement of Tier 2 players like BlackBerry in IVI development. GENIVI, Linux, Android, and other embedded operating systems are all options when developing IVI systems for Harman's auto clients.
3. QNX is a superior RTOS.

(Source: Google Ad for VxWorks)
While QNX has built a reputation for its widespread use cases and deployment, the secret to a lasting future is a growing developer ecosystem.
Here again, Android and Apple take the largest share of the pie. Since virtually all developers are already committed to either Android or iOS, it makes it difficult for BlackBerry to build a competitive moat around its own ecosystem, which needs to be developed from the ground up.
If a company wants to maximize profit from IVIs, which are the most needle-moving aspect of the in-vehicle use cases of QNX and other embedded operating systems, it needs to control the front end, which Harman does with Smart Essentials.
Also, painting QNX as the best embedded operating system is a little stretched.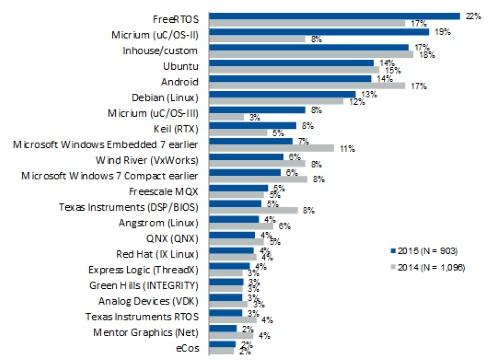 (Source: EEtimes)
Currently, there is a host of embedded OS, with QNX holding a mere 4% of the market. Notice Android and other Linux variants right on top of the chart. If the 2014/2015 mix is anything to go by, QNX has lost market share.
A notable OS on that chart is VxWorks. Digging deeper, the product equally has billions of use cases in the aerospace, defense, and automotive industry.
4. It will be hard to replace QNX
Given the widespread deployment of QNX, replacing it seems to be a daunting task. However, other OS equally have a widespread deployment with a sizable community of developers. As stated earlier, VxWorks has been deployed in billions of devices. In addition, if those billions of use cases were to be read in the same light for BlackBerry, QNX would be a $1 billion division, if not more. This makes it easy to conclude that the use cases outside of IVIs are either not generating revenue or are generating in volumes hard to move the needle.
This brings us back to the IVI segment, where Linux has been projected to overtake QNX in coming years.
It is interesting to know that VxWorks is made by Wind River, which is now a subsidiary of Intel (NASDAQ:INTC). The company was acquired in 2009 for $884 million.
Intel has started recording profit in the IoT division, with an income of $191 million and revenue of $689 million last quarter. Wind River is a key revenue driver in this division.
Recently, Intel realized the massive potential from the autonomous vehicle division. The chipmaker has decided to spin out auto as a stand-alone division from IoT. Intel also announced that it would be investing $250 million in autonomous technology.
Contrast that with BlackBerry's R&D budget, and I will leave you to give the verdict.
5. Samsung's acquisition is more about hardware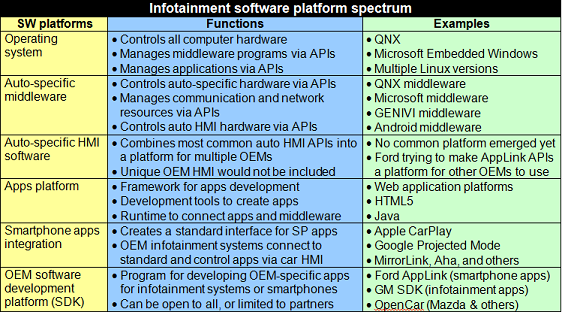 (Source: IHS)
If Samsung's acquisition is more about hardware, that strengthens Harman's position rather than weakens it.
Here is the logic. Embedded operating systems are deployed closer to the hardware as opposed to the front end. Harman has experience with in-vehicle dashboards, audio, and acoustics. The bulk of QNX's headway revolves around audio and IVI. Therefore, playing it safe by positioning Harman towards the back end only throws QNX into competitive waters as Harman develops more innovative solutions for its clients.
This point also gives credit to QNX in software applications. This is hard to fathom given that Harman builds IVIs which support OS such as QNX, GENIVI, Linux, Android, etc.
Harman's IVI, which runs on a Linux framework, further relegates QNX towards more hardware-centric functions like ECUs. Essentially, what we have is a pool of embedded operating systems with Linux on top and an added layer of Apple Carplay and Android Auto.
With its new owner, Samsung, promoting an all-Android solution from top to bottom is only a matter of preference for the OEM, a choice that will not be hard to sell.
Harman remains stronger to capture more market share with the deal. Samsung's strength with Android will further propel this breakthrough in the infotainment industry.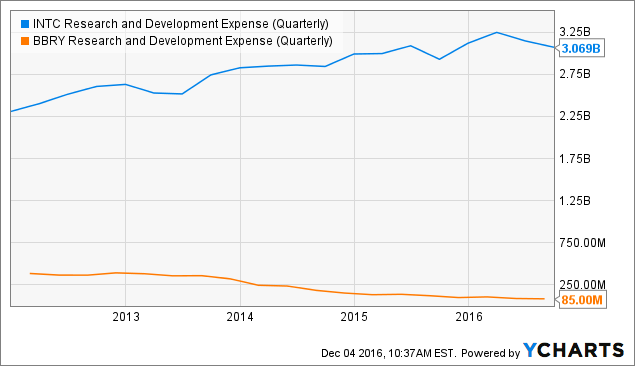 INTC Research and Development Expense (Quarterly) data by YCharts
With BlackBerry cutting R&D yearly, the best bullish deal will be to offload QNX to a more robust owner like, surprise, surprise... Samsung.
Special thanks to KIA Investment Research for his insights and contribution.
Disclosure: I/we have no positions in any stocks mentioned, and no plans to initiate any positions within the next 72 hours.
I wrote this article myself, and it expresses my own opinions. I am not receiving compensation for it (other than from Seeking Alpha). I have no business relationship with any company whose stock is mentioned in this article.
Editor's Note: This article discusses one or more securities that do not trade on a major U.S. exchange. Please be aware of the risks associated with these stocks.