On Sunday, Italians voted on a Constitutional referendum to simplify the Italian political process - in effect giving the executive branch more power. To get a clue on the results, I watched a live stream of the EURUSD (euro/U.S. dollar) cross rate. I figured the news would show up in the market faster than on any TV channel or news site. By 6pm Sunday in New York, the EURUSD cross rate was down over 1%.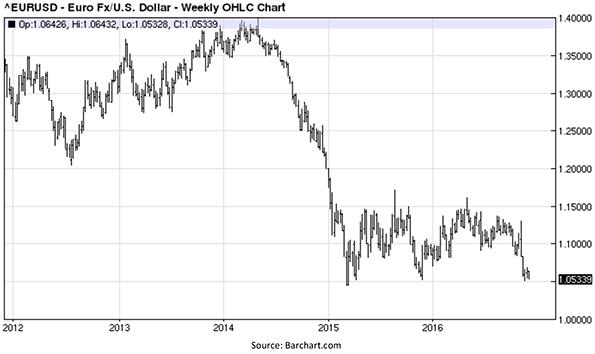 Graphs are for illustrative and discussion purposes only. Please read important disclosures at the end of this commentary.
As of 7pm EST Sunday, The Wall Street Journal reported that
Italian Prime Minister Matteo Renzi announced he will tender his resignation after admitting defeat in Sunday's referendum. According to projections, 59% of people who cast ballots on Sunday said 'no' to a plan backed by Mr. Renzi that would make it easier to pass laws, including measures meant to make the country more competitive.
The referendum was regarded as a barometer of anti-establishment sentiment in Europe. Italy's PM Renzi asked about reforms to streamline parliament but instead the referendum was widely seen as a chance to show discontent with the prime minister himself. The populist parties in Italy supported a 'no' vote.
As I write this, the EURUSD cross rate seems destined for another test on the bottom of the $1.05 to $1.15 range that had contained the vast majority of cross-rate trading since March 2015. I think that trading range will break to the downside soon, despite the rebound in the euro seen on Monday after the referendum.
Brexit weakened the EU and in that regard it weakened the euro, too, even though Britain is not a member of the Eurozone. The Trump election victory was a vote against globalization and is in that regard similar to Brexit. What happened in Italy on Sunday is a similar anti-establishment vote. While Italians are pro-EU and want to remain in the Eurozone, one could also read the Italian vote as a vote against expanding EU powers. To make matters worse, Italy is in the middle of a banking crisis which is probably too big a task for a technocratic government. This is a situation that could spiral out of control quickly.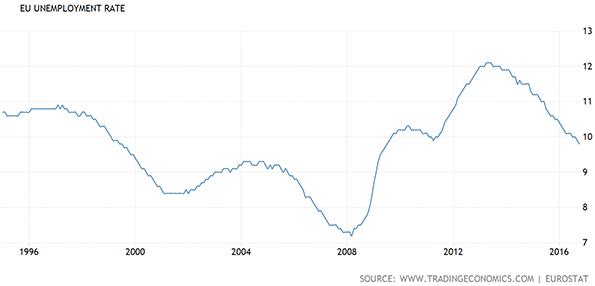 Graphs are for illustrative and discussion purposes only. Please read important disclosures at the end of this commentary.
In the past six months the EU has weakened dramatically with Brexit and now the Italian Constitutional referendum. There will be more elections in the next couple of years in Europe and it is not hard to see the anti-establishment vote winning. With unemployment near 10% for the Eurozone - 11.6% in Italy - the same type of voters that elected Donald Trump and voted for Brexit will be voting for change. This is all very bearish for the euro as most anti-establishment voters are also against expanding EU integration.
11th Hour Crude Diplomacy
Crude oil was the big mover in the commodity markets last week as OPEC agreed to their first cut in production in eight years. What makes this deal remarkable is that Russia - a non-OPEC producer - agreed to join the cartel for the greater good and it, too, signed off on the proposed production cuts.
The agreement is that OPEC will reduce output by about 1.2 million barrels a day by January, cutting daily production to 32.5 million barrels. The agreement exempted Nigeria and Libya, while Iran was allowed to raise output to about 3.8 million barrels a day in order to help it recover from sanctions.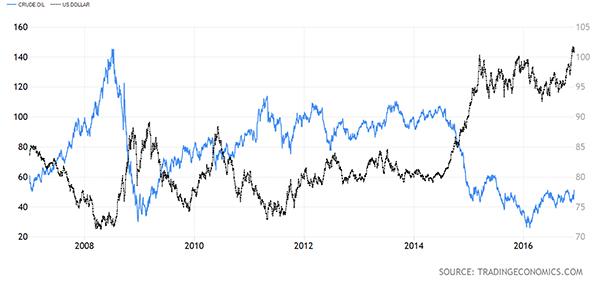 Graphs are for illustrative and discussion purposes only. Please read important disclosures at the end of this commentary.
While the U.S. Dollar Index was, technically-speaking, down marginally last week, it has been very strong since the U.S. Presidential election. That makes the surge of crude oil prices in a seasonally weak period for crude oil rather suspicious, as the dollar is expected to go higher when real U.S. interest rates are rising, and there is a clear inverse correlation of the U.S. dollar and crude oil markets.
To be clear, I do not believe that the U.S. dollar drives the crude oil market. Rather crude oil, via its effects on the balance of payments of producing countries, affects their currencies as quoted against the U.S. dollar. Surging supply and weak demand mean weak crude oil prices and weak producer countries' currencies.
If the global economy is weak, which pressures the price of crude oil, it is natural for the U.S. dollar to be stronger as a safe haven. That raises interesting questions about the surge in crude oil, since the OEPC deal happened in early December, when crude oil prices are supposed to be weak. Since the majority of the world's population lives in the Northern Hemisphere where fall and winter run from September 21st to March 21st, crude oil demand tends to be seasonally weaker in those colder months.
I have great difficulty seeing crude oil making progress into the mid-50s on the WTI futures contracts any time soon. Because the OPEC deal happened at the last minute, it is likely that there was a lot of opportunistic shorting that had to get reversed, causing the spike in WTI futures. I am watching with great interest how this spike is progressing, with the caveat that a short squeeze is like kerosene on the fire. After it burns off, the fire tends to simmer down, particularly if the firewood is wet. For all intents and purposes, we have a "wet firewood" situation here.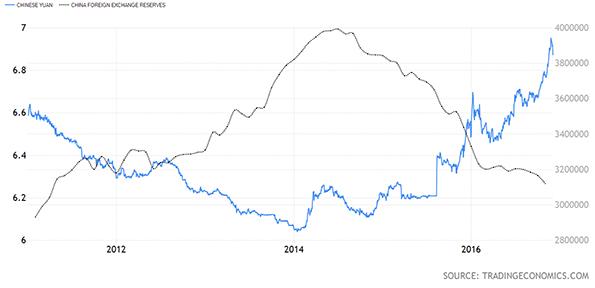 Graphs are for illustrative and discussion purposes only. Please read important disclosures at the end of this commentary.
The firewood is wet because the largest consumer of oil in the world (China) is headed into a nasty recession, in my opinion. As 2016 comes to an end, I am surprised that China has not been the source of more bad news on the economic front in 2016. Compared to the dramatic headlines we saw in 2015, this year has been more or less boring. I think the reason for that boredom is the fact that capital flight out of China "flattened out" for most of 2016. In the past couple of months, it appears to be accelerating again. If it continues to accelerate in early 2017 I think headlines out of China will become interesting again.
I think China is headed into a nasty recession because it is experiencing the effects of a busted credit bubble. The fact that it has not gone into recession yet does not mean it can avoid its destiny. For all intents and purposes the Chinese economy went from $1 trillion in GDP in 2000 to over $11 trillion in 2016. While the Chinese economy grew 11-fold, the total debt leverage in the Chinese economy grew 40-fold. I think we have reached a tipping point where faster debt growth in the Chinese economy and slowing GDP growth will stop feeding on each other and the Chinese economy will begin to contract.
Graphs are for illustrative and discussion purposes only. Please read important disclosures at the end of this commentary.
I expect more bad news from China in 2017, which does not jibe well with a strong oil price since China is the #1 global consumer of oil. While the Chinese stock market is not a very good barometer of China's economy, it has managed to detect increasing capital outflows. If we continue to see accelerating capital outflows in 2017, along with a weak Shanghai Composite, I will be looking for the price of oil to reflect that appropriately. I think there is much more downside than upside in the price of crude oil at present. That means the risk-reward is not stacked in investors' favor when it comes to the energy sector.
Disclosure: *Navellier may hold securities in one or more investment strategies offered to its clients.
Disclaimer: Please click here for important disclosures located in the "About" section of the Navellier & Associates profile that accompany this article.