By Gary Alexander
Tomorrow marks the 75th anniversary of Japan's surprise attack on Pearl Harbor on Sunday, December 7, 1941, a date that President Franklin Roosevelt told Congress (the next day) "will live in infamy."
As FDR spoke on Monday, December 8th, Battleship Row was in shambles, but the stock market damage was slight. You could almost say that investors had already priced U.S. entry into World War II into the market. After Pearl Harbor, the Dow only fell 2.9% on Monday, December 8th, and the Dow stayed fairly level for the next three months until a dip below 100 in April, 1942. But after the psychological lift of Jimmy Doolittle's bombing raid over Tokyo (April 18, 1942) and the surprising U.S. victory at Midway (June 4-7), the Dow quickly recovered to pre-Pearl Harbor levels and then doubled by war's end in 1945.
The attack on Pearl Harbor shocked America but it also guaranteed the eventual retreat and ignominious deaths of Hitler in Europe and Tojo in Japan. A 2011 book by Craig Shirley said December 1941 marked "31 Days that Changed America and Saved the World," because it ignited our dormant nation into action. Economically, America went from 14.5% unemployment in 1940 to barely 1% in 1944, due mostly to the united war effort. Meanwhile, U.S. GDP growth rates exploded to +18.9% in 1942 and +17.0% in 1943.
Market recoveries often follow "Days of Infamy," perhaps because terrorist attacks tend to unite us in a greater cause, drowning out our previous petty-sounding arguments. As I've shown in the past, stocks rose after the JFK assassination in 1963, the Challenger explosion in 1986, and the 9/11 attack in 2001. (GDP growth soared by an average 6.3% per year, 1964-66, +4%/yr. in 1986-89, and +3%/yr. 2002-2006.)
Perhaps that's why the stock market has done so well since the election of Donald Trump, which many pundits in the press and in academia have called a "Day of Infamy" or "the end of the world as we know it." Perhaps that's true, but many negative trends in the world we've come to know may deserve to end.
In his speech in Cincinnati last Thursday, President-elect Trump began by saying,
We're going to find common ground, bring all of the nation together. We're a very divided nation, but we won't be divided for long. We're going to find common ground. To succeed we must enlist the effort of all Americans. For too long, Washington has tried to put us in boxes, to separate us by race, age, income or geography. We spend too much time focusing on what divides us. When America is united, nothing is beyond our reach.
Inspiring words - perhaps written by others, but delivered with conviction. Trump concluded with this challenge:
Americans must ignore the pessimists and embrace the optimism that has always been the central ingredient of the American character… somewhere along the way we began to think small. I'm asking you to dream big again, and bold and daring things for your country will happen once again.
The press clips from that speech focused on the negatives - his loose words, flippant asides, or smirking braggadocio, i.e., his "shtick" - but that merely proves the President's gripe about the bias of the press.
Confidence Breeds More Confidence, Which Breeds Growth
The stock market isn't the only economic indicator on the rise. Consumer confidence, GDP (current and projected), and retail sales are all surging forward. Confidence works wonders. FDR was right when he said, "The only thing we have to fear is fear itself." Flip side: Showing confidence breeds more confidence. Trump's optimism is generating more confidence in the U.S. economy. The news that Carrier would keep 1,069 jobs in Indiana rather than sending those jobs to Mexico may be a drop in the bucket as far as national employment statistics are concerned, but it was a very visible and symbolic boost to confidence.
On the same day Trump spoke in Cincinnati, the Institute for Supply Management (ISM) announced that its manufacturing index rose to 53.2 in November, up from 51.9 in October. The new orders component rose to 53, from 52.1 in October. Overall, 11 of the 18 industries surveyed reported growth in November. Last Tuesday, the Conference Board reported that consumer confidence soared to 107.1 in November, up from 100.8 in October, reaching the highest level in nine years! The "present situation" component hit 130.3 in November, up from 123 in October. Ironically, most of the consumers that the Conference Board surveyed were contacted before the Presidential election, so the post-election euphoria could be higher.
All of a sudden, economists envision a return to robust GDP growth. The Organization for Economic Cooperation & Development (OECD) last week revised its forecast for U.S. GDP growth to 2.3% in 2017 and 3.0% in 2018. OECD also forecasts 2.9% global growth in 2016, 3.3% in 2017, and 3.6% in 2018. Last Tuesday, the Commerce Department announced that GDP growth surged at a 3.2% annual pace in the third quarter, up from its initial estimate of 2.9%. Corporate profits soared 6.6% in the third quarter, which bodes well for business spending in the fourth quarter. The GDP is now growing at the fastest pace in over two years and the fact that consumers are spending more is the most important reason why: Last Monday (Cyber Monday) sales rose 12.1% to $3.45 billion, an all-time record. Since consumers account for about 70% of GDP, it appears that the strongest GDP growth in more than two years is sustainable.
Can this euphoria continue? Yes, for a time, but be aware that the political pendulum seldom stops in the middle. We keep swinging to extremes. Since I was born in 1945, we've generally alternated between eight years of Democrats and then eight years of Republicans and then back again. The only exception was four years for Jimmy Carter followed by 12 years of Reagan/Bush. Eight years ago, Barack Obama won handily, with a stronger Democratic majority in Congress than Trump enjoys with Republicans now.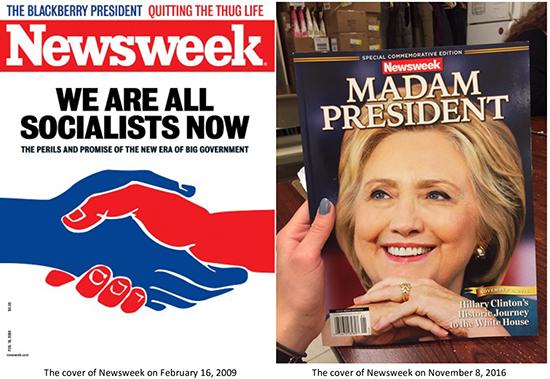 The February 16, 2009 cover of Newsweek - a magazine later sold for $1 - was titled, "We Are All Socialists Now." Jon Meacham, who wrote the cover article, opened by saying, "The America of 2009 is moving toward a modern European State." On November 8, 2016, Newsweek made one of the greatest gaffes in publishing history, calling the election victory prematurely for losing candidate Hillary Clinton.
As the 2009 Newsweek article predicted, Obama's first Congress emulated the European game plan: In 2009, the Senate was 59-41 Democratic and the House was 255-179 Democratic. That 111th Congress passed the $830 billion American Recovery and Reinvestment Act (on February 17), home mortgage bailouts (May 20th), Cash for Clunkers (June 24th), the Affordable Care Act (March 23, 2010), and more; but in November 2010, voters from the Tea Party issued a restraining order on Congress, so we entered six years of gridlock, with a Republican Congress and a suddenly lame-duck Democratic president.
The political pendulum will likely keep swinging. Maybe Trump and his team will overhaul America in favor of business, moving away from the European model. If voters like that trend, he could be re-elected. If they don't, the election of 2018 will start the pendulum swinging in the other direction for a while. For those who hated (or loved) the outcome of this election, rest assured the next election is never far away.
Disclosure: *Navellier may hold securities in one or more investment strategies offered to its clients.
Disclaimer: Please click here for important disclosures located in the "About" section of the Navellier & Associates profile that accompany this article.