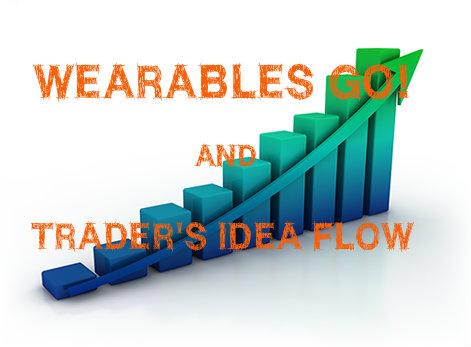 Welcome to Wearables Go! and Trader's Idea Flow. This Seeking Alpha marketplace service provides discussion for entry points for short-term trading ideas. A few key points about these ideas:
Short-term trading is extremely risky. Please evaluate your risk tolerance carefully and consult with the appropriate professionals before considering a short-term trade;
While Trader's Idea Flow discusses short-term trading ideas, these ideas are not for everyone and may not be appropriate for your investment account;
The use of stop loss risk management techniques are very important in short-term trading;
Trader's Idea Flow will discuss entry points for trades. We will not share exit points. Every investor will want to determine their own exit points based upon their own circumstances and risk tolerance.
Short-term Trading Idea: BUY Powershares QQQ (NASDAQ: QQQ). This ETF is based upon the Nasdaq 100 Technology Index (INDEXNASDAQ: NDXT) The closing price of QQQ at the time of this writing on Friday 12/2/16 was $115.70.
A significant portion of wearables-related stocks experienced a post-election sell off along with the Nasdaq 100. Most of these stocks then rebounded to a peak of 4873 for the NDXT on 11/29/16. A number of smaller cap tech issues outperformed their larger cap brethren during the rebound due to their higher beta characteristics along with the perception that a Trump administration will be good for American companies that primarily do business domestically.
The chart of the Powershares QQQ, based upon the NASDAQ-100 Technology Sector Index, shown below illustrates this rebound in tech after the sell off from the knee-jerk reaction to President-elect Trump's surprise victory. This volatility has continued into another most recent sell off in the QQQs. This sell of is the important part that creates a possible trading opportunity:
Since the post-election sell off and rebound, markets have corrected downward again in this uptrend market shown in the charts below. Because the long-term upward trend is intact with short-term optimism for the pro-business policies of the incoming Trump administration, we believe that this current pullback represents an attractive short-term trading opportunity to BUY the QQQs.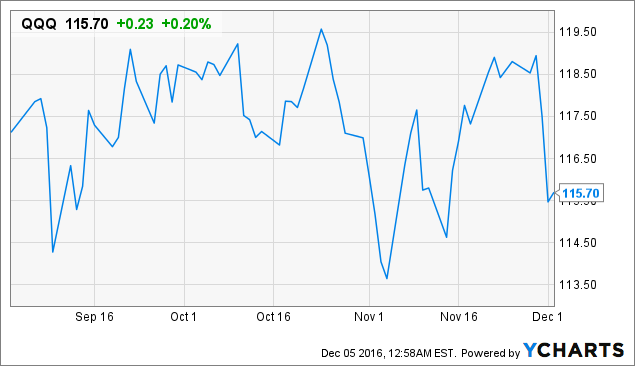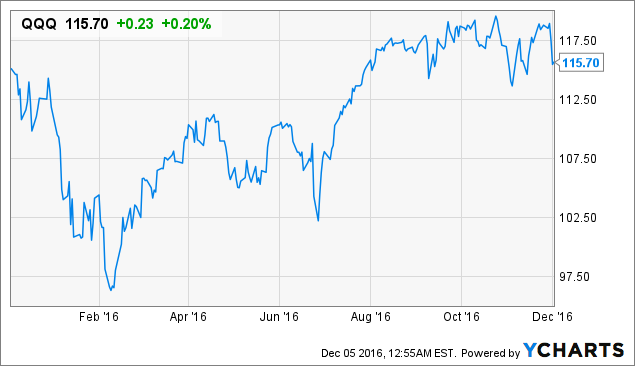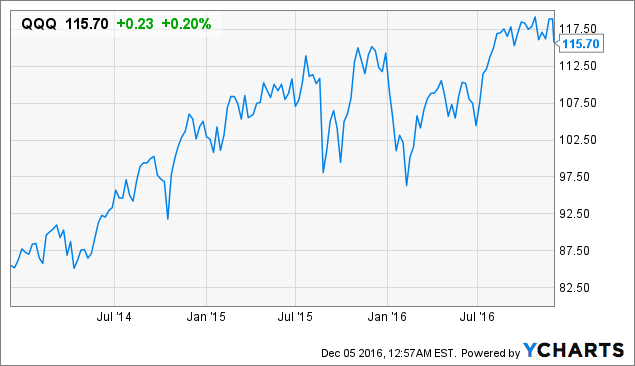 The thesis for the trade is based upon the following key factors:
Observations of President-elect Trump throughout the primaries and general election campaign season point towards him being more bluster than action. Trump's media background have made him acutely aware that appearances are paramount. Note his aggressive stance towards his political opponent, Ted Cruz during the primary season and then reconciliation after the conclusion of that event. Again notice his aggressive rhetoric towards Hillary Clinton in the general election and then a softening of tone after the election. Also noteworthy is the bluster during his so-called, "Carrier speech", and then a private phone call with the Carrier CEO that seemed to indicate a deal was made with something positive for everyone to take away from the situation. In short, Trump's bluster is trumped by his pragmatism.
People who run for political office on the notion that they are "outsiders" and not politicians, are often the best politicians. Regardless of your personal political affiliations and opinion of Trump it must be acknowledged that the man is highly intelligent and quick study. Trump understands the disastrous politics of a trade war that would be economically damaging to all involved. If you have read Trump's The Art Of The Deal then you also know that he is a master at positioning for maximum benefit before the negotiations begin. Talking tough ahead of an election, business deal, or negotiation is a part of Trump's modus operandi. The upcoming negotiations with China are likely to result with both sides coming away with something positive, at least for appearance's sake. Trump the politician understands that the 2020 campaign season has already started and he will do the pragmatic things necessary to bolster his chances for re-election.
The QQQs have sold off most recently due to concerns over Trump's aggressive rhetoric. This volatility may present traders with a short term buying opportunity as markets recognize that Trump's pragmatism will trump his braggadocios bluster. In fact, the pro-business policies of a Trump administration and even his negotiations with China could possibly be a positive factor for US technology companies going forward.
Thank you for reviewing Wearables Go! and Trader's Idea Flow. Free trial our Seeking Alpha Marketplace service for two weeks. No commitment necessary and zero cost to you. Please join us.
Disclosure: I am/we are long QQQ.
I wrote this article myself, and it expresses my own opinions. I am not receiving compensation for it (other than from Seeking Alpha). I have no business relationship with any company whose stock is mentioned in this article.