The action in gold recently has definitely caught many off guard. In fact many believed that last Friday (the 5th) would have been the start of a multi-month move but the yellow metal has come back down to earth again with a bang currently trading at $1165 an ounce in early trading Monday (the 5th). I wrote an article recently (28th of November) stating that gold has completed a swing low but this swing has since been negated due to fresh lows being hit over the past two weeks. Gold is now on day 40 on this particular daily cycle and on the 27th week of this intermediate cycle.
These number counts are now approaching extremes which means a bottom is close or even could be in if gold doesn't go below last Thursday's lows. Could we get stretched cycles? Yes, but a bottom is imminent whether there is a long bull market still ahead of us or just a bear market rally. Conservative investors should wait for a weekly swing in gold (which silver incidentally has already printed). Weekly swings as the charts illustrate below nearly always result in sustained rallies for a significant period of time thereafter.
Silver formed a weekly swing last Friday. Furthermore it did not go below the may lows as gold has done. Will silver lead the next bull run?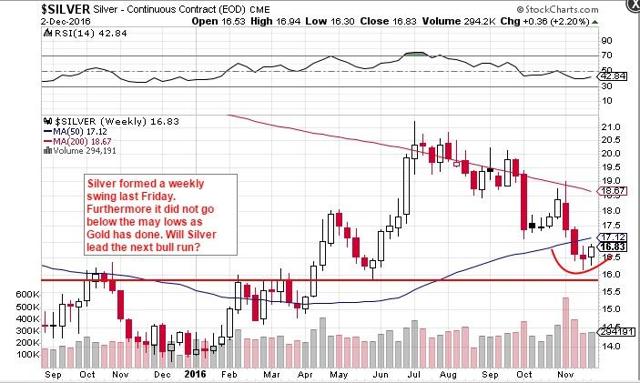 The market vector mining ETF (NYSEARCA:GDX) has managed to stay above $20.25 since the 14th of November. It will need to finish above $21.47 by this coming Friday in order to print a weekly swing.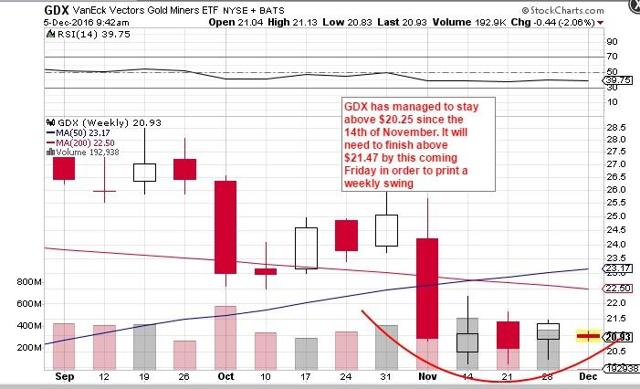 Gold is the laggard in the sector at present. It has printed fresh lows for the past four weeks and will need to finish at $1198 or above by the close of next Friday's trading in order to form a weekly swing.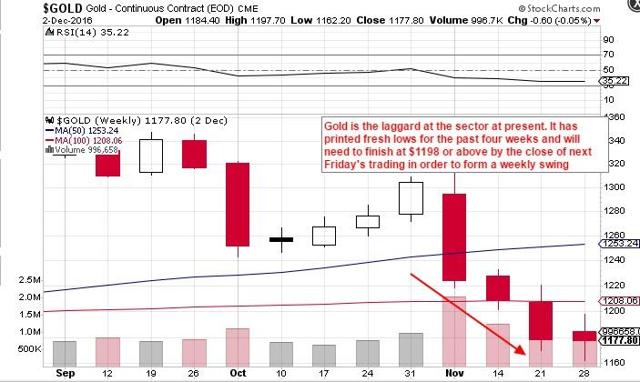 So why is a weekly swing preferable to a daily swing? Well although one normally misses some of the upside, weekly swings are particularly accurate at intermediate bottoms even in bear markets. In fact as we can see from the weekly gold chart below, weekly swings at intermediate bottoms still resulted in significant rallies prior to December of last year (when gold was still stuck in a bear market). In fact gold would have to trade below last December's low ($1045 an ounce) in order for the move to constitute the continuation of a bear market. Incidentally, it is running out of time to do so.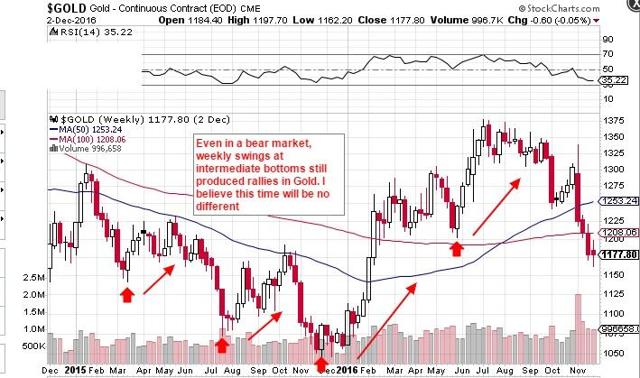 The weekly stochastics are also an excellent timing tool to spot intermediate bottoms. As shown above, they are highly oversold at present. This has to turn around at some point, and that will result in gold rallying sharply northwards.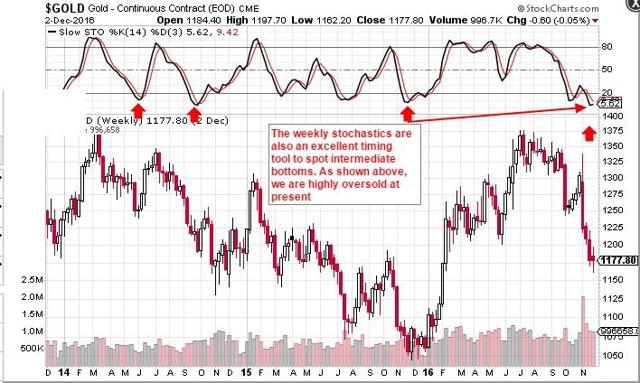 Volume has increased in the mining complex as gold has made it way down into a steep intermediate low. This also took place last December and January of this year when we had the final bear market bottom in miners.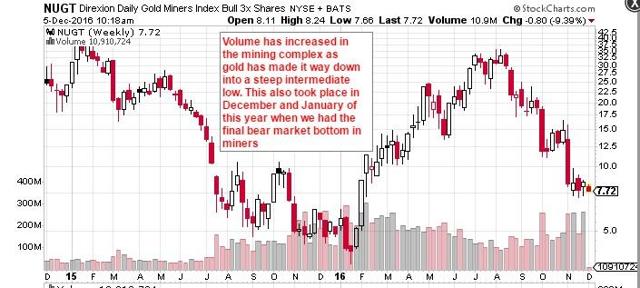 To sum up, many times the time to pull the trigger is when the masses are throwing in the towel. Sentiment has reached ultra pessimistic levels, and that should provide the fuel for the next move up. As already mentioned, conservative investors should wait for a weekly swing
Disclosure: I am/we are long USLV. I wrote this article myself, and it expresses my own opinions. I am not receiving compensation for it (other than from Seeking Alpha). I have no business relationship with any company whose stock is mentioned in this article.