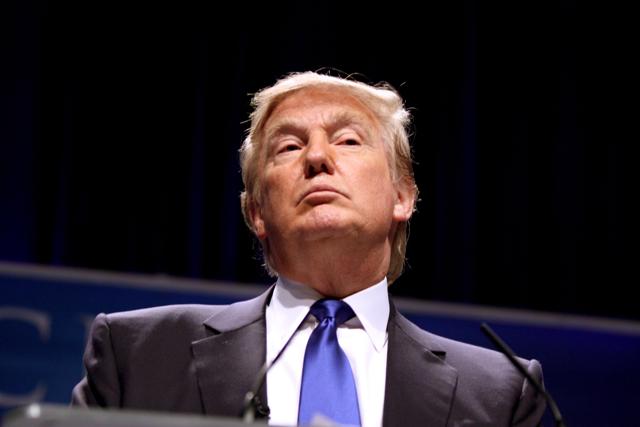 We recently showed that many of President-elect Donald Trump's trade policies are "day one" events. These policies will immediately add to inflation and immediately slow the economy. Many thought President-elect Trump would back down. We wrote we did not. He has proven of late that he is driven and very intent to carry out his plans.
Tariffs and taxes add expense that either gets passed through or eaten. Tariffs on other countries and broken deals, at least initially, will slow trade and so the economy. This is an imminent stock market (NYSEARCA:SPY) risk.
"Day One"
Many of the toughest trade policies are "day one" events for President-elect Donald Trump.
Keep in mind if he were backing off from these he could just change his website's wording or order. He has not. If anything he has continuously proven out his hardline stance with recent tweets about China and threats against US businesses looking to leave to Mexico.
In mid-November, we gave evidence as to why we did not think President-elect Trump would back down. He has not.
In that report, we cited his website's trade policies and which ones he said were "day one" events.
Let's review.
1. Withdraw from the Trans-Pacific Partnership ("TPP"): DAY ONE.
2. Appoint tough and smart trade negotiators: DAY ONE.
3. Identify every violation of trade agreements and use every tool by law to end these abuses: DAY ONE.
4. Renegotiate or withdraw from NAFTA. DAY ONE.
5. Label China a currency manipulator: DAY ONE.
6. Sue China for unfair trade: DAY ONE? Not sure.
7. Tariff China and other measures? DAY ONE? Not sure.
In the current "transition" period before he takes office, the media has been filled with president-elect quotes aggressively supporting many of these moves.
Let's see.
President-elect Trump Is Full Steam Ahead To Stick To His "Day Ones."
In a recent tweet late Sunday, President-elect Trump said (here and here),
"Did China ask us if it was OK to devalue their currency (making it hard for our companies to compete), heavily tax our products going into their country (the U.S. doesn't tax them) or to build a massive military complex in the middle of the South China Sea? I don't think so!"
We ask you. When President-elect Trump takes office will he continue on this trajectory or not? We think he hasn't slowed down since the elections. He hasn't even started.
As to points 1-3 and 5-7 above, the president-elect's tweets show he's full steam ahead.
"Day One" Inflation, "Day One" Slowdown
In mid-November, we did simple math to show that just one of these trade policies can almost double inflation.
If he follows through with his 45% tariff threat, it will add 1.35% of inflation to our current 1.7% core PCE inflation. Add them together and you get 3%, which is well above the Fed's 2% target. And that's day one, January 20th, 2017. Get ready.
Here's the simple math we showed.
15% of our economy is from imports. 20% of those imports are from China.
45% Tariff X China is 20% of US imports X Imports are 15% of the economy = 1.35%.
That assumes the 45% tariff gets passed through into prices. That does not assume any retaliatory ramifications, which could further slow demand for our goods overseas. That 45% does not factor in China teaming up with other countries against us, which they are quickly negotiating.
China or other countries striking back slows our economy "day one."
12% of the US economy is exports. If China rallies other countries to take their side, our exports will have an issue. That will slow our economy.
This all happens "day one."
Carrier and Rexnord: Inflation "Day One"
President-elect Trump has been on Twitter threatening businesses that want to leave the US. Businesses are looking for cheaper production and labor.
For one, businesses that don't find cheaper methods to manufacture have higher costs, which then pass through to prices. That's inflation.
Secondly, President-elect Trump has threatened to punish businesses that take jobs from the US with 35% taxes. Those extra costs also likely get passed on into goods pricing. That's inflation. That's "day-one" also.
Here's what he just said about this process:
"Any business that leaves our country for another country, fires its employees, builds a new factory or plant in the other country, and then thinks it will sell its product back into the U.S. without retribution or consequence, is WRONG! There will be a tax on our soon to be strong border of 35% for these companies wanting to sell their products, cars, A.C. units etc., back across the border. This tax will make leaving financially difficult... Please be forewarned prior to making a very expensive mistake! THE UNITED STATES IS OPEN FOR BUSINESS."
In that tweet, the A.C. units likely refers to his negotiating with Carrier (NYSE:UTX), which was looking to take jobs out of the US. Cars likely refers to Ford (NYSE:F), which President-elect Trump has been in a war of words with about the same subject.
He also tweeted two days ago against Rexnord (RXN), which is looking to take jobs out of the country. All of these moves follow his promises to be tough on trade. All of these moves are inflationary.
Many of these moves will likely spark retaliation from other countries. President-elect Trump is far from soft-spoken. Retaliation likely means a slowdown of US exports. At least initially, "day one," January 20th should see the start of inflation and a slowdown.
Markets
Inflation, slowdown and upheaval typically aren't market positives.
Conclusion
In broad daylight, President-elect Trump is not being shy about his campaign promises to be tough on trade. He is already overtly threatening China. He is punishing US companies that want to make the trip to Mexico. Free trade as we've known it is coming to an end. Inflation and disruption are near-term events as President-elect implements change. Initially, these likely are not market friendly moves.
PRO TRADER: Free Two-week Trial
Click here for a free trial.

Come see what we're doing.

Directional calls on stock market, stocks, gold, oil, bonds, currencies, indexes and more.
If you want Elazar's analysis on Seeking Alpha, scroll to the top of the article and hit "Follow." Elazar also writes real-time pieces as news is reported. If you want to be among the first updated check the box for "Real-time alerts on this author" under "Follow."
Disclaimer: All investments have many risks and can lose principal in the short and long term. This article is for information purposes only. By reading this you agree, understand and accept that you take upon yourself all responsibility for all of your investment decisions and to do your own work and hold Elazar Advisors, LLC and their related parties harmless. Any trading strategy can lose money and any investor should understand the risks.