At a press conference following the OPEC meeting, OPEC's president, HE Dr. Mohammed Bin Saleh Al-Sada, Minister of Energy and Industry of the State of Qatar and Head of its Delegation, was asked by a reporter if OPEC had regrets about its production policy over the past two years. Mr Al-Sada denied OPEC had a production policy. He also denied they had any regrets.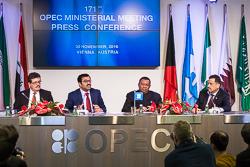 Press Conference. Source: OPEC.
It was pretty shocking to hear that since everyone following the oil market knows that Saudi Arabia led the effort to flood the market to drive out competitors. And both Kuwait and the UAE participated by increasing their production by about 10-12% over the two years since the November OPEC meeting.
In November 2014, former Saudi oil minister Ali al-Naimi told OPEC members they must combat the U.S. shale oil boom. "Naimi spoke about market share rivalry with the United States. And those who wanted a cut understood that there was no option to achieve it because the Saudis want a market share battle," according to one source.
But the price of oil dropped much more than the Saudis had ever expected, and the oil price drop lasted much longer, burning through Saudi financial reserves at a rate of $100 billion per year. OPEC Secretary-General Abdalla Salem El-Badri had admitted that OPEC was not expecting the dramatic 40% plunge in oil prices that materialized in just weeks following that landmark decision in November 2014.
El-Badri said that the policy hasn't worked out as planned. "Shale oil in the United States, I don't know how we are going to live together." Shale drillers can boost output in response to price increases much faster than anything OPEC has ever seen, he said.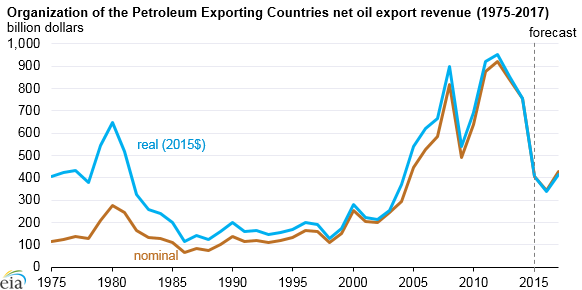 Members of the Organization of the Petroleum Exporting Countries (OPEC) earned $404 billion in net oil export revenue in 2015, according to U.S. Energy Information Administration (NYSEMKT:EIA) estimates. These earnings represent a 46% decline from $753 billion earned in 2014."
Conclusions
I think the OPEC president gave the wrong response. I think he should have said that they regretted the policy to try to drive North American shale oil out of business. And that it was a painful lesson.
This would have shown the market that they are more highly-committed to the cuts and would have had a bigger price response. In addition, much of the market response depends on the market's perception of OPEC's integrity to keep its promises and to be transparent in its goals.
Denying OPEC's policy or regrets sends the message that OPEC isn't being truthful. This is compounded by the "fake news" press releases that said the agreement was coming together, when it was not.
Saudi energy minister Khalid al-Falih cancelled the meeting with non-OPEC members scheduled for November 26th because OPEC had not come to terms, and he said he did not see a viable path to an agreement.
And according to a new report, the Saudis met with oil traders the day before the meeting to receive feedback about the market's reaction, if they failed to agree to a deal, because it was still in doubt. After the OPEC meeting, reports said Putin had brokered the deal on the day of the OPEC meeting.
Finally, OPEC announced in its press release that it had accepted a new Long-Term Strategy at the meeting. But they have not posted it on their website. At least I can't find it. I just saw the old one (2010) there.
Presenting a credible long-term strategy will help them achieve it. The market will then more rationally adjust its expectations.
Disclosure: I/we have no positions in any stocks mentioned, and no plans to initiate any positions within the next 72 hours.
I wrote this article myself, and it expresses my own opinions. I am not receiving compensation for it (other than from Seeking Alpha). I have no business relationship with any company whose stock is mentioned in this article.