(Note: This was first released to premium subscribers. We update BXE regularly in our weekly updates, so if you are interested, sign up here.)
Bellatrix (NYSE:BXE) announced an C$80 million non-core asset sale this morning of the Harmattan assets.
Here's the deal metric: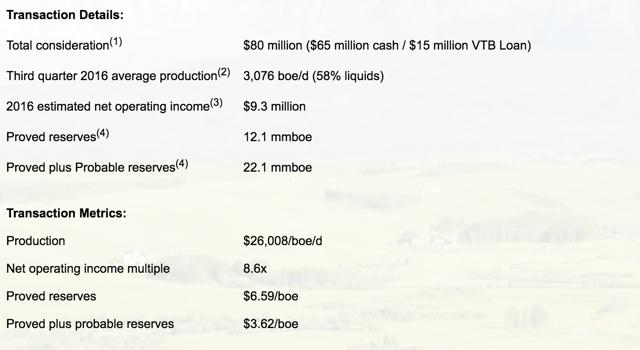 On a per flowing basis, this deal might seem low, but on a cash flow basis, this is actually a good deal. There's a reason why this deal is made up of partial cash and partial loan. The loan segment likely presented the part that the buyers couldn't raise. This has been an intense issue with smaller production sales. Buyers seem to have only funds for most of the assets, but lack the last leg. BXE has taken InPlay shares and is now taking a C$15 million loan. The interest rate of 10% is certainly attractive and helps towards its cash flow.
Now looking at the press release, BXE is guiding the beginning of Jan 2017 to give guidance for 2017. The reason we found out was because BXE wants to know what its exit 2017 production looks like. That way, it can give a good outlook and align capex guidance. Since this transaction does take a chunk off the total production base, BXE will need to provide clarity on what exit production is, and how BXE will grow from there along with cost assumptions.
Some of you might be wondering why the multiple is so low. A bit of historical context is needed on this deal. Harmattan is one of the two pieces that came with the Angle acquisition in 2013. That was probably the worst deal BXE has made. Strachan and Harmattan are both liquids rich, but the issue is that the wells were very expensive to operate (e.g. higher opex/boe). We estimated last year that the opex/boe from Angle alone was C$14/boe. That's incredibly high versus the C$4/boe from Spirit River. In addition, Angle assets were much crappier because Angle was a notoriously bad operator.
Selling Harmattan and Strachan has always been our investment thesis since day 1. It just took a year longer than we had originally thought. We had originally forecasted for the Angle assets to be sold at C$30k per flowing boe/d. Strachan is also on the plate, so we have that to look forward to next year. Once these high cost production gets sold, it will drastically change BXE's opex structure. The focus on Spirit River will shine light on how attractive the assets are, and that will certainly be bullish.
With the credit line expected to be paid down to C$30 million when the deal closes, BXE will set-up a new banking syndicate group to take over the previous group. We had documented earlier this year that the banks no longer wanted exposure to BXE and wanted to reduce exposure to C$150 million from C$500 million. In Canada, a "voluntary cut" is just a nice way of saying that the banks no longer want to lend to you. So keep that in mind when you see an E&P company "voluntarily" reduce credit line exposure.
Once BXE finalizes a new credit line, it will need to give guidance on its growth plans for 2017 and 2018. Investors want to see clarity around how BXE will reduce opex/boe from the current C$9+/boe level, and how much growth should they expect in each given price scenario. With AECO gas well over C$3 now, NGL over C$20, and WTI over $50, BXE should be able to grow at 15% according to our forecast. Investors want to see that come out of the management team and they will want to see a few quarters of execution before getting excited.
We look forward to what management has to deliver next.
Disclosure: I am/we are long BXE.
I wrote this article myself, and it expresses my own opinions. I am not receiving compensation for it (other than from Seeking Alpha). I have no business relationship with any company whose stock is mentioned in this article.
Editor's Note: This article covers one or more stocks trading at less than $1 per share and/or with less than a $100 million market cap. Please be aware of the risks associated with these stocks.