Weeks after the Organization of Petroleum Exporting Countries (OPEC) agreement in September to cut oil production down to 32.5-33 million barrels a day from 33.64 million barrels, it seemed the cartel was stuck in a dysfunctional family debate over who will bring what to the dinner table. Reportedly, technical details could not be agreed upon and Russia would not be showing up to the cartel's meeting in Vienna.
In other words, the family was stuck with a bunch of members wanting to bring their own cooked food for fear their individual family members would otherwise be left starving, but this would result in the entire table haphazardly being awash in a surplus of food. This metaphorical disagreement sent oil prices down as market participants suspected a deal would not be finalized in OPEC's end of November Vienna meeting.
OPEC did, however, finalize details to their September agreement in Vienna, under which the cartel collectively cuts 1.2 million barrels a day from its October production levels plus an additional 600,000 barrels a day cut from non-OPEC members, with 300,000 barrels of that cut coming from Russia. On news of the deal oil prices recovered quickly, up 14% over the three day period following the news. However, due to continued tensions between member countries, suspicious agreement numbers, and the ability of US shale producers to quickly ramp up production at these new prices levels the run is unlikely to last and market participants should not rely on oil's run to sustain itself.
Despite the nations agreeing to an oil production deal, the tensions between Iran and Saudi Arabia have not eased. In fact the opposite has unfolded, with tensions between the two countries escalating as Saudi Arabia's Central Bank Systems were reportedly attacked by Iran malware; Saudi Arabia's Central Bank issued a statement saying its systems were not breached. This news comes as the two countries continue to spar over influence throughout the Middle East with no obvious end to the conflict in sight.
This adds to the intrigue caused by the fact that Iran's numbers in the OPEC agreement do not add up. The agreement, shown below, lists Iran's current oil production levels at 3.975 million barrels a day and its forecasted production increase at 90,000 barrels a day. Adding these two figures would give an adjusted production number of 4,065,000 barrels a day, which nearly equals the reported 4,000,000 barrels a day Iran wanted to produce, which were suspected to cause compromise to be tough to come by in OPEC discussions.
This, however, is not the sum listed in the "Production level effective January 2017" column in the chart! The chart, which comes directly from OPEC's release, states Iran's January 2017 production as 3.797 million barrels a day, approximately 200,000 barrels a day lower than the stated number in the Reference Production column. It could be that the deal allows for Iran to increase production by 90,000 barrels a day from a reference of 3.7 million barrels, but this is still far from the 4 million barrels a day in production the country was reportedly seeking. Whether this is a callous typo or something bigger, it could cause complications in the implementation of the agreement because the numbers simply do not add up.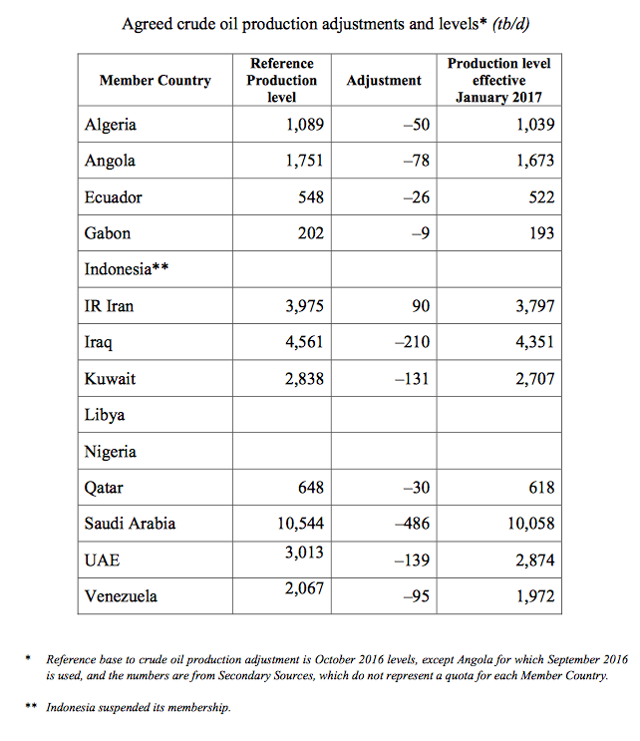 Source: OPEC Press Release
To compound the issue, Venezuela's economic crisis has worsened, with the nation announcing Sunday that they will introduce six new notes and three new coins to combat transactional problems stemming from rampant inflation. It is hard to foresee an oil-dependent nation implementing an agreed upon 95,000 barrel a day production cut as its people suffer from a food crisis. Though Venezuela serves as a quintessential example of a nation under duress, investors should remain skeptical of all member nations producing more than their agreed upon production number, as the cartel has not been historically honorable with their stated allotments.
Now, even if we can trust grandma to bring her vanilla pound cake, Crazy Aunt Edna to bring just one serving of her mashed potatoes, and Aunt Marley to make the gravy, there's still a problem: Uncle Sam will bring an unanticipated turkey of his own. Looking at the OPEC agreement through the lens of a US shale producer nothing but opportunity appears, opportunity that brings more supply to the market and in turn causes prices to remain depressed.
Take EOG Resources (NYSE: EOG) for example, a company that stated in their Q3 Earnings Call on November 4 that they "reset the company to deliver high return oil growth with in-cash well with $50 oil environment," and plans to end 2016 with 140 uncompleted wells. With oil prices stretching above $50 following the OPEC deal, more wells become economical to complete.
EOG increased its full-year forecasted completions by 80 wells, but following the oil price increases OPEC news it seems likely that some of these 140 uncompleted wells will be completed. If the company completes just 30% of these wells as a response to the recent price increases and can achieve its Eagle Ford production rates of over 2,000 barrels of oil per day per well an additional 80,000 barrels of crude would be brought to market each day.
Though these numbers are speculative in nature, EOG released a forecasted 15-25% compounded annual growth rate for oil production through 2020 with oil priced between $50 to $60, a range the OPEC agreement sent prices into. The recent price action just expedites this growth as EOG can economically complete wells sooner with now higher prices.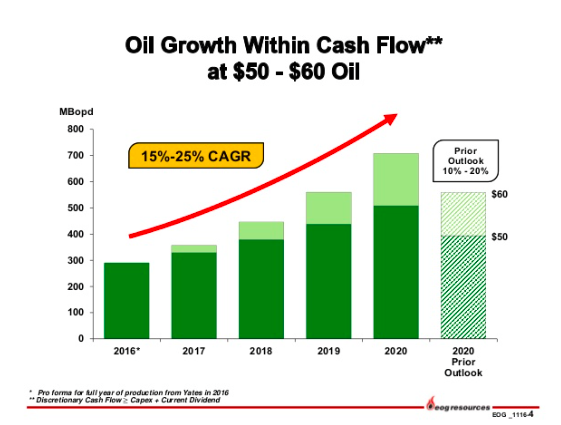 Source: Q3 Quarterly Presentation
What makes this oil growth possible are cost reductions and efficiency gains achieved during the past two years during Saudi Arabia's attempt to put shale producers out of business. In EOG's case, the cost of completed wells fell 44% in the Bakken, 25% in the Eagle Ford, and 45% in the Delaware Basin. This developed resiliency will enable production growth as prices inch forward, exacerbating OPEC's problems.
If EOG, just one of many US producers, can grow production at an amount that makes at least Qatar's production cut (30,000 barrels) negligible, the impact the entire shale industry can have on markets will combat OPEC's moves. Worse yet for OPEC, shale producers can rush to hedge production at higher prices and continue to operate profitably as prices fall back to pre-OPEC agreement levels.
Of course, it is worth noting that EOG is one of the most robust operators, but other companies are just as eager to complete wells at even just marginally higher prices. To that end, fellow Contributor Callum Turcan noted that ConocoPhillips' (NYSE:COP) oil sands become cash cows at $50-plus Brent; Newfield Exploration's (NYSE: NFX) CEO Leo Boothby said "As you move up the price curve and you get more confident of the outlook for future pricing, we'll be able to add activity as cash flows grow;" and prolific Continental Resources (NYSE CLR) CEO Harold Hamm has gone as far as saying the United States can double its oil production.
Though the economics may not be as attractive for EOG's rival firms, the entire industry is positioned to unleash another wave of crude if oil prices maintain their higher level. After these production increases are reported the market will again rebalance, sending prices lower. This ability and enthusiasm of US shale producers to ramp up production coupled with the unlikely probability that OPEC will adhere to stated production levels should temper the enthusiasm in oil markets. For those looking for an output cut that will send prices higher for longer based on market fundamentals, this was not it.
For those hoping the post-OPEC Announcement rally was too optimistic, enjoy Uncle Sam's turkey!
Disclosure: I/we have no positions in any stocks mentioned, and no plans to initiate any positions within the next 72 hours.
I wrote this article myself, and it expresses my own opinions. I am not receiving compensation for it (other than from Seeking Alpha). I have no business relationship with any company whose stock is mentioned in this article.