The 8 years of ultra-low interest rates environment made investors thirsty for yield, no matter where it's sourced from. Pushing the stock price of companies offering attractive dividend yields. But as one of history's greatest investors said, "You only find who is swimming naked when the tide goes out."
And Crown Castle International (NYSE:CCI) is, unfortunately, swimming naked.
CCI's stock price had benefited from the status quo, pushing investors into it by giving them an attractive yield that danced between 3.5% and 4%, and a significant increase in revenue, which no one can deny.
But the problem doesn't lie in Crown Castle's revenue numbers; it lies in the business model itself. Here's why.
Unpredictable business model
Crown Castle's business model depends on buying or building wireless towers providers, then leasing these towers to companies mainly like AT&T (NYSE:T), T-Mobile (NASDAQ:TMUS), Verizon (NYSE:VZ), and Sprint (NYSE:S).
This is no different from the car renting business model, where companies buy cars with upfront cash and lease them back to customers.
The problem with these business models is that they are extremely capital intensive with high depreciation rates and acquisition costs.
For example, in the first nine months of 2016, CCI generated only $145 million in free cash flow (the leftover of cash from operations after subtracting capital expenditures and acquisition costs, the engine of the business model). Annualize this rate and it's $193 million for a whole year.
And actually, this is the second best year for the company - on a cash flow basis - after 2014.
Take a look.
In 2015 and 2013, the company burned ~$200 million and $4.3 billion respectively. However, in 2014, it generated $380 million, the company's best year on cash flow basis.
So $380 million of FCF, as a best year, for a company that has an enterprise value of $40 billion?
To show the extent of CCI's poor business model, assume the following: If the company generated $380 million this year, and didn't burn cash in any year for the next 50 years, it needs a 7.5% CAGR to deserve its current valuation, which is near to impossible given the high negative fluctuation of its cash flows (using discounted cash flow analysis with 4.2% WACC).
Poisoned dividend
When I search for dividend companies, I only pick the ones that can generate their dividends through positive free cash flows. That's because it will ensure the continuity of the dividend streams and at the same time won't affect the company's balance sheet.
Dividends backed by debt, like in our case Crown Castle Int., are fragile business models, where the company issues a 4%-6% interest rate debt, or issues stocks and dilutes EPS, to give its investors a 4% dividend yield (unless the company has its cash abroad and is forced to issue debt to back up its dividends, which is not the case in CCI).
For example, in the last nine months of 2016, CCI raised $671 million through debt and equity issuance in order to finance its $900 million in dividends.
Take a look at CCI shares outstanding(Source:YCharts).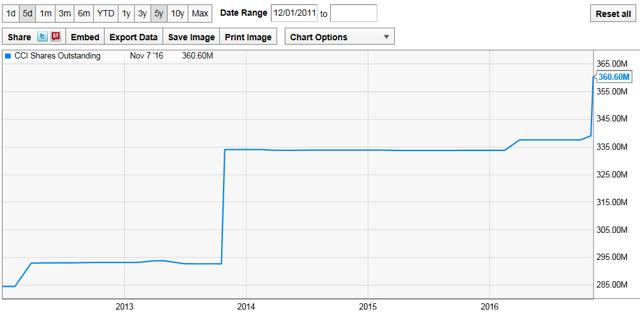 As seen, CCI diluted its shareholders by 20% (!) in less than 3 years (it started paying dividends in 2014).
Low economic profit
The economic profit is the profit that the business generates; it's the return on invested capital - weighted average cost of capital.
Crown Castle barely generates any economic profit. Its WACC is ~4.2% and its ROIC is 5.10%, which gives a 0.9% economic profit.
That sounds not too bad, but when compared to an enterprise value/revenue of 10.6 it is. Companies with these high valuations should have a solid business model which generates huge value to its shareholders.
Concentration risk.
The company generated more than 30% of its revenues from AT&T, and 90% of its revenues from only 4 customers.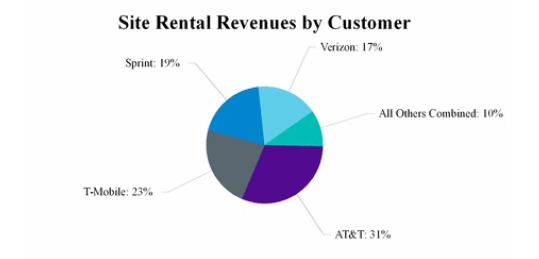 (Source: CCI 10Q 2016)
This means that if any of its clients decides to stop leasing wireless towers from the company, CCI's revenue would take a substantial hit.
In addition, we don't know how an AT&T-Time Warner (NYSE:TWX) deal would affect the company's revenue. If AT&T - which pays more than $1 billion annually to CCI - decided that it would be less costly to use Time Warner's infrastructure due to economics of scale, CCI will take a major hit.
That's why the stock declined more than 14% after the news of an AT&T-Time Warner agreement on October 25
.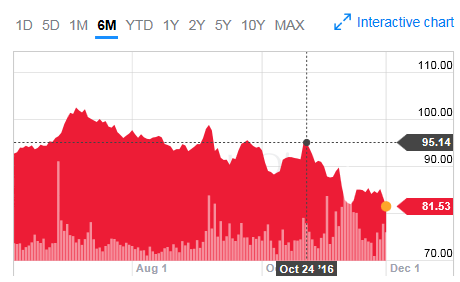 Conclusion
Due to the reasons stated above, I don't see any reason to hold the stock at these levels. The company barely generates economic value to its stakeholders and will always depend on capital markets to continue its operations and fund its dividends.
I'm not saying the company will go bankrupt; after all, its interest coverage ratio is at a healthy level and seems to be loved by the investment community.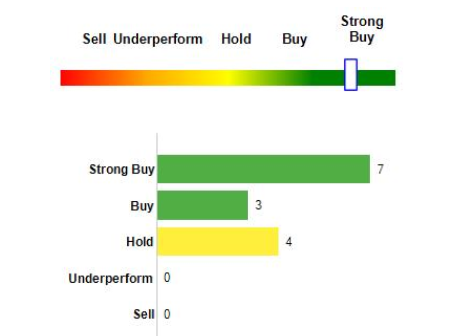 The company is a strong buy to 7 analysts, and no one analyst recommends selling the stock. This love by Wall Street makes me believe more about the limitations of Crown Castle's upside and the huge risks that will be a result of any negative news from AT&T.
I also believe that the US wireless infrastructure business is starting to get near maturity, and thus an enterprise value/revenue of 10 and a price/sales ratio of 7.65 are over-optimistic.
Concluding, I recommend CCI long investors to get out of stock and to put your money in more stable companies until the dust settles and CCI future is clearer (especially regarding the AT&T-Time Warner deal). I also expect a medium-term huge pullback to less than $50/share (believing that P/S ratio should shrink from 7.65 to ~4) and will be buying long dated out of the money put options.
Moreover, to our luck, interest rates will be going up in December (as I expected in this article). This hike, followed by another next year, will wipe the tide and those dividend trap stock will be severely punished.
However, following me in this strategy would be risky since as I said, the company is loved by the investment community, making it harder for my P/S target to be reached. But for risk-driven investors, this is one of the best shorts to play.
Disclosure: I/we have no positions in any stocks mentioned, but may initiate a short position in CCI over the next 72 hours.
I wrote this article myself, and it expresses my own opinions. I am not receiving compensation for it (other than from Seeking Alpha). I have no business relationship with any company whose stock is mentioned in this article.